A.J. Green, with an eye to 15,000 yards, likes what he's seeing from the kid receivers.
Pro Bowl wide receiver A.J. Green has played all but three of his 86 NFL games with Andy Dalton as his quarterback, so no one knows more about Adriel Jeremiah Green on the field.
"I would say he's better than he's been," Dalton reported after Tuesday's practice. "It's the best shape he's been in, probably. He's fast, he's big. He's been doing it all. Even if you said he was the same, that's really good."
Rewind to early in Tuesday's practice. Green lines up outside opposite cornerback William Jackson and although the coverage isn't bad, Green's sleight-of-foot double move has got a step on Jackson down the right sideline on a go route. Safety Shawn Williams comes over to help but Dalton has put the ball in the only place Williams and Jackson can't get it. Right on the edge of the boundary.  Green, as he always seems to be able to do whether in a May practice or in the fourth quarter in Baltimore, turned himself into a rubber band and contorted his body in time to snap the ball into his hands before stepping out of bounds.
"We just watched it,' Dalton said later. "He was in.
"That stuff doesn't surprise me anymore. I almost expect him to make the crazy catch because I know he can. He's done it for so long."
Green and Dalton, in lockstep since Green was drafted 22 hours before Dalton in 2011, are both optimistic about what is unfolding this spring compared to last May and Green feels so good he's talking about playing seven more years until age 36 and maybe longer if they put him in the slot after that.
"Oh, yeah," Green said. "If my body still feels like that, I'm going to play as long as I can."
When the '16 voluntaries began they were trying to cope with the loss of the starting receiver opposite Green (Marvin Jones) and their slot receiver (Mohamed Sanu) while force-feeding second-round slot receiver Tyler Boyd and putting Super Bowl veteran Brandon "Joe," LaFell through a crash course in the offense.
What a difference, as they like to say in D.C., a year makes. When Green went down after just nine games with a partially torn hamstring, Boyd and LaFell responded with productive seasons and they are now teamed with a lightning round draft class. The Bengals receiver room now boasts the fastest player ever at the NFL scouting combine in first-rounder John Ross and a 6-3, 4.40 speedster in fourth-rounder Josh Malone.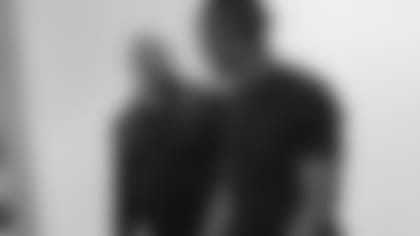 Marvin Lewis welcomed Green's new running mate in last month's draft, John Ross.
Not only that, the most impressive receiver in camp besides Green has been last year's sixth-rounder Cody Core, another 6-3 guy that runs mid 4.4 40s and has clocked the fastest route of the spring in a little more than 23 miles per hour.
"That's what I'm looking for in the young guys, something they didn't do well last year, have they worked on it to get better this year?" said Green, sounding all of his seven years. "I feel like the biggest guy that's improving is Cody Core. I feel like he's been really working on his craft this offseason and getting better. You can tell on the field. How fast 'TB' is playing.
"You know with John we're not going to rush him in. We've got guys that can play with 'Jo' and 'TB' so that's one thing; he's not going to have to be pressured to play right away. We've got a great receiving corps, so we're going to give him some of his plays and let him work himself in."
Green is actually invoking 2015, the year Bengals came within a two-pointer of scoring the most points in the Marvin Lewis era.
"They can all make plays all over the field," Green said. "I feel like we're getting back to where we were in 2015 with Marvin, Mo. I feel like  once TB  gets settled in, he'll be able to play faster because  now he knows what to do and the way CC is coming along, and after adding Ross and adding (rookie running back Joe) Mixon, I feel like we're getting back to that 2015 roster."
Green and Dalton are certainly up to their old tricks in the second week of practice in their seventh NFL season. Now that he'll turn 29 the week training camp starts with a 10-month-old son, he joked Tuesday, "I'm getting old, right? I'm done. My life is over."
  Actually, he says he feels better than last year at this time, which makes you pause because he was on pace for a monstrous season that would have put him near 1,800 yards if not for the hammy. For his off-season regimen he summoned Clif Marshall, the new Indiana University basketball strength and conditioning coach who studies under Bengals strength guru Chip Morton.
  "I focused more on receiver stuff," Green said. "I feel like this offseason I got better and did more and more stuff that catered to me … I think I came out more fluid than last year."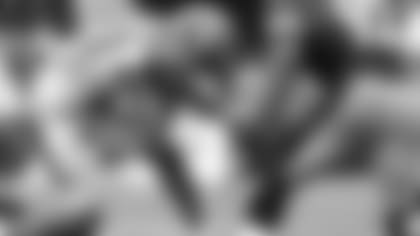 Tyler Boyd now has the experience of a guy that went back home as a rookie last year to snare 78 yards in Pittsburgh.
All you have to do is look at Tuesday's play.
"His best asset isn't his ability to catch the ball and go get the ball," Dalton said. "It's his feet and able to get them inbounds. His awareness and where the sideline is and ability to toe tap is on one of the best I've ever seen."
Usually Green dances around the question of statistical goals like they are rattle snakes. But on Tuesday he admitted he's thinking about a couple.
"One Super Bowl, that's all I need,"
Green said. "That's the only number that matters. That's all I need. One is good."
But he also admitted in the back of the mind he's looking at another stat.
"The magic number is probably 15,000, 16, 000," Green said of career receiving yards. "I would love to do that. … It would be in the conversation."
He'll get there if he plays those seven years with the 14.3 games per season he's currently averaging, along with the 83 yards per his previous 86 games. That would compute to 15,435 yards in 186 games, which would put Green currently third all-time between two guys who probably make the Pro Football Hall of Fame this time around in Terrell Owens (15,934) and Randy Moss (15, 292).
Of course, it won't be third all-time in 2024 since Green's 7,135 yards are 21st on the active list. But he's got the fourth most yards of all players in the league since 2010, behind only Antonio Brown (8,377), Demaryius Thomas (7,704), and Julio Jones (7,610). So there figures to be Hall-of-Fame chatter.
"I do sometimes," said Green when asked if he thinks about the Hall. "I just look at the guys who are going to make it and look at their numbers, but that's something I don't really look into. I look at a lot of the guys' numbers who are in."
He'd like to do it with Dalton and the feeling is mutual.
"Ten more years," said Dalton of his own run. "It would be pretty cool because we're in the same draft class and we've been linked together from the beginning."
Now the Green-Dalton era moves into their second set of receivers, from Jones-Sanu-Hawkins-Tate to LaFell-Boyd-Core-Ross-Malone.
"It's just how fast you can pick up the playbook. And once you pick up the playbook, can you pay fast?" Green said. "That's the biggest thing. If eel like with the regular receiving corps we have now, we don't have to put a lot pressure on John to come in to be that playmaker. We can draw up some plays for him to get him the ball and let him work his way in."
Cincinnati Bengals host OTAs at Paul Brown Stadium Practice Fields.