Quinton Flowers makes the move from QB to RB this weekend.
Quinton Flowers, who once threw a pass to Chad Johnson early in his career as one of the greatest quarterbacks Miami ever produced, is soon to take a handoff from quarterback Andy Dalton at some point as one of the Bengals' more intriguing experiments.
Not this weekend, of course, when only the rookies gather for the weekend minicamp that begins with Friday afternoon's practice. And maybe not until training camp, when the numbers and the reps and the day of the week play havoc with the rotation.
When Flowers got over the disappointment of not getting drafted two weeks ago, well, it wasn't the first time the fates had pulled a reverse. He's wearing No. 34 and the Bengals list him as a running back for the first time in his life after signing him in free agency. But he'll end up in more positions than an Olympic gymnast. Start at running back, slide over to returner and go from there.
As always, he's challenged, grateful, determined, resilient all at the same time.
"I was surprised by that. After everything I did in college, all the records … staying out of trouble … you thought I'd be one of those guys that get drafted," Flowers says. "Things didn't go as planned, so you keep pushing ahead. In life, you have to have the right mindset. I've always had faith in God and that's one thing I'll always say. He never made a mistake. That gets me through. Everything happens for a reason. I just told myself God did it for a reason. So after the draft, I just sat back and the Bengals were the first team to text me and they wanted me to be a part of the organization and I talked to my agent and we made it happen."
When Bengals equipment managers Adam Knollman, Sam Staley and Tyler Runk hung 34 in his locker in the locker room annex, it wasn't the first time the Bengals had given him anything.
Chad Johnson, their all-time leading receiver, used to outfit Flowers' Little League team, the Liberty City Optimists. That was back when Reebok sponsored the NFL and sometimes when the Bengals had a bye week Johnson would show up with some boxes. Everyone would get a towel, or gloves, or maybe cleats that were all the same color. Johnson would also jump in on 7-on-7 and it was during some of those practices the blooming Flowers might throw a few passes to him.
"Chad was always talking trash, having fun with the kids," Flowers says. "He was always keeping a smile on the kids' faces. He likes to have fun. He still has that kid's mentality."
But Flowers never really had a chance to be a kid.
By the time Bengals running backs coach Kyle Caskey went to watch him at the South Florida pro day, he knew the story that emerged from Miami's daunting patch of turf in Liberty City. Hell, everyone in the country knew.
At seven, Flowers lost his father Nathaniel to a fluke drive-by shooting moments after he was sitting on his lap. At 17 he lost his mother Nancy to cancer. The next year, the day before his first college start for South Florida, he lost his step-brother in another of those mindless, inexplicable shootings from on the street that fill a police blotter after he intervened to protect a group of children.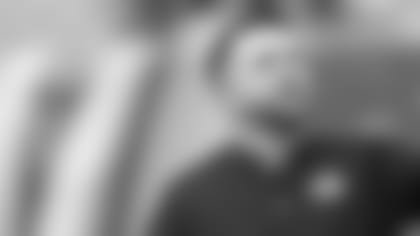 Running backs coach Kyle Caskey made sure he kept in touch with Flowers before the draft.
So how Flowers resurrected the Bulls' program with character topping a laundry list of intangibles despite his personal life in tatters became required reading leading up to the draft. Plus, after the Bengals' season ended Caskey acquainted himself with the scouting reports compiled by Bengals Southeast scout and offensive connoisseur Mike Potts that were cross-checked by East Coast scout Andrew Johnson. It all gave him a good feeling.
"I didn't bring it up with him as much because I wanted him to understand that I'm looking at him as an athlete and I wanted him to talk to me as a coach," Caskey says of the past. "When it came to his personality and how he is as a person, no one had a bad thing to say about him."
The man isn't a mystery. That's as good as it gets. But his position in the NFL is another matter. Flowers is 5-10, 214 pounds and, as Potts says, "Magic with the ball in his hands." Running the zone read and the Bulls' spread offense, he did what Tim Tebow didn't do and became the first Florida college quarterback to rush for 1,000 yards and throw for 2,000 yards. As a junior. He fell seven yards shy of doing it again last season. All the while leading South Florida out of the abyss at 21-4.
Problem is, those skills and dimensions fit into the NFL but not at quarterback. That's why Tebow is trying to hit the curve. So the Bengals aren't going to put Flowers in a box, they're going to go out of the box and try him at everything. If he's not a laser passer, he certainly is a bonfire of skills.
Caskey gets first crack at Flowers in a backfield wide open after Joe Mixon, Giovani Bernard and Mark Walton. Special teams coordinator Darrin Simmons is waiting to use him as a returner. And he's tailor made to be a personal punt protector with his quarterback background. Wide receivers coach Bob Bicknell, who also saw him at the pro day, can run him in the slot. Offensive coordinator Bill Lazor won't put his zone read skills on the shelf.
What if they've got a Lamar Jackson-type after the Ravens traded back up into the first round to get Jackson? Then defensive coordinator Teryl Austin can use Flowers on the scout team the two weeks they prepare for Baltimore.
And in the back of the mind there has to be that observation from South Florida head coach Charlie Strong that Flowers has all the makings of a play-making NFL safety.
"The first step is getting him in the building," Caskey says. "Now that we've got him here we'll see what he can do and how we can fit him in to help us and help his career."
Flowers isn't giving up the dream of playing NFL quarterback. It's why he walked off a field as a kid when a coach put him on the offensive line. It's why he went to South Florida. But there are dreams and there is the path to a dream and he says he wants to get on a roster and go from there.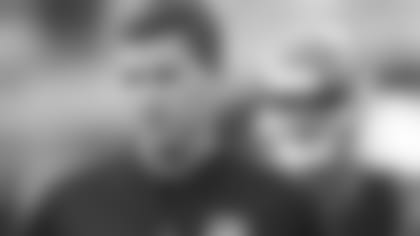 Flowers gives offensive coordinator Bill Lazor a variety of options.
"I kind of figured that's the way it would go," says Flowers of the conversion to running back. "At the end of the day I can't keep saying I want a shot at quarterback. Some people feel certain ways about me, but I don't get caught up in all that hype. I'm just being myself. Do whatever it takes to help the team win."
The recruiting of Flowers is another example of how director of player personnel Duke Tobin's department works with the coaching staff and agents during evaluations. As the Bengals coaches prepared for their scouting season to meet the prospects, Caskey watched Flowers jump off the tape compared to his running backs.
Plus, the Bengals had an early opening to Flowers in January's East-West Shrine Game, where four Bengals assistants watched him work during the week. Offensive assistant Dan Pitcher was his quarterbacks coach and tight ends coach Jonathan Hayes was his head coach. Flowers didn't play in the game because he had to go back home for personal reasons but they had seen enough to like.
A month later the Bengals met him at the scouting combine and watched him work as a quarterback. Then Caskey gave Flowers a call before his pro day to let him know he would be sticking around to watch him work out as a running back. Caskey loves how Flowers believes he can be a quarterback and how he exudes that Alpha air. He thinks that confidence projects anywhere on the field.
"It was impressive how he made the conversion with his mindset," Caskey says. "Here he is throwing for the scouts and then all of a sudden he's working out for them playing another positon and he really handled that part well."
Caskey kept in touch with Flowers and his agent, Zach Hiller, with the occasional text and call in the weeks before the draft. But during the draft Caskey, expecting him to get picked, didn't get on the phone until he noticed almost off-handedly moments after the draft that Flowers was still there. The draft is so strait-jacketed for three days before it melts into an hour of chaos with free agency, but Caskey already had a relationship with Flowers and Hiller and the thing was done fairly quickly.
"It was a different environment over there," Flowers says of the Bengals. "They kept checking in with me to see how I was doing. The coach told me stay upbeat and be positive."
Flowers also came to terms with playing running back and how taking a handoff is different than keeping it on a zone read. Or is it? Before he arrived in Cincinnati Thursday for camp he phoned one of his old college running backs, Marlon Mack, now running the ball for the Colts. Mack told him to get ready. The league is fast. But he also told Flowers he could do it because he picked up things so quickly as a quarterback.
"I just have to get a feel for it. Let my instincts take over," Flowers says. "I think that's why I was able to be the best I can be. Once I get a feel for things I just let my instincts take over. In college I watched film and I practiced like it was a game because you never know what's going to happen in a game.
"The hardest adjustment will be picking up blocks. I've never done it. Reading the holes better instead of dropping back and if it's not there just get outside and use my talent. Now I just have to hit the gaps and trust the O-line."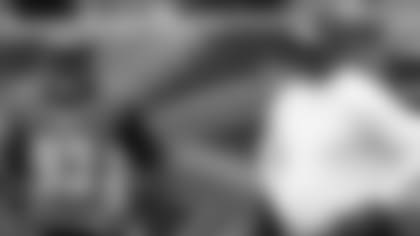 Tight ends coach Jonathan Hayes was Flowers' head coach at an all-star game back in January.
If there's anyone who can talk about what Flowers is about to embark on, it's Shaun King, his quarterbacks coach his junior year before moving over to running backs last season. Yes, that Shaun King. The Tulane quarterback taken with the 50th pick by the Buccaneers 20 drafts ago.
How tough does Flowers have it trying to prove to people he's an NFL quarterback? King was 6-1, 215 pounds and people just couldn't get over his size even though he took the Bucs to the 2000 playoffs with a 10-6 record. He started three games the rest of his career that lasted just six seasons.
Is he an NFL running back?
"I think Quinton is an NFL player," King says. "When we're evaluating, we get so caught up in measurables. At the end of the day they're going to blow a whistle and play a game and the only thing that's going to matter is who loves the game, who prepares the most consistently, who has the most heart and Quinton grades off the charts in all those categories. People talk about tall cornerbacks. Look at the first round this year and people drafted great football players.
"That's how we are as a society. We get caught up in the superficial," King says. "Look at Aaron Donald. Some people thought he was too short. But look at his college tape with the Pitt Panthers. Quinton is going to be an asset to the Bengals and the Cincinnati community. He'll make that offense so much more dynamic … You've got your big Pro Bowl receiver in A.J. Green, a proven veteran quarterback in Andy Dalton. You've got different kinds of backs. He's a perfect complement."
King is amazed Flowers didn't get drafted. "Are you telling me after the fifth round all those guys are better players than Quinton Flowers?"
But he's got faith in the Bengals coaches.
"They have brilliant offensive minds," King says. "I think he can throw the football, I think he can catch the football, I think he can carry the football. He's a phenomenal football player. If you put him in a box I think you limit your offense's ability.
"I think about the red zone packages they might be able to use him as a quarterback with a change of pace with the run-pass option and he can make the throws. You could have him as a slot receiver, or as a returner, or put him in the backfield. There are so many things you can do with the young man."
After watching Flowers for two years, King's belief that things happen for a reason has been bolstered by him taming all kinds of adversity. From getting up from big hits to manufacturing yards out of plays melting into chaos to the biggest losses of all.
It almost seems as if Flowers' everything-happens-for-reason iron will is contagious.
"I think Quinton's life is pre-ordained," King says. "I think God has a mission for him on and off the field and I think it was God's will he ended up in Cincinnati and that's why he's there."