Orson Charles figures to be at the center of one of training camp's best roster battles.
As the fate of the free world apparently rests on the blessing of LeBron James, the Bengals have to wait two weeks to take their talents to Paul Brown Stadium for the July 24 start of training camp.
There'll be no discussion of max contracts then. Indeed, the most compelling and competitive roster races are confined to guys making the minimum or pretty close to it.
There'll be other camp storylines, of course. They primarily revolve around quarterback Andy Dalton and how he bounces back from post-season disappointment while also dealing with his contract talks. Also vying for the marquee is new offensive coordinator Hue Jackson's implementation of his quick-tempo, high-energy scheme and how new defensive coordinator Paul Guenther inherits the NFL's No. 3  unit from Mike Zimmer.
Along with special teams coordinator Darrin Simmons, they'll be overseeing some major skirmishes at the edge of a roster that is relatively intact from the one that finished last season as one of only two teams ranked in the top 10 in both NFL offense and defense.
Here is one guy's list of the top five roster battles, keeping in mind that the Bengals aren't really cutting to the roster limit of 53. The more relevant number is 46 for the players that can be active on game day.
It comes with a warning label of course. To use the two words Bengals head coach Marvin Lewis dreads most, it is "pure speculation." But it's pretty much all we've got until Lewis wheels out his depth chart for the first time in the first week of August: FULLBACK: Orson Charles vs. Nikita Whitlock
Charles, the incumbent, is a converted tight end heading into his second season as a fullback. Whitlock, an undrafted rookie, is a converted nose tackle coming off a hellacious career at Wake Forest where he bedeviled the ACC with uncanny quickness and tenacity and made first-team all-league despite standing just 5-10 with 250 pounds
Charles has the edge with two seasons of NFL experience, but he only played 67 snaps last year in his new role. He may have good hands, but Whitlock also had people raving during the spring about his surprisingly nimble catches.
If neither guy lights it up when the pads come on, the Bengals could conceivably chase a veteran fullback at the cut down date. But not so fast.
Not only are the coaches anxious to see Whitlock in action, so are his teammates. His exploits in the weight room have hushed them and he spent the spring picking the brains of everyone, including sitting in with the offensive line to get a better idea of his blocking tracks.
THE 53: With the Bengals going with three QBs, they figure to keep only three tight ends, so Charles has to be counted as just a fullback. With Jermaine Gresham's health a question at this point (although Lewis said he expects him back for camp), they probably have to make sure they've got a veteran blocker and Alex Smith fits that bill for the second straight year to go with the pass-catching Tyler Eifert.
THE 46: Whoever it is has to be a factor on teams and Simmons can't wait to get a look at Whitlock in the preseason games. Special teams coaches just love offensive guys that played defense, not to mention that bowling ball, underdog mentality that Whitlock brings every play.
WIDE RECEIVER: Dane Sanzenbacher vs. Cobi Hamilton vs. James Wright vs. Ryan Whalen.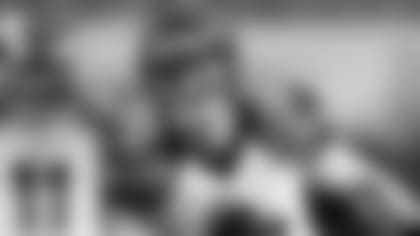 Ryan Whalen is looking to get back into the mix.
They've got savvy veterans in Sanzenbacher and Whalen, a sixth-rounder from last year who has flashed NFL skills in Hamilton, and a wild card in Wright who was a special teams maven at LSU covering kicks.
Sanzenbacher always seems to do something positive in a reserve role, whether it's returning a punt for a touchdown last preseason or setting up the winning field goal in Detroit on the last play back in October. Whalen is out of the same mold even though he hasn't caught a ball since a huge third-down conversion for six yards in the AFC Wild Wild Card Game on Dec. 23, 2012 in Pittsburgh.
THE 53: The big assumption at wide receiver is that returner Brandon Tate is a lock along with the Big Three of A.J. Green, Marvin Jones, and Mohamed Sanu, leaving just two slots open. That could change if first-round pick Darqueze Dennard plays well enough at cornerback to free up Adam Jones to return kicks on a more regular basis and maybe open up another spot at receiver.
THE 46: If Tate is the returner, the fourth receiver is also going to have to play special teams and this is where the 6-1, 201-pound Wright, one of this year's seventh-rounders, becomes an intriguing figure. He's coming off a senior season he was named "Wild Tiger," for having the most production on special teams.
As the special teams captain Wright used his speed to rack up 12 tackles and dig out two fumble recoveries. He also played a very good receiver during the spring and showed the coaches a lot of polish and poise even though he caught just 25 balls during 50 games in Baton Rouge. That's only because he played behind a first- and second-rounder.
On the other edge is the 6-2, 205-pound Hamilton, who worked on the practice squad last year after leaving Arkansas as the Razorbacks' all-time leading receiver. During the spring Hamilton displayed some of the skills that allowed him to set an SEC record with 303 receiving yards against Rutgers. But in a pitched battle against Wright, he'll have to produce on special teams in the preseason to get those skills on the field.
SAFETY: Taylor Mays vs. Danieal Manning.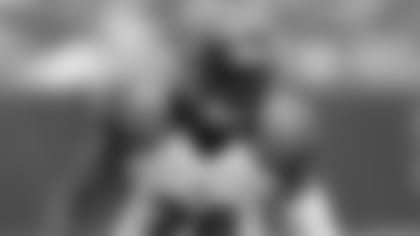 Taylor Mays heads into his fourth season in Cincinnati.
An intriguing matchup between two versatile veterans coming off injury.
Mays, 26, a fifth-year guy, proved to be a valuable, resourceful player when he moved from safety to nickel linebacker 10 days before last year's opener and played well before he went down with a season-ending shoulder injury halfway through the year.
Manning, who turns 32 early in his ninth training camp, played in a Super Bowl and started nine playoff games  for two different teams before signing with the Bengals as a free agent. Playing for new Bengals cornerbacks coach Vance Joseph in Houston the previous three seasons, Manning broke his leg in last year's sixth game.
Manning played everywhere for Joseph, including some nickel corner, and is highly regarded for his smarts and professionalism. In the wake of his injury it's unclear if he can help them as a kickoff returner. Although he has returned just two kicks in the last two years, Manning won the 2008 NFL kick return title by a yard and has a 26.8 career average, two more yards than Tate's all-time leading mark for the Bengals.
THE 53: The Bengals traditionally keep at least four safeties and six cornerbacks and that's the way it would appear to break down this year. With the drafting of defensive end Will Clarke in the third round, the Bengals figure to keep nine defensive linemen, which usually translate to 10 defensive backs and six linebackers.
THE 46: Reggie Nelson is entrenched at one safety and they were encouraged by George Iloka's first 16 NFL starts opposite him, but they are looking for more plays from him than his one interception. Shawn Williams, last year's third-rounder, made an impact on special teams in the second half of the season and looks to have a niche as he defends his teams tackling title. But they're looking to see if he makes the same kind of improvement at safety this training camp.
Mays or Manning could both stick if they display their versatility this summer. That could free them up to keep five safeties and five corners. And don't sleep on free-agent rookie safety Isaiah Lewis out of Michigan State, although he's staring at a huge numbers game.
LINEBACKER: Jayson DiManche vs. Sean Porter vs. J.K. Schaffer vs. Marquis Flowers vs. Brandon Joiner.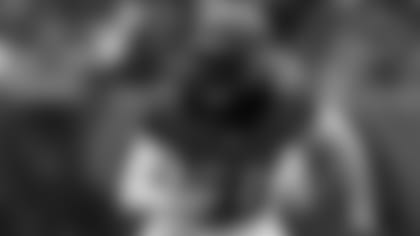 Jayson DiManche is looking to build off last year's rookie effort on special teams.
Basically you've got two rookie draft picks in the mix since Porter, a fourth-rounder last year, suffered a season-ending shoulder injury in training camp last year. Flowers, this year's sixth-rounder, joins two undrafted free agents that have beaten the odds in Schaffer and DiManche. Joiner, also undrafted, is also looking to bounce back from a season-ending injury. Schaffer is in his third full year out of the University of Cincinnati while DiManche is looking to follow up his rookie year out of Southern Illinois with more than his 12 special teams tackles, second on the club.
THE 53: Pure spec says it looks like there are two spots available behind starters Vontaze Burfict, Rey Maualuga, Emmanuel Lamur and Super Sub Vincent Rey. The next two guys are going to have to be able to play both outside spots. Schaffer can play the middle, as do Maualuga and Burfict.
THE 46: All linebackers pretty much have to dress on game day because of special teams and that's why you have to keep an eye on the 6-3, 235-pound Flowers. He's a speedy guy who was all over the desert at Arizona playing every game as a junior and senior with an exhaustive 272 tackles, 27 tackles-for-loss, 7.5 sacks, five picks, five forced fumbles, two fumble recoveries and eight passes defensed. He was also athletic enough to be a Class 5-A running back out of his Phoenix high school with more than 1,200 yards and 16 TDs his senior season.
OFFENSIVE LINE: Trevor Robinson vs. Trey Hopkins vs. Will Svitek vs. T.J. Johnson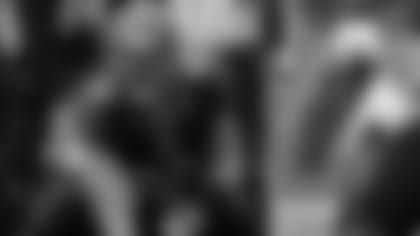 Trevor Robinson is looking to regain his rookie form, when he started seven games for a playoff team in 2012.
And that might be for just one spot.
They've been extremely impressed with the 6-3, 307 pound Hopkins, an undrafted guard out of Texas, and they're hopeful that Robinson is back to his 2012 rookie year form at center after he was plagued by last year's pectoral injury. Johnson, a center picked in the seventh round last year, worked on the practice squad. The 6-6, 310-pound Svitek offers size, versatility, and nine years of experience as a backup, mostly at tackle. But he did play guard for the first time last year in New England.
THE 53: Usually the Bengals keep nine on the offensive line and the numbers always quickly tighten up. After the five starters (tackles Andrew Whitworth and Andre Smith, guards Kevin Zeitler and Clint Boling, center Russell Bodine), the first backups loom as guard-center Mike Pollak, tackle-guard Tanner Hawkinson, and tackle Marshall Newhouse. All would seem pretty valuable. Newhouse can back up both sides, Pollak can play both guards, and Hawkinson can play both sides on the left side.
(Boling is coming off an ACL injury but all indications are if he's not ready the first day of camp he will be shortly.)
THE 46: Usually seven linemen are active on game day and you'd like to make sure you've got at least two centers dressed as well as an emergency third. Boling could be that guy in a pinch. Hopkins has impressed by how easily he fits into the pro game, but right now it looks like he can only play guard.
But, like everything else pure speculation, that could all change in the next 59 days. The 60th is the opener in Baltimore.