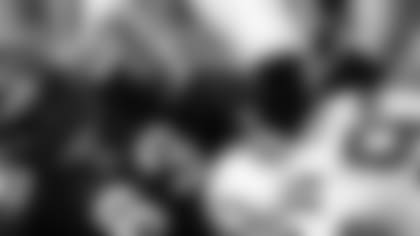 Carson Palmer went toe-to-toe with Colts QB Peyton Manning in last season's 45-37 loss at PBS. (Bengals photo)
The blueprint for beating the Colts isn't locked away in a dusty drawer waiting for use. The five keys to winning Monday night's national showcase in Indianapolis has been on display the last month and are embedded in last season's loss to Peyton Manning and Co.
1. QUICK STRIKE: The Colts haven't lost at home all season. Not only that, they haven't lost a game at home with playoff implications since October 2004. Not only that, they haven't lost a game at home with playoff implications by more than a field goal since October 2002.
The Bengals have never trailed in their four-game winning streak and for just 7:48 of the last 20 quarters. The only stretch is since Carson Palmer fumbled the ball away on a sack with eight minutes left in the Nov. 12 game against the Chargers and running back LaDainian Tomlinson scored on the next snap on a nine-yard run.
With rookie left tackle Andrew Whitworth getting the call against Pro Bowl defensive end Dwight Freeney if Levi Jones can't go in practice this week, it's more important than ever to take the crowd out of the game as soon as possible.
Not only that, getting a lead on the Colts puts them in an awkward position in their bend-but-don't-break Tampa Two defense.
The Bengals have won their last two indoor games with the aid of the quick strike. They deflated the Louisiana Superdome with Chad Johnson's 41-yard touchdown in the game's first two minutes last month. And a year to the day they're scheduled to play the Colts, they clinched the AFC North last Dec. 18 in Detroit when they went up 3-0 in the first three minutes, 10-0 in the first seven and 17-0 in the first 12.
2: WIN THE CLOCK: It takes no genius here. The less time Manning has on the field, the less time he has to do damage. In last year's loss to the Colts, Indy had the ball five more minutes and scored eight more points in its 45-37 victory at Paul Brown Stadium.
In two of their last three victories, the Bengals have had the ball more than 35 minutes in games they allowed just a combined 10 points. Twice in the four-game winning streak they've allowed the team more minutes and allowed a combined 23 points.
And it's not what the foe's offense does on third down, it's what the Bengals offense does on third down. During the winning streak, foes have clicked on 41 percent of their third-down tries and this is why the defense keeps talking about cleaning up on third down. But the Cincinnati offense has converted 45 percent of the time to cushion the impact and as running back Rudi Johnson said after the Oakland victory, "The more third downs we get, the more chances everyone has to get their hands on the ball."
Of course, the Bengals converted 46 percent of the time last season against the Colts and still lost. Which is what happens when the other team goes into the stratosphere and hits 64 percent of the time. No offense can keep up with that.
3. RUN THE BALL, PLEASE: Which leads to the next key. The Colts simply can't stop the run and it's been the one thing foes could really do with any consistency on them since they became fairly stout the last few years. And, let's face it. People are taking the Jacksonville game in the veins. Yes, the Colts were horrific in giving up 375 yards on the ground last week, but before that they had allowed just 20 and 21 points in their two losses.
Still, a blueprint is a blueprint. When Rudi Johnson carries the ball 25 times, the Bengals are 17-0 and when he rushes for 100 yards they are 15-2. Since 2003, the Bengals are 11-6 when Chad Johnson catches 100 yards and 5-3 when they have a 300-yard passer. Good, but it's not Rudi's 88 percent.
The Bengals let themselves get lulled into last year's shootout against Indy a little bit by, again, falling behind early. Rudi and Chris Perry combined to run it just 24 times on a night Palmer threw it 38 times as they got into an 18-point hole with 3:41 left in the first half.
More runs than throws are always a good sign. The Bengals are 4-0 when they do it this season and were 4-0 last year.
4. NO BIG PLAYS: This is a game of healthy safeties.
The Colts haven't had a healthy Bob Sanders this year (and he's questionable again this week), and their run defense has suffered by giving up long runs. With the return of a healthy Dexter Jackson teamed with Madieu Williams against Cleveland three games ago, the Bengals haven't allowed a running back to take one longer than 15 yards and they have allowed just two passes of longer than 35 yards to a wide receiver. And only one to a tight end longer than 20 that included games against big-play threats Todd Heap and Kellen Winslow.
Last year the Colts killed Cincinnati on the big play against a secondary that didn't have either of its starting safeties. The Bengals allowed a 66-yard touchdown bomb to wide receiver Reggie Wayne and a 21-yard touchdown pass to tight end Dallas Clark. Clark also caught a 56-yarder to go with his 125 yards, but word is he's done for the regular season with a knee problem and that would take away one of Manning's most effective weapons.
5. CARSON COMEBACK: Palmer went throw for throw last year with Manning in a glittering display of the NFL's two best pure quarterbacks, firing up a 100.1 passer rating in completing 66 percent of his passes for 335 yards and two touchdowns while Manning sifted 365 yards and three touchdowns on 60 percent.
Palmer has to offer a similar outing to be the architect of a Monday night win. He's coming off his first three-pick game in 32 starts and the Bengals would love a similar response to the last time he had a trhee-pick game. In his next two games after those three interceptions against Cleveland (also at home on Nov. 28, 2004) he went on the road against two top defenses and singed the Ravens and Patriots for five touchdowns and just two interceptions in triple-digit passing days.
And you can't just totally shelve the pass for the run. A big reason the Bengals are 4-1 in this Chad Run is that Johnson has caught seven balls of 40-plus yards.