Bill Connelly with a chunk of Riverfront Rebar.
Scour the Bengals record book and there is no mention of William Efficiency Connelly.
Even though during his typically brisk, economical assault of his daily tasks he is the only Bengal in history to get a practice lecture from Paul Brown, a game ball from Marvin Lewis, and a champagne toast from the dreaded division rivals both coached in the Cleveland Browns/ Baltimore Ravens.
"Shayne Graham said a lot of things that hit home," mused Connelly last week, his last on a job well done as one of the last of a vanishing breed in the NFL whose varied duties couldn't shoe-horn into one job title.
"It's been a fantastic career," said Connelly, who began as a student trainer and retired as the director of operations. "At this point, you only remember the good things. I parlayed taping ankles into a 41-year career. The Brown-Blackburn family takes care of their people. That's not as well known outside these walls. They approach it as, 'I'm loyal to the people loyal to me,' and it's a two-way street. I'm grateful for that."
Ray Oliver, the former Bengals associate strength coach now a University of Kentucky athletic administrator, saw the loyalty every day.
 "Bill was the Churchill of the stadium," said Oliver, who has done some operations work himself. "He'd fight in the air, he'd fight in the sea, he'd fight in the fields, he'd fight in the street doing all kinds of jobs for the team. He's like one of those classic old typewriters where they don't make the ribbons anymore."
He rapped out a pretty good story four decades in the making. Graham, the long-time Cincy kicker who came back last month to retire as a Bengal, is 39. That meant he was not yet born that summer of '76 Connelly was a lanky Ohio State junior intern plucked from Columbus to not only tape ankles, but fill water bottles, carve ice cups, sweep floors, and whatever else trainer Marv Pollins needed in that long, hot training camp two months long.
During one of those first practices at Wilmington College, Bengals founder Paul Brown, in his first year out of coaching, came down from football's Mount Rushmore and stood next to Connelly.
"Bill, what do you see out there?" Brown asked.
Connelly, used to those three-yards-and-a-cloud-of-dust practices from Buckeyes coach Woody Hayes, told Brown he didn't think the pros hit as hard.
"You don't see many Rolls Royces in demolition derbies, do you?" Brown asked.
Connelly worked for every head coach after Brown but Paul was the only one he called, "Coach." Everyone else was "Tiger," "Homer,"  "Dave," "Bruce," "Dick." His first game as the full-time business manager was in 1984, which meant he coordinated the trip to Denver for the opener. That was also the first game for "Sam," as in Wyche. After his last game, a 27-10 win over the Ravens at Paul Brown Stadium on the first day of this year, "Marvin," presented game balls to Connelly and retiring public relations director Jack Brennan.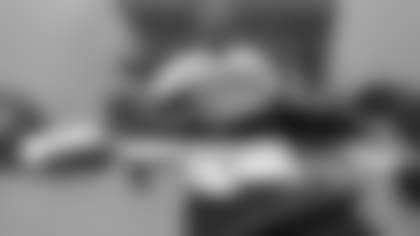 During his last week, Connelly went down memory lane.
"Very emotional," Connelly admitted. "Marvin has a knack for knowing moments like that. I wished it was after the Super Bowl.  So does Marvin."
Connelly worked two of those. At Super Bowl XVI in Detroit he crouched behind a whirlpool while Ray Griffin and Don Bass had their epic pre-game fight in the training room. At Super Bowl XXIII, he was the business manager who helicoptered over Fort Lauderdale and Miami the week before the AFC title game charting hotels and practice sites.
"The travel guys from the four teams in the (conference) championship games went on the trip," Connelly said. "You think how great it would be to get there and you're just not sure it's ever going to happen and then you do and it's such a great feeling."
Yet after 41 years in the game there is no shred in the record book of his moustache that got frozen in the Freezer Bowl. Or any lock of his hair that got grayed by out-of-town bus drivers. You can't find him among the decimal points and honors accumulated by the kaleidoscope of Bengals he has seen. Four Greens (A.J., Dave, Harold, Skyler), four Whites (Leon, Marvin, Mike, Sheldon), a Blue (Adams) and a Red (Andy Dalton).
But he is the only Bengal to ever tape the ankle of a Hall-of-Famer, help a future NFL commissioner decorate a hotel ballroom, share a house with two Heisman Trophies, and lead the Riverfront Stadium crew that transformed Reds shortstop Barry Larkin's MVP playground into Bengals running back Corey Dillon's NFL record book roller derby rink when one night in 1997 he slammed his way past the great Jim Brown to set the NFL single-game rookie rushing record.
Back in the days of the multi-purpose stadiums the Bengals were responsible for making sure Riverfront (later Cinergy) got converted from baseball to football and Connelly's part-time team of city workers pulled off some tights ones. Those days are still close and sweet. They blew up the building when the Bengals were in Buffalo, but Connelly had a chunk of Riverfront Rebar in his PBS office ever since.
"The toughest conversion was if the Reds left on a Wednesday night or a Thursday afternoon and we had a Saturday night pre-season game," Connelly said.  "It would (usually) take four evenings for a Sunday game. If the Reds left town on a Tuesday or Wednesday, we had Wednesday night, Thursday night, Friday night and Saturday during the day."
No job has been too big or small in any era. At Riverfront he chipped ice off the tarpaulin long before heated fields, set up a bandstand long before stadium Deejays, and put orange chairs in the concourse behind the last row of blue seats long before club seats. Quarterback Boomer Esiason would needle Connelly about not wasting anything, like when it came to pre-game meals: "Bill, you're short on peas. You only have 1,032. You need more peas."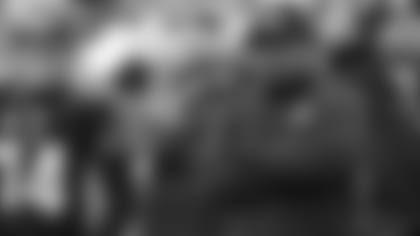 Connelly went from Tiger Johnson and Ken Anderson to Marvin Lewis and Andy Dalton.
When the Bengals hosted the 1988 AFC Championship Game party at the Hyatt Regency, Connelly teamed with Roger Goodell, a young NFL operative he knew from his Pro Bowl visits.
"Roger went out and bought a couple of stuffed tigers," Connelly said. "After the game he gave one of them to my son Ben who was about two or three. I've still got it."
Goodell remembered. He recently sent a keeper to Connelly on commissioner letterhead congratulating him on his career and recalling those Hawaiian assignments before closing with, "You have certainly earned some time to relax and enjoy yourself, Bill. I hope you and your family will do that with much health and happiness. You always will be part of the NFL. Don't hesitate to contact me if I may be of assistance on any matter."
Pretty heady stuff for a self-described "scrawny 5-6, 105-pound kid,' who decided he liked being around athletes while growing up in St. Clairsville, Ohio, just deep enough in Steelers country that he collected bottle caps of Mean Joe Greene and Franco Harris.
"I liked medicine and athletic training was a no-brainer," Connelly said. "I had a (college) roommate who did an internship with the Pittsburgh Pirates in Bradenton, Fla., and I thought, 'Gee, I'd like to do something in the NBA or NFL."
He got his shot when Pollins and Bengals equipment manager Tom Gray went to Ohio State looking for summer help. When one of Connelly's classmates turned down Pollins, he was next. That guy is a successful orthopedic surgeon. Connelly went on to fix everything but body parts, although that Hall-of-Famer, Anthony Munoz, as well as future Bengals radio voice Dave Lapham made sure he taped their ankles when he was a trainer.
"Pretty easy ankles to tape. So thick. Archie Griffin's were the toughest. They were really thin," Connelly said.
Connelly was young enough that he roomed in Cincinnati with Griffin and later his brother Ray because he went to school with them from Ohio State. He was old enough that because of cell phones he no longer had to give some players aliases at the hotel the last few years because who  calls the front desk anymore? If you couldn't reach Carson Palmer it's because Connelly registered him as Carson Hilton, Palmer's middle name.
How long was he around?  He figures those first charters were on Piedmont's 737s with 118 seats. Last year's flight to London was on Airbus A340-600 with a traveling party of 135.
But, naturally, his toughest trip of all was the shortest, the 37-minute flight to Cleveland. After getting shut out by the Browns in 2001, the Bengals boarded the charter only to find the power iffy.
"One of the machines with the auxiliary power was out,' Connelly said. "And I asked, 'How many do you need?' We need one, but we have to have two backups.' Oh."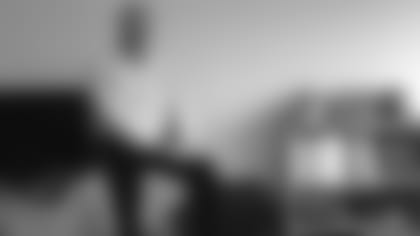 Connelly with a Riverfront Stadium seat.
Connelly gave Mike Brown his options. Wait for Lord knows how long on the tarmac or get on the buses for the four-hour ride back to PBS. Brown wasn't waiting.
"It wasn't too bad. The weather was good," Connelly said. "We're on the road and the bus driver says to me, 'I have to stop. I have to go to the bathroom.' I said, 'No, no. we can't stop.' He said, 'I gotta go.' The players just bolted and they were all over the place running to the vending machines (looking for change). Mike said to me, 'Get everyone back on the bus.' I said, 'I'm trying.'"
Connelly also helped coordinate one of the more fateful trips in Bengals history in 1995 when the Brown family took a commercial flight to Baltimore to view the city's plans for an NFL team. It all comes back to loyalty. Knowing how loyal Mike Brown is, Connelly never thought Brown would take the Bengals out of town even as he made the arrangements with Baltimore stadium titan John Moag.
He was right. It was the Cleveland Browns that moved and so it was a bit fitting that the Ravens were the visitors for Connelly's last game. His opposite number for Baltimore, Ravens senior vice president of operations Bob Eller, made the move with the Browns and has known him for 35 years.
Both had immediate post-game obligations, but Eller told Connelly to meet him when he could in front of the Ravens locker room. Eller greeted him with two glasses and a bottle of champagne and they headed to a corner.
"Bob said it was from him and the operations guys around the league," Connelly said. "It was really nice."
A toast, it turns out, to loyalty and Rebars and 41years.
"I can still tape an ankle," he said.
A look at the top 10 broad jump performers of the 2017 NFL Scouting Combine