Jake Fisher: back in the gym.

On his 96th day after a heart procedure ended his season, Bengals right tackle Jake Fisher got cleared Thursday and he celebrated by going back into the gym and clearing the big heavy weights.
"I've been working with lighter ones, but now I'm back to off-season workouts," said the relieved and resolute Fisher. "You have to be conscious of it. You have to monitor it. But you still have to live life. You can't let it cripple you in any way."
Fisher is the first active Bengal anyone can think of that has been treated for Atrial fibrillation, which is a rapid, irregular beating of the heart spawned by abnormal wiring of the upper chambers that affects about 5 million Americans, according to various web sites. After consulting with his doctors, Fisher believes he should be able to have a normal career and life after the Nov. 18 surgery in Chicago.
While there are no guarantees with any surgery, the Bengals starting right tackle isn't going to lay around worrying about it and he's ready.
"I feel good … 305 pounds. I have to put on a little body fat, but I'm ready to go," he said.
The first step came Thursday after a clearance for off-season workouts, training camp, and the regular season. He'll get checked every three to four months and he's got a monitor at home, but that's where it is staying.
 "During the first three months you have to watch it, but who wants to live like that?" Fisher asked. "No one wants to live in that constant stage of what is my heart doing? Check it every once in a while here and there, go to the spot in your house where you want to check it (on a heart monitor) and leave the crap there and go live your life.  It's not enjoyable. It's not what life is about."

Life began to get worse before it got better. After he went to the hospital earlier in the season with his heart racing to a supersonic 180 beats a minute during a workout and sticking there (his resting rate is about 65), Fisher had the same symptoms in the second quarter of the Nov. 5 game in Jacksonville and went to the hospital. His third, busiest, and most promising season ended after playing just eight games.
They then prepped him for a five-to-six surgery in Chicago, where doctors mapped out the electrical wave patterns and determined what part of the heart didn't work in sync with the rest of the machine. They sent a catheter through his groin to reach the heart and then deadened the damaged area by freezing it to prevent the interference with the regular heartbeat.
Scary?
"Absolutely. That's one of your major organs, you know?" Fisher said. "It definitely puts a mental block on things as far as putting things in perspective. What's most important in your life. Family, football, things you love doing. You don't want to lose out that as well.
"There are 500 new cases ever year, but it's usually older people. In their 60s," Fisher said. "It's rare for someone like me to have it … (but) there are guys that have had it, have played with it, have it now after their careers and deal with it …. You just have to understand it and do what you can to prevent it."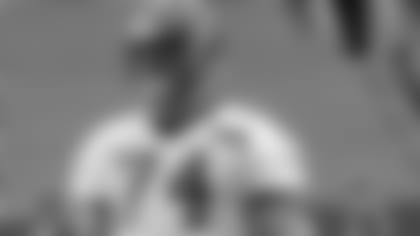 Jake Fisher started a career-high seven games in his third season last year.
And Fisher is equipped to handle it. A second-round pick out of Oregon in 2015, he's one of the more focused Bengals you'll ever meet. It is that razor-sharp mindset along with his tight end athleticism that made the Bengals give him first-round grades. And that attitude is on display now.
"The first thing was to focus on taking care of it. Getting healthy and getting through the surgery and then worrying about everything else later," Fisher said.
He said the biggest obstacle to getting back in the gym was waiting for the groin to heal. He figures he was back in about three weeks gradually getting back into shape and getting the heart rate up to between 130-150 beats. So far so good, just like the doctors drew it up.
The post-surgery phone texts have also supplied good vibes. Especially a couple from one of his striped descendants, First 50 right tackle Joe Walter. Walter, 54, has had the procedure twice since he retired 20 years ago.  Two years before Fisher was born, Walter had an elevated heart beat before a 1991 game in Philadelphia and Walter says that may been his first symptom of A-fib.
"Great news. That's great news," said Walter when told Fisher had been cleared. "I called him before the procedure to let him know what to expect. They weren't going to let him do anything for a while. I feel great. It's really not that big of a deal. I'm still pretty active. He'll be fine."
The irony is that last season Fisher, always careful and precise about diet and workouts, never felt better physically. He did say he was tired mentally as he worked thought the symptoms, but everything else was as fit as ever. That's how he's headed into a very interesting season.
"I don't think I lost anything," said Fisher of his fitness.
Just before he left last month, offensive line coach Paul Alexander said Fisher was his best lineman before he went on IR. And profootballfocus.com rated him 55th among 83 tackles to lead the Bengals' tackles.
 But no doubt he and the Bengals want better and he's excited by the arrival of new line coach Frank Pollack. Isn't the jury still way out on Fisher? After three seasons, he still has just 10 starts at right tackle.
"I'm thankful to Paul Alexander and Hue Jackson for having the confidence in bringing me here," said Fisher of Jackson, his rookie offensive coordinator. "I think Frank is going to help us the way he coaches, the way he sees football and can help young guys learn from a new coach with different techniques.
"For me, last year was a big jump mentally because I played so much but our team didn't play as well as we wanted ," he said. "But I think we're there."
And Fisher expects different after speaking briefly with Pollack.
"Different techniques," he said. "And different mindsets, I guess. They didn't bring somebody new in to do the same thing or else they would have kept Paul."
Which is just as well for Fisher. He's on new ground, too. But a lot more solid than about 100 days ago.
"There are no stipulations at this point. Nothing is holding me back. I'm glad to hear that," he said.