Back-up wider receiver Alex Erickson had the Bengals' longest play of the night, a 31-yard catch from Andy Dalton.
The Bengals' first offense hasn't scored a touchdown in its four possessions during the first two pre-season games and that was assured Saturday night when wide receiver A.J. Green couldn't connect with quarterback Andy Dalton on a third-and-two from the Chiefs 14.
"We already talked about it," Green said.
So the principals aren't pushing the panic button just yet.
  "I thought we moved the ball really well. I think we've done that in these first two games," Dalton said, "but when we get down there we have to score touchdowns."
Green:  "It's not time to panic. It's not like we're going three-and-out all the time."
 The Bengals' first unit did everything but score Saturday with some key pieces sitting it out, such as running back Giovani Bernard and wide receivers John Ross and Cody Core. Good and bad. The biggest plays of the night came at the end of the first half courtesy of the second unit when back-up quarterback AJ McCarron hit wide receiver Alex Erickson for 31 yards and wide receiver Tyler Boyd for 25 on consecutive snaps out of the hurryup.  
The first unit ran the counter effectively at times with running back Jeremy Hill (28 yards on six carries for the game) behind pulling left guard Clint Boling and left tackle Cedric Ogbuehi, but they couldn't dig out any consistency and or any room for Joe Mixon (16 on six carries), the rookie that didn't look as decisive as he did last week. With the Chiefs running a Bear defense (various forms of an eight-man front) that got chewed up last week for 5.2 yards per carry against the 49ers, the Bengals tried to find those gaps but could only manage 3.4 yards per carry.
"It's one of those things, going into this game that was a big point of emphasis. We were sticking to it and couldn't stop the defense they played," Dalton said. "I think we wanted to work on it a little bit from what we were doing last week. For us, we have to find a way to make the guy miss or open these holes big enough for our guys to make big run."
But Dalton, who got sacked for the first time this preseason on their only three-and-out of the year, felt like he had time to throw in the pocket. Right rusher Dee Ford chased him down a few times, but Ogbuehi says he only let him get by once and feels like "I'm getting better each game. (Ford) is a good player. It was good work."
On fourth-and-four, Dalton had plenty of time to throw a rope to rookie wide receiver Josh Malone bodying up cornerback Phillip Gaines for 15 yards at the Chiefs 22.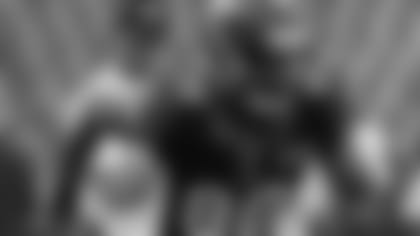 Andy Dalton found rookie wide receiver Josh Malone for a big fourth down play.
"We got that first down to get us down there where we couldn't make a play to score a touchdown," Dalton said. "Obviously we are going to look at it, see what we can do to get better down there. I thought that especially for that first trip, we moved the ball well. We just have to make a play when we are down there."
The one sack came when defensive tackle Allen Bailey shot up the middle with the help of a linebacker-tackle twist.
"It's not necessarily a guy getting beat," Dalton said. "I turned around and there was a guy free. It's one of those things that maybe if it's more of a game plan week, you're ready for something like that. They had a good stunt call."
 Dalton knows there'll be a more exhaustive game plan a week from Sunday, when the Bengals play in Washington with the preparation week of a regular season week.
"Maybe things would have been different with a game plan down there," Dalton said. "But at the end of the day you have to execute the plays called."
Ross and Core figure to be in the lineup then, but without them Saturday and tight ends Tyler Eifert and Tyler Kroft not targeted, Green had six targets with three catches for 39 yards. But all six targets could have been completed with more execution of those little things.
Right tackle Jake Fisher (who was otherwise good in protection) gave up a pressure on a ball headed to an open Green that was batted down. Dalton also threw high and behind him on a shallow cross Green still should have had when Pro Bowl cornerback Marcus Peters fell down.
And they couldn't hook up on that third-and-two from the 14 when Dalton ended up trying to fit in a fade to Green in the end zone but the pass sailed out of bounds.
That's why they have preseason.
Green heard the cornerback call, "Watch 18 on the vertical." But saw "The corner played a little tweener (between man and zone).
 "That made Andy set his feet a little bit. Made him hesitate a little," Green said. "He thought he was going to sag off even more. He was tighter than he thought he was.
"We already talked about it," Green said. "He said next time he'll just give me a ball and go and try and make a play on it … It's the little things. We'll be fine."
Cincinnati Bengals host Kansas City Chiefs at Paul Brown Stadium in week 2 of the preseason