O.J. Simpson takes the handoff from Ken Anderson in a Pro Bowl. They once had an iconic duel on the Riverfront.
Joe DeLamielleure, O.J. Simpson's right guard when Bengals quarterback Ken Anderson pulled the plug on "The Juice," with a glittering 447 Hollywood yards in the first Monday Night Football game ever in Cincinnati, says he can see that 33-24 loss like it was yesterday.
He also sees the scene in a movie about basketball's Pete Maravich, the part when the junior high-schooler asks his father what he's watching when he takes him to see a group of African-American kids play.
"I'm watching the future, son. I'm watching the future."
"That's how (Anderson) was," DeLamielleure says. "He was ahead of his time." It wasn't yesterday, of course. When the Bengals play their 13th Monday Night Football game at home (8:30 p.m.-Cincinnati's Channel 5 and ESPN), the game against the Texans falls one day shy of the 40thanniversary of the Nov. 17, 1975 Riverfront Stadium classic when Anderson's 30-for-46 dart throwing outlasted Simpson's 197 yards on 17 break-neck carries by the game's greatest running back and shoved the seven-year-old Bengals into the national conversation.
"The week before all we heard was 'Simpson. Simpson. Simpson.' There was nothing about us," says Bob Trumpy, Anderson's tight end. "We didn't care what Buffalo did. The kid was going to beat them and he did."
Anderson, then 26 and in his fifth season, who never threw for more yards in a game despite playing 11 more seasons and finishing with four NFL passing titles and Hall-of-Fame credentials, sensed even then the 8-1 Bengals had come of age against the 5-4 Bills before 56,666.
"They were a real good team. It was a big moment on the national stage at home to let people know the Bengals were a pretty good team, too," Anderson says. "There was electricity.  The first Monday night game in Riverfront. It was one of those magical nights. The town was lit up. A good opponent. O.J. Simpson was as good as there was in those days."
Dave Lapham, Anderson's own right guard that night, is in the radio booth this Monday night in his 30th season as the Bengals radio analyst. But he's got a pretty good call on that game 40 years ago.
"It was a track meet," Lapham says. "O.J. was a guy who had world-class speed. A track star. Instead of handing the baton off, Kenny was throwing the baton. One on the air and one on the ground. It was a Paul Revere Special."
That night Lapham's play-by-play partner, Dan Hoard, was an 11-year-old in Jamestown, N.Y., on the freeway to Buffalo who emulated his hero, Bills radio announcer Van Miller, by watching Simpson's Electric Co., and calling the action into his tape recorder. But on that night the ABC broadcasting crew of Frank Gifford, Howard Cosell, and Don Meredith, as they did every Monday, had a monopoly.
"Every Monday I always had to go to bed after the halftime highlights," Hoard says. "But I begged to stay up and keep watching. All I remember is every O.J. run was what today would be known as Play of the Day material. He was zig-zagging, pin-balling, people were falling over. And the Bills lost. I was devastated. I hated Ken Anderson. Couldn't he throw one incompletion?"
How about 154 yards on nine carries in the first half?
"No wonder they let me stay up," Hoard says.
Forty years ago, the ABC team played the NFL's Pied Piper, drawing in new fans with a never-before-seen blend of entertainment and broadcasting. Trumpy agrees. It was like the circus coming to town. The abrasive, telling-it-like-it-is Cosell thrived as the lightning road, but his halftime highlights revolutionized the industry.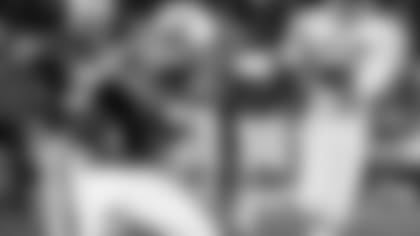 O.J. Simpson, here against the Jets, buffaloed the Bengals with world-class track speed.
"It was always 'Tiny Augustana,'" says Anderson, imitating Cosell's sing-song nasal twang pronouncing Anderson's alma mater. "I think they changed the name to 'Tiny Augustna,' because of Howard."
The game and times caught the Bengals and Bills at an intriguing moment.
A month before, rain and a riveting World Series between Boston and Cincinnati ignited sports' inexorable march to conquer prime time.
Paul Brown, the Bengals 67-year-old Hall-of-Fame founder and head coach, detested how the five-year Monday Night Football operation disrupted the routine of his team and the Buffalo win ended up being his last appearance on ABC because he retired at the end of the season, only to see the coming years enveloped by Sunday night football and other nightly NFL experiments.
"In a way, as much as I don't like to play night football, it does give us an extra day to heal our people," Brown tells the scribes heading into the game. "We will have to meet the day after the game next week. It does disrupt our routine, but we have to take our turn and everybody does it. But it is difficult because the game we draw is in the middle of November at 9 p.m. and I don't think any team relishes that idea."
But it became so relished that Trumpy, Tyler Eifert before Tyler Eifert as the first modern tight end, soon became one of the symbols of the sports television boom about to devour the country as one of the first ex-players to smoothly transition to a network blazer.  Over the next three decades his rumbling baritone and cutting wit and wisdom made him a Pro Football Hall-of-Fame announcer as well as a staple of golf and Olympic coverage.
And though no one knew it for another 20 years, the guy they couldn't tackle that night, Orenthal James Simpson, ushered in another era on the tube, reality TV, with his murder trial.
Anderson's style of offense, meanwhile, carried the next 40 years. He threw a 23-yard touchdown pass to wide receiver Charlie Joiner in the last two minutes of the first half to give the Bengals a 20-10 lead out of a formation that current Bengals offensive coordinator Hue Jackson could very well use this Monday night.
Joiner, on his way to the Hall of Fame, took a detour and lined up as running back with all pro wide receiver Isaac Curtis split right, where Trumpy and wide receiver Chip Myers were lined up as tight ends. Before the snap of the ball, Joiner went in motion to the right side and the play unfolded with Curtis and Myers running inside routes and Joiner doing a down and out against a Bills secondary decimated by injuries. Buffalo cornerback Tony Greene went with Curtis, since he'd already gobbled up 74 yards in the first half, but Greene couldn't get back to Joiner in time.
"There was nobody there," Joiner says later. "I just waved my hand for Ken."
Everybody runs plays like that nowadays. Not then. Up to that point the Bengals had 20 100-yard receiving games in their seven years of existence. They almost had three against the Bills with the incomparable Curtis (139) and Myers (108) teaming with Joiner (90).
"I don't know why he couldn't find me," says Trumpy, who had one catch for 18 yards. "But I don't care."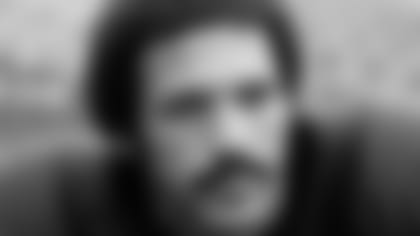 Isaac Curtis ripped the Bills for 139 yards in little more than two quarters.
Trumpy sees that night as a triumph for Brown's chief of the passing game, Bill Walsh.
"If Bill hadn't had left the next year, that's the way we have looked for the next couple of years,' he says. "Kenny throwing almost 50 passes a game and moving the ball like that."
Anderson, who won his first passing title the year before, used the Monday night spectacular to go back-to-back with another crown as he and Walsh hand-in-gloved it.
"Look at the weapons we had for crying out loud," Anderson says. "Isaac and Charlie Joiner at receiver and Trumpy cleaning up in the middle. We were pretty doggone good.  It had evolved over the years to a pretty potent point. Third year in the offense and it was smooth. From what I remember Buffalo wasn't at full strength in the secondary and we exploited it."
They also exploited Buffalo's blitz. The Bills for the first time all year ran a three-man front. It was so rare then it was called a 3-0 and not a 3-4 defense.
"When we see the 30, we know they have to blitz the linebackers to rush our passer,' Paul Brown says after the game. "When that happens they have to cover our receivers one man on one man. I'll take that any time."
If that doesn't sound like Hue Jackson and his 2015 offense, what does?
"I think Kenny should be in the Hall of Fame," says DeLamielleure, who is already there. "I think he's one of the greatest quarterbacks ever.
But DeLamielleure says Anderson had to be that good that night. He says he had to hit 65 percent of his passes at a whopping 9.7 yards per pass on that night so the Bengals could run 38 more plays than the Bills.
"Because they couldn't stop us," DeLamielleure says. "We were two or three incompletions away from controlling the game and grounding it if we get the ball back."
Bengals cornerback Ken Riley, another Hall-of-Famer in waiting, was amazed by Simpson. He compares him to his teammate Curtis. Curtis had the third best game of his life even though he left in the middle of the third quarter with an ankle devoured by the Riverfront Turf Monster.
"Isaac did in the secondary what O.J. did,' Riley says. "He just ran away from people. Both guys were college sprinters. They just ran away from you. You talk yards after catch with Isaac."
Simpson, two years removed from his 2,000-yard season in just 14 games, found all the holes in Cincinnati. The 6-1, 212-pound Simpson (Riley still can't get over how fast he was at that size), ripped off his longest run of the night of 59 yards by changing direction three times. Probably because Riley came into the NFL with Simpson in 1969 and has never forgotten he was on the 1967 USC relay team that set the world record in the 440.
"I think I tripped him up at the end," Riley says. "I don't know if it was that one. But I remember him getting out. The thing about O.J. is that he could squeeze through the hole sideways. But he could keep his speed doing it and if he got in the open he was gone. You're talking about a 6-1 guy running a 9.3 100. You just don't see that.
"O.J. was the best I played against," Riley says. "(Walter) Payton was just coming up but he wasn't as fast. Earl Campbell had more power, but he was 9.9, 9.9."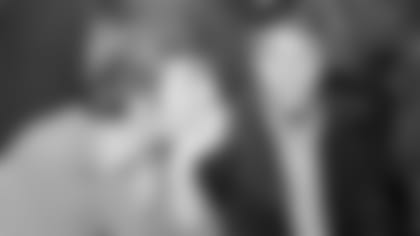 Maybe Dandy Don (left) and The Giffer didn't drive to the games together, but along with Howard Cosell they helped make Monday Night Football an American staple.
Lapham saw the same things from his vantage point. A stunningly big man who could move.
"He had a huge head and he wasn't afraid of hitting you with it,' Lapham says. "He'd king cranium skull your butt. He was the total package."
Maybe the best hit of the night came from DeLamielleure, his own man. He thinks so.
"I stopped him from getting 200 yards,' he says. "It was that game. I remember it like it was yesterday. He ran to the left, he zig-zagged, he broke it. I ran into him at about the 30. He slid down. I was trying to make a block, he hit me and fell down."
Simpson didn't chew up chopped liver. That Bengals defense would go on to finish seventh in the league as DeLamielleure staged his own battle with Big Bob Brown.
"Jim LeClair was the middle backer and they had (safety) Tommy Casanova. They were good," Joe D. says. "Bob Brown was breathing heavy. I thought he wanted to kick my butt. But he was just tired from chasing O.J."
The amazing thing about this night for the fans of the next century who would be able to see Eifert's three TDs on their phone even before the game against Cleveland was over is America couldn't see what Anderson and Simpson had done for another week until Cosell's half-time highlights.
"There were no satellite trucks," Anderson says. "You could see your team on the local news, but that was it. Everybody watched the half-time highlights around the league on Monday night. It's the only time you got to see the rest of the teams."
Trumpy didn't realize how big the Monday night production was until several years later when he covered the national championship at the Orange Bowl for NBC and there didn't seem to be as many production trucks as there were at MNF.
"In 1975 Monday Night Football was huge. Absolutely huge. Monstrous,' Trumpy says. "It still had the luster. To be judged good enough and entertaining enough to be on Monday night was something we looked forward to even before the season.
"And you knew everyone was watching. The biology teacher you had in high school would see you out there with the name on the back of your jersey saying, 'I was wrong about that kid.' And I wasn't the only guy that felt that way."
Trumpy has to laugh about Cosell. He called Anderson, "Kenny." Not Ken. "Kenny." Like they were best friends.
"I don't ever remember talking to him," Anderson says. "Back then, the broadcasters didn't talk to you before the game. Now they come in a day before the game and have meetings. I don't ever remember talking to him."
But there were no three more influential men in the NFL than "The Giffer and Dandy Don," as Howard called them, and Cosell himself, larger than life.
"Everyone wanted to be complimented by Cosell. They didn't care what the other guys said," Trumpy says.
It wasn't too long after that when Trumpy became the Monday night radio analyst and traveled in the same circles. At the hotel, he was stunned to see five separate limousines take the crew and producers to the stadium.
"I don't think they liked each other very much," Trumpy says. "But you have to give it them. They pulled it off."
So did the Bengals. After two Monday night losses on the road, you had to figure that 40 years ago was the first time they were talking about the Bengals Tuesday morning around water coolers from Boston to Bakersfield.
"People got to see us,' Riley says. "We were a pretty good young team that was running around all over the place."
It turns out Monday night is still a big night to watch football for some guys. Anderson is headed to a sports bar near his home in Hilton Head to watch Bengals-Texans.
"We'll be there watching with our group of Bengals fans," says Anderson, 40 years after the night he helped put them on the map.