With a tip to buddy Michael Johnson, Carlos Dunlap is settling in at right end.
Never mind that Carlos Dunlap is taking a lot of Michael Johnson's snaps at right end this spring.
Or that Johnson couldn't tell his old defensive line without a depth chart in new defensive coordinator Paul Guenther's Horseshoe Casino deck that never stops shuffling.
And never mind that the coaches have noticed that Dunlap, once the guy they rode at the drop of a whistle, continues to evolve into a Johnsonian-like leader.
But look at what Dunlap said to him when Johnson worked his Twin Towers football camp for 200 children in his native Low Country of South Carolina last weekend. After he got done telling Johnson the Bengals were adjusting him to the right end spot Johnson held down for four years, Dunlap told him, "I'm also picking up for you off the field. You left a big void in the city."
Little did he realize how well he has been taking notes. Dunlap now has his own foundation, Team Dunlap, but he also frequently helped out Johnson's forays into the community. Johnson, who went to Tampa Bay in free agency back in March, became almost legendary in the city during his brief but valuable stay. One of his grandest endeavors was giving monthly stadium tours to students who impressed him with essays on "How I've overcome adversity."
It turns out that when Dunlap took a group from Boys Hope and Girls Hope to a Reds game last weekend, he spoke on the subject of adversity without ever realizing it is one of Johnson's pet projects.
"They've got a lot of adversity going on in the household, which is one of the main things that can distract you from being motivated," Dunlap said this week. "I just try to teach them to use adversity as a motivation."
He took a few of his fellow linemen to the game so they could also speak to the kids and that won't surprise the coaches.
"He's become more of a leader, he's become more mature. Hey, he's 25 now," said defensive line coach Jay Hayes.
Dunlap can talk about adversity even if you have to dig a little bit to find it. Here's a guy that set the Bengals rookie sack record with 9.5 sacks in his last eight games of his first season, signed a $40 million extension before his fourth season, and heads into his fifth season with 27.5 career sacks, 1.5 fewer than two-time Pro Bowl defensive tackle Geno Atkins.
But Dunlap often seemed to be on the wrong side of the coaches. (Note he only started two games before last season.) He had this switch he seemed to have at times pulled to off during practice. They wanted to see more from this shockingly talented 6-6, 280-pound force of nature and right now they're getting it.
Adversity also came in the form of injury. Until last season he spent his training camps trying to overcome various physical problems and never really got it going until October or so.
"He's doing a good job becoming more of a good practice guy," Guenther said. "He's really improved that. I told Carlos our best players have to be our hardest workers and he's doing a good job. No question. Much improved. I'm happy where he's at."
Where he's at much of the time this spring is at right end after playing left end all four seasons, a change that Dunlap relishes.
"He's enjoying it, actually," Hayes said. "I think he likes   the versatility so that he can do different things. He's taking it as a challenge."
Moving from right end back to left end over to right end again in practice is something he did while becoming Florida's defensive MVP in its national championship season a year before he came out.
"Basically, with the reps you get more comfortable," Dunlap said. "That's why we've got OTAs to communicate and to get adjusted to it and used to it. I haven't done it since college, but I did it all throughout college. This is the only place I've played one side. I'm excited about being able to play both because it gives me different looks.
"It's still football. You're just basically starting out at a different position."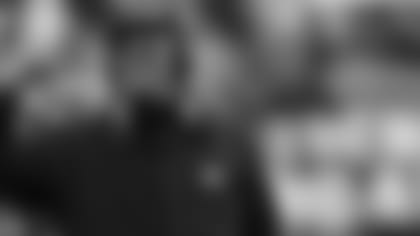 Defensive line coach Jay Hayes is shuffling the deck up front this spring.
And when it comes to football, Dunlap is a terror on the pass rush, a turnover on two legs. He is what the sack-and-strip is to the TSA's strip search. Terrifying.
He's got eight forced fumbles in the last two seasons and has recovered six fumbles, taking one 35 yards for a touchdown and another for 42 in the first quarter last year that made the Vikings go home early. He's got a 14-yard interception return for a touchdown and last year blocked two field goals in a Where's Waldo parade of scoring chances.
 No wonder everyone is wondering about the kind of offensive implosions Dunlap can cause from the quarterback's blind side at right end. He says his sack-and-strip moves have come from the study of right ends.  
 "Where I got it from was a lot of guys on the blind side," Dunlap said. "Hopefully I can mimic what they did, as well as mimic what I did on the left side."
Guenther isn't so fired up about the blindside aspect of it. What he likes are the matchup possibilities and the fact that the offense is going to have to look for him every snap. But he's not only doing that with Dunlap. The mark of Guenther's defense so far is that all the linemen are moving around in search of the right matchup. There is no starting base defense up front because it's always changing.
If Dunlap isn't the right end, sometimes it's Wallace Gilberry or Robert Geathers. All three have been on the left side while one of them is on the right. Gilberry is often inside on nickel rushes. Geathers has been at end and tackle with occasional drops, according to the package. Margus Hunt has stayed at left end, where Guenther says he looks like a different guy than the uncertain rookie of last year.
"Margus is having a good spring," Guenther said. "Robert is our pillar. He's so important because of the many things we do."
"The thing I want to do in the spring is teach the whole defense to all the players," Guenther said. "One guy can go as a nose, one guy can go as an end, the linebackers understand, the DBs understand. It's important to me that the players understand why we do things. Why we put certain things in. What the end goal should be, where the ball should go, understanding not only their position and the little things that go with it, but the big picture."
Dunlap knows the big picture. Last year, according to profootballfocus.com he took nearly 30 more snaps than Johnson (949-922) after a season he had 601 to Johnson's 860. The year before that, in 2011, he had 423 to Johnson's 701. He understands what every down means. He's no longer just a pass rusher.
"I think last year I was able to get 89 percent (play time). That's where we're headed," Dunlap said. " Now with Mike gone, we've got Margus who's going to take up some, then you've got Wallace and then you've got Robert who's getting back healthy and he's getting some reps, too. We're just spreading the wealth between three people so I'm not taking on all of the load."
He thinks more snaps are going to help his pass rush and not reduce it.
"That's why you've got OTAs and the workouts to get conditioned for it," Dunlap said. "To me, I get a better rhythm of what the pass-rush is or a better idea of when the passing is so I know when to pass rush. But eventually, if you're not trained properly, it can wear you down."
At the moment, the only thing getting worn down is MapQuest trying to figure out where Dunlap is located. If it's not right end, it's left. If it's not left, it's at Twin Towers holding camp with Johnson and the Rams' Robert Quinn and giving the kids oodles of free stuff to go along with the instruction. If it's not at Twin Towers, it's in the locker room checking with linebacker Vinny Rey on the next community event.
"You don't want to be too uniform," Dunlap said. "You want to have one solid base defense that you play against anybody, but you also want to be able to change up against different teams once they get used to what it looks like."
Now the offense has to find him today.