The Bengals and the Ravens are playing for nothing, so they say, in Sunday's regular-season finale (1 p.m.-Cincinnati's Channel 12) at Paul Brown Stadium.
But it is New Year's Day and so it's rather fitting that the first day of 2017 is going to display for one last time all the questions that Bengaldom will immerse itself in for the rest of the year.  So, even though Big Whit and T. Sizzle aren't teeing it up for a play-off spot, the swirling questions in the wake of their first losing season in six years are still going to make for an eventful week around PBS.
Here are just some topics we'll be getting our fill of this week:
*1.  WHEN DO THEY PUT A.J. GREEN ON IR?: *
Not this season, apparently. They put tight end Tyler Eifert (back) and left guard Clint Boling (shoulder) on season-ending injured reserve Monday and it looks like they'll just keep him on the active roster and deactivate him Sunday for the sixth straight week.
Sure, they probably should have made the decision to ice him for the rest of the year before they took him to Houston Christmas Eve, but in real life sometimes not every I is dotted and every T is crossed so neatly. As the bumper sticker says,, "Stuff happens."
 But, really, other than the tortured logistics, how can that be the wrong call? Especially at the end of a season they lost Eifert to a damaged ankle that didn't respond like the medics thought it would.
One wrong move with Green and it's a detached hamstring and he's looking at surgery. Imagine the second guessing on that one. Threatening a Hall-of-Famer's career?  Yeah, it stinks he won't get 1,000 yards. What would really stink is if he doesn't get 1, 000 again and he becomes the Ken Griffey Jr., of this decade.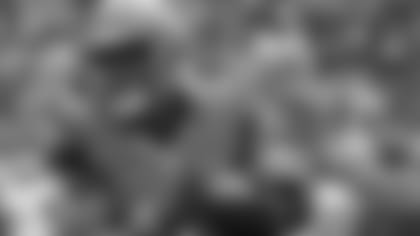 Cody Core didn't get much room against the Texans.
2.  WHEN WILL THEY ADRESS THE MARVIN QUESTION?:
 Note the question is "When," not "How, "and the gut feeling here is next Tuesday. After the season head coach Marvin Lewis shows up for the year's final press conference for the first sign, which is how they always handle it.
All indications are Lewis and his staff are going to be back next season, although there are enough brush fires out there to call in a CNN crew.
 Forbes apparently needed a break from calculating the wealth of the new cabinet and ventured a story Christmas Weekend with the headline that said head coach Marvin Lewis is going to be fired.
 Then Chris Cooley, a former NFL tight end turned Washington D.C. sports talk show host, pronounced Lewis retiring at the end of the season and that Bengals defensive coordinator Paul Guenther is going to end up as Jay Gruden's defensive coordinator in Washington.
Should we try three for a nickel?
The Forbes headline didn't match a story that had more maybes than anything. And it simply doesn't fit how Bengals president Mike Brown does things.
That would make it the biggest surprise of the NFL season. Lewis has gone through worst seasons (2008 and 2010) and seasons of surprising underachievement (2006-2007) and has been back to shock the world (2009) and lay down a foundation (2011).
With the last five losses coming by a total of 16 points, a massive character effort by a vastly undermanned team Saturday night on the road where only a missed field-goal at the gun allowed the Texans to win the AFC South, and Pro Bowlers like A.J. Green, Tyler Eifert, and Vontaze Burfict on the shelf, a firing wouldn't fit Brown's M.O.
As for Lewis, sure, the story is out there that he's now a grandfather and is more amenable to the concept of retirement. But he hasn't been sounding like a grandfather lately and on Saturday night his club didn't play like they think the coach was on the way out. There are enough of his friends and associates who pooh-pooh retirement now that it makes it doubtful. He even seemed to tip his hand on that with the reports that he discussed had a succession plan with Hue Jackson in place for 2018.
It's believed that Guenther  can't go anywhere without the club's permission and they don't give away coaches.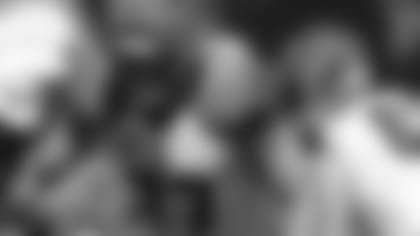 On Sunday Andrew Whitworth (77) passes the great pass catcher in Bengals games played.
3. WHAT ARE THE FUTURES OF WHIT AND PEKO?
These guys are worthy of the week-long festival they're going to get and while both are scheduled to become free agents, both say they want to return.
Left tackle Andrew Whitworth and nose tackle Domata Peko both came in during the 2006 draft (Whit in the second round, Peko in the fourth) , and promptly became linchpins of the team.
But it's what they did in 2011 off the field that may be their biggest contribution to the franchise. With the NFL in a lockout, club employees weren't allowed to talk to players but Whitworth gathered the offense and Peko took the defense during a few weeks of drills on their own in 2011 at the University of Cincinnati. Since then, the Bengals have been in the postseason every year but this one. Take a bow, Whit and Peko.
Sunday will be Peko's 171 st game, eighth on the club's all-time list, one ahead of Eddie Edwards and one behind Bruce Kozerski. For Whitworth it will be his `168th and the top ten, one ahead of Isaac Curtis.
Whitworth says he's been told they want him back. Peko is hoping he's convinced them in the second half of the season, when he's helped the defense allow just a little more than 16 points per game, good for third in the league in scoring since Nov. 1.
4. WHAT IS THEIR TAKE ON CEDRIC OGBUEHI?
Here's a guy that's had just one start at left tackle and he's got another before they decide what they have to do.
 If the draft were today, they'd be picking No. 8 and wouldn't you just love to get a rush 4-3 end finally that high? How about Tennessee's Derek Barnett? Or what about a running mate for A.J. Green at receiver? Maybe Clemson's Mike Williams?
It would be a great spot to get something they really need and really tough if they have to go tackle again just two years after picking two in the top two rounds.
Or is the plan for next year to re-sign Whit, move him to left guard, and let him play next to Ogbuehi and help him through the rough patches and even play if he had to? And if right guard Kevin Zeitler leaves in free agency, left guard Clint Boling is free up to play right.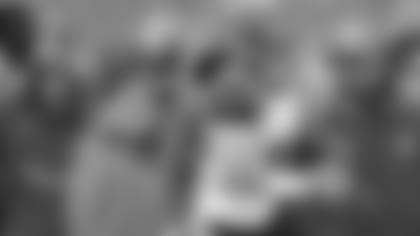 All running back Rex Burkhead has done since Giovani Bernard went down is impress.
5. HOW HARD WILL THEY TRY TO RE-SIGN REX BURKHEAD?
All indications are very. The kid has been terrific playing in place of injured running back Giovani Bernard in the last five games. Now you get an idea what it is like to watch the Patriots every week. It seems like they've got 50 guys that play reliably, well, and no nonsense like Burkhead.
He's got 186 yards on 41 carries in the last five games for 4.5 yards per carry and maybe the biggest deals are he's been yet to be stopped on third-and-one and has been absolutely clutch in the one- and two-minute drills.
In that same stretch Jeremy Hill has run it at 2.5 yards per 87 carries. Yes, Hill is banged up but at the same time the numbers are eye-popping. Look for a massive effort to re-sign Burkhead. They'll figure out how to get him on the field later, but you can be sure it won't take four years this time.
And that's just a start. We haven't even got to cornerback Darqueze Dennard, another first-round pick heading into his option year that hasn't played much but may have to if Dre Kirkpatrick leaves in free agency. Or the kicking situation with no heir apparent to Mike Nugent apparent. Or ….
But it's only the first week.