Rookie Jake Elliott has responded like a fifth-rounder should.
INDIANAPOLIS - The kicking competition, of course, is the most intriguing roster storyline of them all for Thursday's pre-season finale (7 p.m.-Cincinnati's Channel 12) against the Colts.
But the last five or so spots are about as jumbled as they've been in several seasons pending suspensions, injuries, and tight position battles. On Saturday they're cutting the 53-man roster to be best suited for the Sept. 10 opener against the Ravens at Paul Brown Stadium:
-The three-game suspension of WILL linebacker Vontaze Burfict is long enough that they'll seemingly have to keep six linebackers, particularly for a Baltimore offense a bit out of sorts with injured quarterback Joe Flacco and always stacked special teams. But they traded Marquis Flowers to the Patriots on Tuesday and the two rookie free agents, Hardy Nickerson and Brandon Bell, have battled injuries.
Veteran Vincent Rey will do what he does and competently and intelligently lead the defense, just as he  has in the 11 games he's replaced Burfict in the last two years when the Bengals are 8-3.  There just may not be any 62-yard TD returns a la Tez last Sunday.  
-There is a glut of defensive linemen, but how many will they keep?  This group is the key to the rest of the puzzle. They could keep as many as 10 and as few as eight.
The four starters look to be backed up, in part, by veteran end Chris Smith, rookie end Jordan Willis, second-year nose tackle Andrew Billings, and rookie tackle Ryan Glasgow. Hard not to keep those guys as backups.  Will they keep more? They've struggled getting consistency at nose tackle, although free agent rookie Josh Tupou and vet DeShawn Williams have flashed. Tupou has potential, but is he ready? Williams is a flat-out football player, but is he big enough? Can one of them win a job vs. the Colts because Lord knows they'll play plenty?
You know the Ravens are going to try and pound it with that marvelous defense so they better have a couple ready and that's where Pat Sims comes in. It's hard to see any Bengals defensive line without a pair of 10-year vets in Sims and end/tackle Wallace Gilberry. How much they play Thursday may provide some clues on their status. Gilberry played well Sunday after playing only seven snaps in the first two games.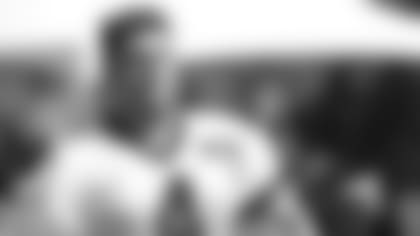 Randy Bullock: what more can a six-year vet do?
-The secondary is dinged with starting safety Shawn Williams (elbow) probably missing the opener and the other starting safety, George Iloka (knee), ready for the opener after not playing all of the preseason. With Williams looking inactive for the opener, they have to figure out if they play eight or nine DBs vs. the Ravens.
 And wouldn't you have to have five corners vs. Mr. Flacco? Remember, starter Adam Jones is suspended for the opener, so he won't count in the final 53 on Saturday. KeiVarae Russell has looked good at corner, but can veteran corner Bene Benwikere and free-agent rookie safety Demetrious Cox play themselves into the mix Friday?
-You'd think Jeff Driskel has done enough to win that No. 3 QB job. When they keep seven wide receivers, there are other spots to go light, such as running back. But he can solidify it Thursday, when he'll most likely play his most of the preseason. What they'd like to see is more from Driskel as they transition from Andy Dalton as the backup. Here's the thing with Driskel. In a pinch he could play running back or help out on special teams if needed.
Both veteran Randy Bullock and rookie Jake Elliott figure to kick Thursday, but are they kicking for a job after months of games and practice? It's been so tight, so maybe they are. It would appear Bullock has been a bit of an edge after a preseason he has made all five field-goal tries, including from 53 and 54. Elliott has a miss from 45 but also a make from 45, his longest chance. And there's nothing to choose from on their kickoffs.
Both agree with special teams coordinator Darrin Simmons that if they're not here next week, they've put themselves to be in position to be somewhere else for the opener.
Bullock should know. He's been on four teams. He's come back here lighter and sharper and says he's had the best of his six training camps.
"I want to stay here.  I feel like I've done what I needed to stay here," Bullock said this week after the 53-yard bomb on Sunday. "This will be my sixth year. I'm good enough to play in the league. I think I've made a good case for myself."
But did he have to do even better because he's going against a fifth-rounder with an excellent kick-off leg with a high ceiling while Bullock already has a back of a football card? Keeping either has to be attractive to Simmons. Bullock is an experienced guy with a hot leg as the Ravens loom. Elliott is a young guy with talent.
"I think we've both shown we can kick in the league," Elliott said. "There should be roster spots open for us this year. You look around the league and there's a couple of guys struggling.  Having two good guys here says a lot about both of us."
Cincinnati Bengals travel to Indiana to take on the Indianapolis Colts week 4 of the preseason.