*New to our web site this season is James Morris, the owner and CEO of No Limit Fantasy Sports. James will provide you with insights on the coming week's game, advice on who to sit and start, as well as answer your questions via email. *
What a difference a week makes! I shook off a poor Week 6 by missing on only Kyle Orton (who continues to refuse to remember he is Kyle Orton) and Miami, who gave up 21 points to Baltimore but still was a solid fantasy defense. Tony Scheffler didn't play due to injury, so I am going to take a push on that one. This week, GMs will be without Reggie Bush, who had knee surgery, Larry Johnson, who is suspended because he doesn't know how to stop treating women badly, and Brodie Croyle, who was placed on injured reserve. But, then again, if you had Croyle on the roster, you weren't looking to win anyway.
Here are a few waiver wire guys to consider looking at if you are in need of a bye week fill-in:
Kolby Smith: The Jets run defense is about as tough as the Titans, so only use him here if you HAVE to.
LaMont Jordan: Looks to be starting with Sammy Morris sitting out practice yet again this week.
Kevin Curtis: He is due back this week and McNabb needs him. He is still available on many waiver wires, so I'd go grab him if your receiving corps is weak.
Ahman Green: Yes, Steve Slaton is the starter and I am going to recommend you start him again this week. But, Green steals carries later in the game and seems to find a way to get some cheap scores for owners.
Cedric Benson: Is the starter now and worthy of a waiver wire addition.
Not much has changed in Cincy since last week. Carson Palmer has spoken with Carolina Panthers QB Jake Delhomme about possible elbow surgery.
"I was more trying to reassure him that the surgery works, if that's what he needs," Delhomme said. "I told him it was a very easy rehab. I told him not to be afraid, that if this is what it was, he'd be able to come back from it."
No word yet on what Palmer plans to do, but at this point it is safe to go ahead and cut him from your fantasy squad. Cedric Benson gave a solid effort last week and had the running game showing signs of life. He will get the start again this week and is looking like a viable waiver wire addition if your team needs some RB depth. Chad Ocho Cinco and T.J. Houshmandzadeh are still at the mercy of Ryan Fitzpatrick, so owners beware.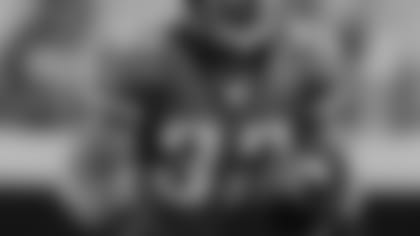 Maurice Jones-Drew is poised to go off this week against the Browns. (Getty Images)
J.T. OSullivan:
Bet this one bites me in the butt. The Irish gunslinger is going up against the Seahawks, and their defense is in the top 5 for worst fantasy defenses this season. I'm not sure who he is going to throw to, but he is a very sneaky pick if you have Orton, Cutler, Rodgers, or (heaven forbid) Gus Frerotte on a bye this week.
Matt Schaub: I hate to do this to the team and all, but I am going to ride the Schaub/Slaton/Johnson bandwagon to fantasy glory just like I did last week. I vowed I would never be a homer with the articles and I won't. The Bengals defense just isn't coming through, and the Texans have the weapons to make them pay for it.
Maurice Jones-Drew: Not that people are sitting him, but you may not know if he is better than your other RBs this weekend. I have him ranked just inside my top 15 RBs this week against Cleveland and Fred Taylor has accepted it too. Taylor recently said, "I've always felt like the team was going to take the training wheels off [Drew] eventually, I'm going to go out and contribute to try to help this team the best I can, whether it's in a starting role or as a backup."
Steve Slaton: Look, if you have LaDainian Tomlinson, it is about time to see if you can pawn him off on some goofy GM that thinks his toe is going to improve in the second half. Why not try it on the Slaton GM? He has the same matchup as Schaub this weekend and you could do much worse.
Roddy White: I am not sold on Matt Ryan in the second half of the season as I think he will hit the rookie wall. But, until I see him do it, I've got to recommend you play his favorite target. He isn't going to be on any waiver wires, but I'd play him over Braylon Edwards or Calvin Johnson this weekend.
Marques Colston: This is more of a "life without Reggie Bush" pick than it is a "HE IS HEALTHY FINALLY" pick. Deuce McAllister runs between the tackles, so the team will need to throw the ball to really move it downfield. Granted, Brees won't see the long balls that he does when Bush is on the field, but Colston can be really effective this weekend for his owners.
Chris Cooley: Cooley hasn't exactly stunned people in the TD department. But, he does have the second most receiving yards (377) and total receptions (34) for TEs. Going against Detroit this weekend is a very nice matchup and I would only sit him if I have Jason Witten on the roster.
Jets Defense: Going up against a backup QB and RB means the defense should get you fantasy stud numbers this weekend. It's not that the Jets defense is that good; rather, the Chiefs offense is looking that bad outside of Tony Gonzalez and Dwayne Bowe.
Derek Anderson: I wanted to put Peyton Manning here, but after looking it over I decided that he is really just outside the top 10 and most teams don't have two top 10 QBs on the roster. So, Anderson gets the call. Jacksonville has a top 20 defense and the Browns look just horrible right now. If Edwards cant buy some "stick 'em" for his hands, Anderson is going to find himself on the bench in favor of Brady Quinn for all the wrong reasons.
Matt Cassel: Sure, Cassel looked great with his three TDs last weekend, but the 185 yards concerns me more. Add that to the fact that the St. Louis Rams team looks revived under new coach Jim Haslett. I don't have enough faith in the Rams to play their defense, but I like what I saw in Week 7 against the Cowboys.
Joseph Addai/Dominic Rhodes: They play the Titans ... need I say more? Still don't get it? Why not go ask Willis McGahee owners how he worked out for them in Week 5. If your RB plays the Titans, don't play him.
Julius Jones: The offense looks almost Pop Warner-esque under QB Seneca Wallace, and that drags everyone down with it. I wouldn't play Jones this weekend if I was in a 1 RB league and my backup was a waiver wire add like McAllister. You HAVE to own someone else in the top 25 that you can play here.
Dwayne Bowe: I know he is the fourth most targeted WR in the NFL with 64 balls thrown his way. But, he now has to rely on either Tyler Thigpen or Quinn Gray and that means he is a not a good option from here on out. If you can sell high on him, I'd do it now.
Terrell Owens: If you have another option, use it. Brad Johnson is in full effect here and Owens is the one that suffers. Even Vincent Jackson is a better play this weekend over T.O.
Ben Watson: I've seen some rankings that have Watson as high as a top 15 TE this weekend, and that is just crazy. The guy has 57 total receiving yards and no TDs this season. What makes this weekend special?
Chargers Defense: Against the high powered Saints offense, I wouldn't play the injury-riddled Chargers D. The Saints are without Bush, but they should have Shockey back and that means the passing game will be in full effect. The Chargers give up the highest passing yards per game and the Saints throw for the most passing yards per game (254 vs. 310 YPG), so this could get ugly.
This week we have more of a statement than a question.
*Q: I take issue with your advice column because you stated: "Ryan Fitzpatrick is a must have if you have Palmer, Cedric Benson needs to be picked up if you have Perry." Are you crazy? Have you watched the Bengals offense this season? They are offensive. I am in a 10 team league that starts 1 QB, 2 RBs, 3 WRs, and 1 flex. The following players are currently available and are better plays than Crazy Legs Fitzpatrick or any Cincy RB:
QB: Garcia, Cassel, Delhomme, Orton, Anderson, Bulger, Pennington, Edwards, O'Sullivan, Wallace, Collins, Frerotte, Johnson (unless Romo is plays)
RB: Charles/Smith for KC, Ricky Williams, Leon Washington, Sproles, Bradshaw.
--Mike Suter*
A: That statement was meant for those diehard Bengals fans. I cut my losses with Palmer about three weeks ago, but a lot of emailers want to know what to do with him now. Benson isn't a terrible option in all honesty if Fitzpatrick is starting. I mean if the guy looks bad, what will they do? Run the ball. If you get the ball 100 times a game, you are BOUND to hit the endzone once in a while.
Now, as for your league, of course players like those are available. You are in a 10-team league bro. I won't play in 10-teamers because you have good starters riding the waiver wire in a league that small. But, on the RB front, I could easily make a case for Benson over those RBs if he keeps the job over Perry. Williams splits carries, and the rest are true backups, except the Chiefs RBs, and they are week-to-week rentals with VERY poor matchups. This weekend's game is so bad, I didn't even find it worth it to mention in the article. I am POSITIVE there is something better for you to play at RB if you have Forte, Grant, Peterson or a Broncos RB.
I don't mind you not agreeing with my statements, but don't use the "Hey, I am in a 10-teamer with solid starters in my waiver wire. What are you thinking telling people to add Benson or Fitzy?" Most leagues run 12 or 14 teams, so 10-team leagues are my minor leagues ... with the rare 8-team leagues being my little league. You can't base any fantasy ranking on a 10-team league because all fantasy articles are written to 12-team formats. You would be surprised how those two extra teams really thin the draft and waiver wire out. Add in defensive players (IDP leagues) and you will get blown away with how little is there when someone gets hurt.
If you want to have your question answered for all your friends to see, shoot me an email and I will give you some one-on-one attention.