How I became a Bengal fan.
I grew up in Northwest Ohio and both sides of my family were loyal Browns fans. I watched football but everything changed in 1981. I was 6-7 years old when I first saw the orange helmet with black stripes. That was it. This was going to be my team. I didn't know the players or where the team was from when I made this decision. Looking back through my mom's photo albums, I have a Bengals jersey or shirt on in almost every picture. Everyone in the little town I grew up in knew I was a Bengals fan. A local restaurant owner gave me a 1988 super bowl ball that over time I have gotten 15-20 autographs (players on that team).
I bought my season tickets in early 1996 at 20 years old and living an hour and 50 minutes from Cincinnati. Unfortunately this is the closest I have ever lived to Cincinnati. I bought my personal seat licenses and was incredibly lucky to get front row seats in section 118. I bought an additional two seat licenses across the field a few years after Paul Brown stadium opened. With the help of the Bengals, I was able to finally get all of my tickets together (row 1 and 2).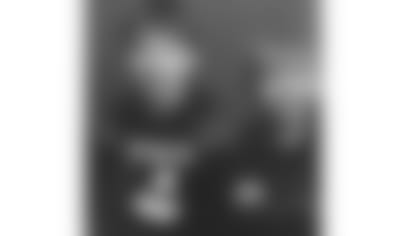 I got my Bengals tattoo in 2002 and have had personalized Bengals plates "FRT ROW" since the stadium opened. I have worn multiple outfits, went years without missing a game and have made a few road trips. I have been blessed with the opportunity to meet players, players' families, coaches and lots of great fans at both Riverfront and Paul Brown stadium.
Jeremi Johnson's wife (sitting a section over) gave me family passes to meet the team after the Bengals first win against the Steelers at PBS. That was an unreal gesture and it was awesome to celebrate a division championship.
Jermaine Gresham scored a touchdown on Christmas Eve and handed me the football. Months later, I would find out that we were going to have a son and the doctor said the date of conception was 12-24. The ball is now in his room with his Bengal gear.
Taking my son Zander to his first game and us getting on TV (he was one at the time and I DVRed the game).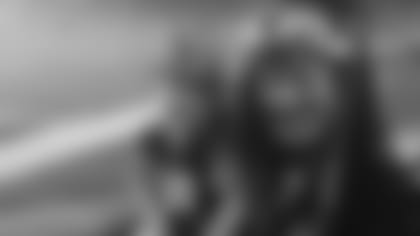 I have been a Bengals fan almost my whole life and I truly appreciate all of the opportunities I have been given. Zander is now four and was able tour the stadium. He is already asking to wear my Tiger head and license plate. I will probably pass the outfit torch to him in the next few years but I will ALWAYS be the Bengal's biggest fan.