Running back Giovani Bernard bolted to Sunday's first touchdown.
JACKSONVILLE - The hallmarks of the Bengals run to five straight post-season appearances looked intact and ready for the Sept. 11 opener despite Sunday night's 26-21 loss to the Jaguars at EverBank Field.
A stifling defense and the A.J. Green-Andy Dalton connection bolstered by an experienced offensive line that opens up other options mauled what is supposed to be an up-and-coming Jacksonville team by 14-3 in a first half the first offense and defense had the ball for  six more minutes, 10 more plays, and 73 more yards.
And given that head coach Marvin Lewis has been icing his starters for Thursday's annual pre-season finale at Paul Brown Stadium against the Colts (7:30-Cincinnati's Channel 12) the past few years, that's the last we'll see of them until old friend Ryan Fitzpatrick and the Jets stare into the Double A Gap Blitz in Jersey in 13 days.
The defense hit the hat trick, forcing a turnover, driving Jags quarterback Blake Bortles off the field on two straight three-and-outs, and then holding him to a field goal once they had a second-and-one from the 1 late in the half.
It capped off a preseason in which the first defense didn't allow a touchdown and held Bortles and Matthew Stafford, two prolific quarterbacks from last season, to a combined 3-for-9 on third down.
"This offense ain't no joke. Last year they were a high powered offense full of young dudes flying around,' said nose tackle Domata Peko. "We were flying around today. I was really impressed with how we started the game. We want to hit the season running and I think we are. We've got a lot of pride as a group and anytime we step on the field we want to bring our A game. I think we did that tonight."
 While the defense supplied the high Sunday, Green supplied the sigh when he limped off the field after banging knees with a defender midway through the first quarter.
"I'm fine. I just needed to get out for one play. They didn't want me to go back in," Green said.
Instead, he was content to give his offense the seal of approval after running backs Giovani Bernard (a 19-yard-catch-and-run TD) and Jeremy Hill (a 28-yard screen pass) each made big plays in the passing game while Bernard churned out nine yards per on his three carries.
Despite not having their top two tight ends this preseason (backup Tyler Kroft is expected back for the opener), the Bengals were able to move the ball in the three games when the field was spread and when they went heavy. Rookie wide receiver Tyler Boyd caught another huge conversion Sunday (this one on fourth-and-five) and Dalton got sacked for the first time this year.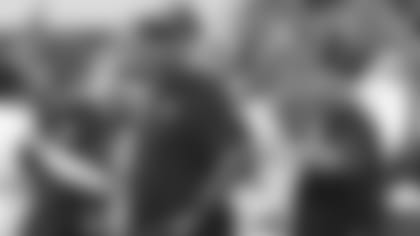 Head coach Marvin Lewis had his 1s ready Sunday.
"We ran the ball pretty well today and made plays when we wanted to. I think our running game was very strong," Green said after he had a catch for five yards. "That's one thing about Andy. He's a very smart quarterback. He can read defenses with the best of them. He always gets us in the right play."
Bortles had a hard time doing that most of the night for an offense that also killed itself on the goal line, which is why the Bengals defenders were exercising caution about making an evaluation, although for the second straight week cornerback Dre Kirkpatrick defended a pass in the end zone. The drive, midway through the second quarter against a mix of 1s and 2s for the Bengals defense, featured a big run, a big pass, and a nullified touchdown when a Jacksonville player didn't report as an eligible receiver.
"You have to realize it's preseason for the offenses as well,' said safety George Iloka. "You can't put too much into it and you can't look past it at the same time. We're happy where things are, but we just want to build on it."
WILL linebacker Vincent Rey, who helped set up the first  touchdown when he recovered and ran 16 yards with middle linebacker Rey Maualuga forced fumble, also saw Jags running back T.J. Yeldon cut back on safety Shawn Williams  for a 23-yard run and Bortles convert a third-and-12 over the middle.
"We have to improve in communication," Rey said. "(Linebacker) Karlos Dansby calls it over communication. You can't communicate too much. That's what we echo. We didn't do that enough tonight, but we did that pretty well in total.
"In the playoffs there were seven of us that didn't start that ended up going in on defense," said Rey, a backup who has started 21 games in the last two seasons. "The guys in the second group are going to play important snaps for us this year. We're not happy with this loss. We have a standard we set that we have to meet. "
Coming off last season's franchise scoring record with basically everybody intact has the defense thinking big things.
"They had a 20-yard run today. The running back made a good move," Rey said. "We have to help Shawn out. That's a one-on-one play in a lot of space. We have to rock back as linebackers and help them out. We want to be perfect. You're never going to be perfect but that's what we're aiming for."
It may not be perfect, but the opener is in clear-eyed sight.
Cincinnati Bengals travel to take on the Jacksonville Jaguars in week 3 of the preseason 8/28/2016