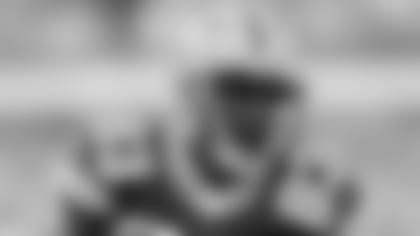 Chatman should help the Bengals upgrade a punt return game that was second to last in 2005. (Jeff Gross/Getty Images)
While wide receiver Antonio Chatman plans his April 1 wedding, his two-year hitch with the Bengals begins with a vow.
"I think I can help keep the double teams off Chad," said Chatman on Sunday after agreeing to a deal that is to be signed Monday. "I could beat him over 40 or 60 yards. I think after 100, he might catch up to me."
The 5-9, 185-pound Chatman should know such things because he has worked for the past five offseasons in his native Los Angeles with Bengals receivers Chad Johnson and T.J. Houshmandzadeh under the eye of coach Charles Collins. Houshmandzadeh, the slot receiver when the Bengals go three wides, thinks Chatman can help inside.
"I agree," Houshmandzadeh said of Chatman's self scouting report. "The one thing we can do is run routes. Precise routes and 'Tone can do that. We feel like a lot of great receivers in the NFL get away without knowing how to run routes."
In other free-agent news Sunday, former Tampa Bay quarterback Brian Griese continued his visit with the Bears and there looked to no movement on the backup quarterback front. Indications continued to surface that Bengals head coach Marvin Lewis isn't looking to drop a lot of money on a big defensive tackle. But he is looking, as evidenced by Lional Dalton's visit this weekend that the club confirmed Sunday.
Houshmandzadeh compares Chatman to Jamall Broussard, the Bengals wideout playing this spring in NFL Europe. While the 5-9, 180-pound Broussard, who has spent most of his Bengals career on the practice squad, is known primarily for his speed, Chatman has raised eyebrows with his hands.
Mark Mersel, his agent based in Irvine, Calif., who also had a deal in hand from the Jets, reports Chatman dropped one ball for the Packers last season while catching 49, and says he has yet to drop a punt in his three NFL seasons. He's returned nearly 80 the past two years, including an 85-yarder in the 2005 season finale against the Bears, but didn't get tendered an offer by the new Packers coaching staff looking for more size.
Chatman had 49 catches for a devastated receiving corps last season, including a game-high eight catches for 97 yards at Paul Brown Stadium in Green Bay's 21-14 loss to the Bengals.
"I know some people don't like my size, so I have to catch everything," Chatman said. "When I go in there, I feel like if it's thrown my way, I'm going to catch it. I think I play bigger than I am."
The Bengals' longest punt return since Houshmandzadeh's 86-yarder against the Browns as a rookie in 2001 is Peter Warrick's 68-yarder against the Chiefs in 2003, the last time a Bengal took one to the house. Special teams coach Darrin Simmons is on record saying he's looking for all comers to improve a punt return game that finished next-to-last in the NFL last year when the longest one cornerback Keiwan Ratliff could generate was 13 yards. Chatman watched tape with Simmons during his weekend visit and said he was sold because "I like the way they block. I'm looking forward to that."
Lewis said Saturday that the reasons not to match the Texans' offer to backup receiver Kevin Walter (and apparently the ensuing Chatman agreement), had nothing to do with the problems of No. 3 receiver Chris Henry. Henry is looking, at the very least, at a possible NFL suspension stemming from gun charges in Florida.
"He's a different kind of receiver than what we've got," Houshmandzadeh said. "He's the same as Jamall and he's also different. He's a lot like him in that he's very quick. He's elusive."
Like Johnson (Santa Monica) and Houshmandzadeh (Cerritos), Chatman went the California junior college route before ending up in Cincinnati. But he arrived first at the University of Cincinnati when he secured the school's last scholarship of the year before the Packers signed him out of Clifton as a free agent. And it was easy to talk to Bengals receivers coach Hue Jackson when they had dinner Saturday night. Both are Dorsey High School graduates in Los Angeles.
"It was really quite a good fit. He had grown up with guys like T.J. and Chad and obviously there was a tie he had there with Hue," Mersel said.
Chatman is also different than Walter, whom had been a prime special teams player as a tackler and was a big, physical receiver. The 6-3, 215-pound Walter caught 30 balls in his three-year career in Cincinnati, and the Bengals decided they couldn't match the Texans' $1.5 million per year offer over four seasons that included $2.5 million in guarantees.
"Kevin was a team player. He'd do what was ever asked and never complained," Houshmandzadeh said.
Chatman is prepared to do the same.
"I feel comfortable there," he said.
The 6-1, 315-pound Dalton, who turned 31 last month, played for the Chiefs the past two seasons in an eight-year career that crossed paths with Lewis in Baltimore. Dalton doesn't have the big name of his former Ravens linemmate, Sam Adams, or his price tag. On Saturday, Lewis indicated his first priority after signing the quarterback is re-signing his offensive line.
"But if that goes slowly, we also don't want to miss anybody out there (in free agency) that we think might help us," Lewis said.
With No. 1 quarterback Carson Palmer arriving back in town last week, it's believed he'll make his first post-surgery media appearance this Tuesday. When talking to the agents for Griese and Patrick Ramsey, Lewis didn't back off his belief that Palmer is going to start the opener. He hasn't seen anything yet to dissuade him, but also admits no one knows for sure just 70 days shy of Palmer having his knee reconstructed.
The Bengals have Palmer on a cautious path that keeps him out of the minicamps and the early part of training camp. But his absence from the camp opener and maybe the first couple of preseason games apparently doesn't preclude him from being ready the first week.
The Bengals are also looking at their reports of Griese's knee, which underwent similar surgery for his torn anterior cruciate and medial collateral ligaments Oct. 21. Agent Ralph Cindrich says his client is going to be ready for minicamp, which would be seven months after surgery when the Bengals start work May 16.
The Bengals also plan to talk to Rams backup Jamie Martin.