With 77 starts, left guard Clint Boling is the Bengals' most experienced lineman.
Suddenly, the Bengals offensive line is undergoing its biggest facelift in eight years and sixth-year left guard Clint Boling is emerging as the leader of a young and inexperienced group that could go into the spring with as few as 148 NFL starts across the five spots.
Three-time Pro Bowler Andrew Whitworth played in 168 games by himself and it was his move to left tackle in 2009, along with the drafting of right tackle Andre Smith and the promotion of Kyle Cook, that was the feature of the line's last big shakeup. With Thursday's first day of free agency seeing Whitworth go to the Rams and right guard Kevin Zeitler raking in a record $60 million deal with old friend Hue Jackson in Cleveland, the Bengals are again moving to youth.
By opting out on Whitworth and Zeitler, the Bengals stayed true to two of their basic principles. Whitworth is coming off his third Pro Bowl season and was ranked as the NFL's second best pass-protecting tackle by profootballfocus.com. But since he's 35, the Bengals were wary of  multiple years. So Whitworth took a three-year deal with the Rams that featured $13 million guaranteed this year. The Bengals detest moving money into future years of their salary cap, particulalry with older players that may not make it to those years but the team still picks up some of the charges.
And, they don't pay guards big money. Zeitler is at the top of his game. He was rated the best guard on the market after not missing a snap in 2017. That translated to $12 million per year, but the Bengals don't believe guards win enough games on their own to warrant top of the market money. The Bengals didn't offer a contract but told his agent, "If you don't get what you want, come back."
This has happened before. Go back ten years when left guard Eric Steinbach took a record deal in, yes, Cleveland.
The Bengals can only hope the offensive line overhaul works out like it did in '09, when the Bengals shocked the world and pounded to a division sweep and the AFC North title. They played the bulk of the time with a line that had two second-rounders, three undrafted free agents, and a fourth-rounder.
Conceivably they go into this spring with more talent. They've got one first-rounder (left tackle Cedric Ogbuehi), one second-rounder (right tackle Jake Fisher), two fourth-rounders (Boling and center Russell Bodine) and a seventh-rounder (right guard T.J. Johnson).  
"There's talent on the offensive line," Boling said. "Unproven talent, but at the same time it's there. I think it's going to be something we're able to work with."
The Bengals had this day in mind two year ago, when they drafted Ogbuehi, a Texas A&M left tackle, in the first round and Fisher, an Oregon right tackle, in the second round.
But paper hasn't translated to the field. They've both struggled to develop and, according to ProFootballFocus.com, their line has lost their two highest graded players after giving up the seventh most sacks in the NFL with 41.
Their move of Ogbuehi to right tackle to start last season ended up in a benching after 11 games and Fisher didn't line up at right tackle until the last three games of last season. But both are encouraged by moves back to their original positions. Ogbuehi's only NFL start at left tackle came in the 12-10 loss in Houston Dec. 24, where PFF charged him with a sack and two quarterback hurries.
"I believe in myself and my talents and I know the coaches believe in me as well," Fisher said. "(Ogbuehi) we've communicated through the offseason. I know he really wants the job. He's willing to put in that effort. He's changing as a person and as a man. We're all taking building steps. That's all we can do is keep getting better.
"I think a lot of people will see what this organization has put into us is trust and they're going to get responsibility and accountability and as a catalyst we'll put it together. We know as athletes what we can bring to the table and what we envision in our minds. We're all on the same board and we've got to get it done."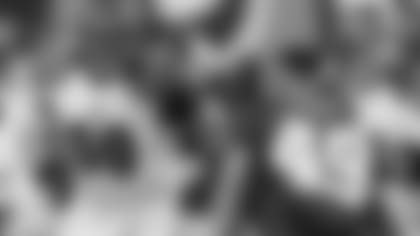 With Kevin Zeitler now up the road in Cleveland, T.J. Johnson is in the mix at right guard.
When the Bengals underwent the massive change in '09, they turned to a ground game and gave the ball to running back Cedric Benson 301 times, the last time a Bengals back had at least 300 carries in a season. The Bengals' schemes have relied on not giving the tackles help in pass protection, but where all these moves leave strategy and technique remains to be seen.
"It's one of those things where I feel like you have to do what's best for the guys," Boling said. "You have to play to your players' strengths. Whether that's running the ball 40 times a game, whether its play-action pass or a spread kind of deal. There are a lot of different ways to handle things like that."
But how big is the learning curve? Ogbuehi has that one start at left tackle and there's no NFL starts at right guard behind Zeitler. T.J. Johnson, off a career-high 95 snaps, has shown promise working at left guard and center. Fifth-rounder Christian Westerman and free-agent Alex Redmond are coming off rookie seasons they didn't play. With 11 draft picks, another rookie guard looms.
"There's the physical talent, but there's also the mental part," Boling said. "They've got to get with the plays and schemes we're running … When I came in I was unproven and pretty unknown and these guys are going to get their chance.
"I think it's big that Ced is finally going to be able to have a spring. He won't have the ACL (2015) or the sports hernia (2016) and that's really going to help him."
Fisher thinks it's going to be helpful he's staying at right tackle after meandering through tight end, fullback, and left tackle in his first two seasons.
"It's been awkward as far as going from spot to spot to spot to spot," Fisher said. "To be in one spot and know what I can work on every day and study just one position while understanding everyone else's it really sets a tone and sets up your body and sets things up for the future."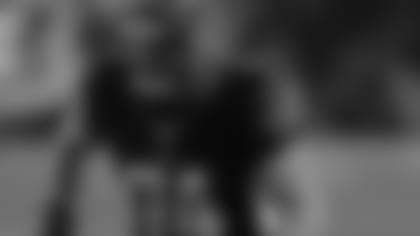 Jake Fisher likes the idea of playing just one spot.
But the departure of Whitworth and Zeitler has got them re-thinking what has become a very different season. Particularly the loss of what amounts to their team leader in Whitworth.
"It's tough to lose those two guys when it comes to leadership and mindset," Fisher said. "And the intangibles they brought to the table as far as brining the team together."
When Boling was drafted, his line coach at Georgia, the guy that also coached Whitworth at LSU, said he had leadership instincts like Whitworth. Now he knows he'll be asked to show them.
"Clint's a great leader, one of the smartest football players I've ever been around," Fisher said, "as far as seeing things and how they develop and always knowing what the right thing to do is."
If anyone knows Whitworth's style, its Boling. The two are extremely close and so are their wives. They're inseparable on the golf course and Boling just returned from a golfing date at Whitworth's Colorado home.
"Whit left some big shoes to full. You really can't replace a guy like that," Boling said. "He's every bit of a team leader and locker room guy that played his butt off that you could ask for. I would like to try and live up to those expectations. Being the oldest guy in the room I do have to step up and bring more of a leadership role. Whit's hard to replace. I'll do the best I can to help bring guys along on the offensive line to make this team really go."