Andy Dalton showed off his Katy High School hat on Radio Row Thursday.
HOUSTON - The two reasons the Bengals shouldn't blow it all up checked into radio row here Thursday at the Super Bowl.
Wide receiver A.J. Green is working for Snickers and quarterback Andy Dalton is waving the hometown banner for Houston, but they're both looking longingly at how Julio Jones and Matt Ryan have led the Falcons into Sunday's (6:30 p.m.-Cincinnati's Channel 19) big game against the Patriots.
Remember, the Bengals took apart the Falcons by two touchdowns the last time they played in 2014 in the only game Dalton and Green and Ryan and Jones have met.
"Need a Snickers?" Dalton hollered to him before he began yet another interview when he caught Green juggling three candy bars in front of the Snickers logo.
No, but he still needs an Alka Seltzer when he thinks about that 2015 team that isn't all that different from this Falcons team with Jones playing the role of Green, his  friendly rival since high school days and fellow Pro Bowl receiver.
"When we lost to the Steelers, that has to be the worst loss I have ever experienced in my life," Green said during a break as he reflected on the Wild Card loss that ended the 2015 season.  "The feeling was like, it was over, because I felt like that team right there was THE team."
Ryan comes in here on the wave of his career year with 38 TD passes, and nearly 5,000 yards passing and a supersonic 117 passer rating.  It all conjures up memories of that 2015 season, when Dalton was on pace to throw for 4,000 yards and 31 touchdowns and a career-best 106 rating before he was lost for the season with a broken throwing thumb in the 13th game.
 Ryan has thrown a touchdown pass to a record 13 different receivers and while Dalton threw to six receivers for TDs in 2015, it marked the first time ever the Bengals had two players (Green and tight end Tyler Eifert) with double-digit TD catches in the same season.
While Ryan is handing it to the two-headed back-field monster of Devonta Freeman and Tevin Coleman, Dalton can remember handing it off to a back that scored 11 touchdowns in Jeremy Hill and another back that scooted for 4.7 yards per carry and caught 49 passes in Giovani Bernard.
"I felt like 15 was such a good year for us," Dalton said after his tour. "Both all the guys we had and the way everyone was playing.  It's unfortunate it had to end the way it did getting injured. (The Falcons are) playing at a high level. They're playing their best football they have been playing and this is the right time to do that.
"Both those (Falcons) backs are matchup problems in the run game and pass game. The other guys have been playing at a high level, too.  Yeah, they're a fun offense and fun team to watch."
But even though the Bengals slid to just their third losing season under head coach Marvin Lewis in 2016, they have a top ten passer in Dalton and a top five receiver in Green, just like the Falcons, and they think they can get back to 2015 as soon as this season.
"Absolutely," Dalton said. "I feel like we have talent and guys that have the ability, now it's just getting everybody up to speed and up to where we want them. The sky is the limit, the potential is out there."
Both Green and Dalton are lobbying for the Bengals to start by re-signing Pro Bowl left tackle Andrew Whitworth in free agency.
"One guy we can't lose is Whit," Green said. "He brings so much more to the table than just his playing. His leadership and the way you carry yourself. I hope we bring him back."
After getting sacked 41 times last season, Dalton knows all too well exactly what Whitworth means on his blindside. And how another free-agent-to-be, Rex Burkhead, can help stem the tide after he was their best running back for the last six games when Bernard went down with an ACL tear.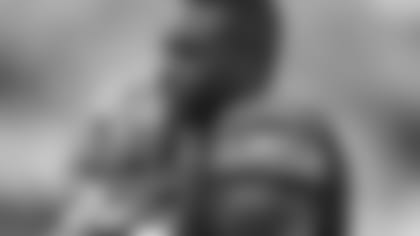 A.J. Green: looking ahead.
"Those are two big pieces," Dalton said. "We will see what happens with the draft and how many picks we get."
Although Dalton continually gets racked in his adopted city for not winning a post-season game in four tries,  former NFL MVP quarterbacks such as network kings   Boomer Esiason and Terry Bradshaw say Dalton is good enough to get them there. The numbers also say if Ryan can get the Falcons to the Super Bowl, so to can Dalton get the Bengals there.
Thanks to Todd Jones of The Columbus (Ohio) Dispatch, compare the first six seasons of Dalton and Ryan in the NFL:
Records as a regular-season starter:
Ryan: 60-34 | Dalton: 56-35-2
Ryan: 23,472 | Dalton: 22,214
Ryan: 63.6 | Dalton: 62.7
Ryan: 90.1 | Dalton: 89.1
Jones' point is clear. Dalton is poised if they can keep surrounding him with weapons.
"People don't understand how it took Matt Ryan a while to get where he is right now. You just got to give (Dalton) time. Give us time we will be fine," Green said. "It took us a while to get that (2015) team. For everybody to start gelling. It will take us a while to get back there."
Dalton did his most damage in 2015 when two of his wide receivers, 2012 draft picks Mohamed Sanu and Marvin Jones, were fourth-year players. When Sanu teamed up with Ryan in free agency and Jones bolted to be The Man in Detroit, the injuries to Green and Eifert hurt more than ever.
"In '15 we had Marvin and Mo who had been in the offense going on their fourth year and this year it was different," Dalton said. "We had A.J. then we had some new pieces. Not taking anything away from those guys but the experience of having a guy who is in Year 4 of the offense compared to a guy in the first year of an offense, there's a difference."
Green is confident the Bengals are going to get better in a draft they could have as many as 11 draft picks. He wouldn't mind seeing another rookie receiver, but he also thinks two from last season, Tyler Boyd and Cody Core, are on their way to be effective weapons. He'd also love to see veteran Brandon LaFell return after a very solid first Bengals seasons.
"We've got to make the right moves. Atlanta went out and got Mo. Got a couple other guys," Green said. "So we have to make some moves and put some guys in places. We always draft well, so we'll be fine there, but if we get some pieces on the defensive side of the ball I think we'll be fine. Get that 2014 defense back.
"We need a little bit of everything. It would be nice to get a pass rusher, help out Mike (Johnson) and Carlos (Dunlap). We'll be fine," Green said. "I hope we bring (LaFell) back. And Tyler came into his own late in the season. We have CC, we get another piece we'll be fine."
If it sounds like Green and Dalton are being more assertive, they are. This is what guys who care sound like heading into the seventh season of an era named after them. Especially when they arrive in the city housing the big game they so desperately want to play in.
"I think Atlanta is going to win," Green said. "I don't want Atlanta to win because I live in Atlanta. I don't want everybody to tell me about rising up when I play for the Bengals. But they got weapons and whatnot."
Although Green and Jones haven't spoken since last year's Pro Bowl, they've bonded by their position and personalities.
The part of Jones' game Green admires most is his yards after catch, which was 10th most in the NFL this season with 415, according to profootballfocus.com. And after you catch for the Bengals, you're always one of them.  Sanu is still in the group text with Jones and Browns receiver Andrew Hawkins
 "Similar personalities," Green said of Jones. "We just want to play football. Postseason, he is tearing it up. I'm so happy for Mo because he is working his butt off. He is getting his opportunity that he deserves."
 Dalton is torn with former teammates on both the Falcons and the Patriots.
"If I go from the friend's standpoint, I have a guy I played college with, Marcus Cannon is the right tackle for the Patriots," Dalton said. "Then (the Falcons) have Mo. Well, Marcus already has a ring, Mo doesn't.  It's hard to define an interest in it. I just hope it's a good game."
It may be the seventh year of the Green-Dalton Era, but they remain the two most down-to-earth franchise linchpins around. While radio row was slicked up by Antonio Brown in a tux and high-heeled handlers, Green showed up in a hoodie and shorts while Dalton arrived in his hometown wearing a Katy High School ball cap with wife Jordan at his side.
When they walked out of the Super Bowl Media Center five hours later, Dalton looked to be carrying Jordan's purse, giving his wife a breather a couple of months from the birth of their second child.
"I thought it was being home, representing the high school," Dalton said of the hat. "Kind of show off a little bit. Katy pride."
Green, who says the partially torn hamstring that took him out of the last seven games is fine, has yet to start working out. But he can at the 12-week mark, which is in mid-February. Before then he jumped on a plane Thursday for Los Angeles to do a live stream during the Super Bowl on Snickerslive.com. It's on at about 10:30 p.m. and he'll be on there for 15 minutes, juggling, of course.
He'd just as son miss this big game. He and Dalton won't play catch until May.
"This game is crazy, man. You never know when it is your year," Green said. "Start gelling the way Atlanta does. It's unbelievable. Or be like Dallas. Gel all year, then have one slip up, and you are home. It's all about timing and whoever gets hot. But Atlanta was hot all year."
Andy Dalton, Geno Atkins, Carlos Dunlap and Andrew Whitworth participate in 2017 Pro Bowl in Orlando FL.