Alex Erickson's route running has impressed the Bengals from the get-go.
As the Bengals head to Jacksonville for Sunday's pre-season game (8 p.m.-Cincinnati's Channel 5), the summer's most intriguing roster joust is basically a coin flip.
Heads is 28-year-old Brandon Tate, the franchise punt return leader, a methodical, grinding veteran who somehow finds a way to make it every year.
Tails is Alex Erickson, 23, trying to add to his small school legend and once again do the improbable by walking on to the big time for the second time in five years as undrafted free agent out of the University of Wisconsin.
The only place it's not a coin flip is in the precincts of Darlington, Wis., where nearly one percent of its population of 2,500 surfaced a couple of weeks ago in the pre-season opener at Paul Brown Stadium to watch Erickson stake his claim with an 80-yard punt return for a touchdown.
"I would say this 1,000 times" says Tucker Wiegel again. "I know he's going to make it because his work ethic is outstanding. He gives 110 percent every time.
"So many kids in Darlington look up to him. Even if he didn't make it, which I know he's going to, so many look up to him for what he's done already."
It's hard for Wiegel to see anything else. It's all he's known since they sat next to each other in kindergarten and they've been together ever since. From basketball in the runs in the state tournament on the Darlington travel team and AAU, to the same relay teams in track, to the Friday Night lights and the game against big, bad Prattville when Erickson predicted Wiegel's first varsity touchdown on a 70-yard option pitch.
"Whatever he was going to do, he was going to be successful, that's just the way he was raised," says Wiegel, who could see him using his business degree in wealth management. "He's good with numbers and he's good with people."
But that's all on hold now. It is Wiegel staying back in Darlington with his finance degree working in his father's business. Erickson eventually wants to start his own company, but that's all he knows.
"I don't know doing what," Erickson says. "If you've got any ideas, let me know."
At the moment, he should stick with returning punts and lining up in the slot because even though he's a wispy 6-0, 195 pounds, he's doing well enough to taste a boyhood dream and make an NFL roster. He book-ended the 80-yarder last week in Detroit with a nifty-make-one-miss 30-yarder.  But maybe the biggest reason he's getting some serious run was on display in that three-yard touchdown catch against the Vikings. The coaches love his feel for the nooks and crannies. Coaches love what they call "little error."  When he lined up he saw the same blitz quarterback Andy Dalton saw and they converted for an easy score.
Wiegel saw it in the PBS stands and his mind may have flashed back to his first TD for Darlington off that pitch from Erickson, an option quarterback who rushed for nearly 4,000 yards and threw for more than 3,500 in his career and was named the state's Small School Player of the Year as a senior.
"Just before we broke the huddle he told me, 'You're going to score,'" Wiegel says. "He chased me all the way down and was the first guy to get to me and he was yelling, 'I told you, I told you.
"He could have played any position, but his leadership was outstanding. It had to be quarterback. If you had a question, he knew all the positions. He figured that was his job as the quarterback to know what everybody had to do."
Every town has a guy. But not every town has a guy with a chance to make in the NFL.
"I don't walk to talk to him about it. I know he's got a lot of built-up pressure from back home. People want him to make it," Wiegel says. "Football is a non-stop thing for him, so I talk to him about other stuff to get his mind off it. Be normal with him. We give him a lot of crap about being in Cincinnati after growing up in Packers country."
Erickson had the obligatory Brett Favre No. 4 jerseys and the pictures to go along with them while he was growing up. And why not? He was born during that 1992 season the Bengals' Tim Krumrie sacked Packers quarterback Don Majkowski and ushered in the Age of Favre.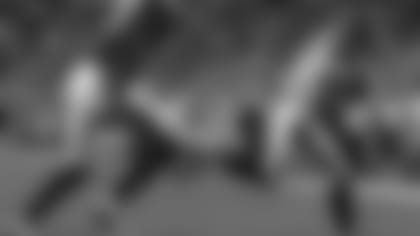 Erickson scores from three yards out against the Vikings.
"Anytime you're a competitor, you have to think you're good enough to make it," says Erickson, trying to figure out when he realized he had a shot to play here. "It wasn't one moment. I think it was the OTAs and training camp. Feel like you're getting better and making progress. Ultimately, that's what it's all about. Taking in the coaching. It's a different game, but in the end it's still football. I'm just keeping my head down and pushing forward."
The kids in Darlington may be looking up to him, but Erickson is looking up to Tate, a seven-year veteran who knows how to make a roster.
"Since day one Brandon is a guy I've looked up to and a guy that's helped me with my game," Erickson says. "You watch him in practice and he brings it every day. He's a pro's pro and you're able to see why he's been here for so many years.  I watch (his technique on punts), how he positions himself. There are a lot of clips of him returning punts. The little things you don't usually think about."
Erickson has absorbed from Tate the most important lesson espoused by special teams coordinator Darrin Simmons. In racking up the Bengals' records over five seasons, he's lost one fumble.
"At the end of the play the most important thing is to possess the football," Erickson says. "You watch football on Sundays, you see turnovers on that play, it's a huge change in field position. When you kick it 50, 60 yards, it's like hitting a big pass. Big change in possession."
Erickson's journey has been marked by big changes. He was all set to play basketball at the University of Wisconsin at Stevens Point after he saw them win three Division IIII national titles.
"That was the plan," Wiegel says. "He started varsity as a freshman and scored 32 points one night. From that point on, we figured he was going to play basketball."
But there was one problem. Stevens Point wasn't Madison.
"That's how we grew up," Wiegel says.  "Guys would talk about Alabama for football and North Carolina for basketball and we were always talking about Madison. We were just two guys that wanted to go Division I and Madison if we couldn't play in the pros. Everybody dreams of that growing up."
At 5-8, Wiegel, a running back/slot receiver who was an 800-800-yard man his senior year, mulled Division III Wisconsin Whitewater, but he opted to give up sports and attend Edgewater College in Madison. Mere minutes from Camp Randall is how Wiegel sees it.
When the Badgers approached Erickson with a late walk-on offer, he jumped even though he was able to only play two flag football games in the fall while waiting to join the team in the spring.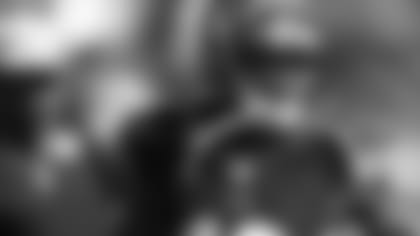 Erickson has been watching the veteran Brandon Tate's approach.
"I just felt like it was a better opportunity for me," says the Stevens Point point guard who never was.
It's funny, because basketball is where the two buddies got a line of life-long inspiration. Wiegel thinks it was around the sixth grade when their travel basketball team made the state tournament and their coach, Alex's father Mike, had something to say.
"Big-time players will make big-time plays," Wiegel recalls.  "Ever since then we kind of rode that together. Even about life. Go out there and do it. There's nothing holding you back. Go make the play.  I think that's what he's doing right now."
But he seems to have figured out all the small things add up to the big things.
Erickson sneaks a look at the clock after practice.
"I'm just worried about getting to these meetings," he says.