*A still shot from the documentary "9/11: The Day The World Changed," shows firefighter Harry Coyle shortly after he was one of the last to leave the North Tower before it collapsed. *
Harry Coyle, who inhaled war 15 years ago, clears his throat in chunks of history now known as "The World Trade Center Cough."  He wheezes slightly and rattles with New York resilience. He can still taste death and dust and see the carnage of a new century's horror as he bounded off Ladder No. 18 that day everything changed.
An airplane engine in the middle of the street. Jet fuel cascading down elevator shafts. Death leaps from the windows above. The chaplain of the New York City Fire Department wading through the blown-out lobby soothing them before they climbed the smoking stairs to hell as if they were invading a beachhead.
"People ask me if I was ever in the service," says Coyle, at 58 too young for Vietnam and too old for Desert Storm. "I tell them, 'No,' but I was at war for one day, that's for sure."
They are vivid still shots. But for Coyle it is what he heard that flashes in his mind.
Maybe 30 seconds after he and a handful of his brothers from their Lower East Side firehouse scrambled out of the Word Trade Center's North Tower, it started to crumble in a shattering series of bomb-like explosions.
All that was left was one long beep.
"It took about ten seconds to come down," Harry Coyle says. "You wouldn't believe the difference between the sound of the building coming down and then the silence there after. It was eerie. You know what you heard? You heard the alarm sounds that we wear. As long as you're moving, they don't trigger. You stay still for a certain amount of time and they start beeping so they can find you, God forbid, if you do down. All you could hear was beep, beep, beep."
Harry Coyle's brother, Kevin Coyle, the Bengals secondary coach then and now, is sitting at the same desk where he was when his fellow New Yorker and assistant, Louie Cioffi, yelled through the wall to come look at the TV that game plan Tuesday morning.
He couldn't have known that just hours before Harry had seen Kevin's old Staten Island schoolmate Lt. Billy McGinn on a routine run with Squad 18 to fix something hanging off the Manhattan Bridge. McGinn, whose sister went to school with Harry, passed away in the attack.
Kevin Coyle also had no way of knowing that Harry's brother-in-law, Jackie Connolly, a guy they hung out with in the neighborhood as kids, went to work in the towers and wasn't coming home. Or that his teammate at Monsignor Farrell High School, the old tight end who became a part-time stuntman, Lt. Charlie Margiotta, had raced in from Staten Island on his day off and never got back.
The teeming, titanic city that never sleeps was never so small as it was on 9/11.
"Twelve," Kevin Coyle says is the number of people he knew that died that day. "Big Charlie wasn't on duty. He was with an elite group. They were almost like the Navy Seals of the firefighters in New York City.  From what I understand, he just heard about it and drove in as far as he could. Some of the guys ran through the tunnels to get there.  We played in high school together; he went to Brown University and ended up becoming a firefighter."
Which are just some of the reasons Kevin Coyle never wants to hear silence when it comes to 9/11. So with the Bengals poised to open their season Sunday against the Jets (1 p.m.-Cincinnati's Channel 12) on the 15th anniversary of the nation's worst terror attack amid the pomp and ceremony of MetLife Stadium, Kevin Coyle does what he does every year.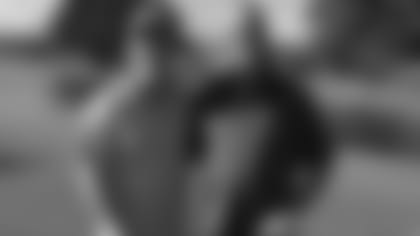 When Kevin Coyle (left) was the Dolphins defensive coordinator, Harry took his passion for golf to the sunny skies.
"I'll educate them. I always make it a point to remember 9/11 and the people that were lost," Kevin Coyle says as he eyes Saturday morning for the lesson he'll give his DBs.
"It's getting increasingly more difficult to make the connection throughout the years. The perspective has changed. Some of the players we have now were six, seven, eight years old when this occurred. They look at it through a child's eyes. We know what changed but those changes are somewhat commonplace for them. Just look at the way we travel. Look at the way we go to football games now with all the security. It wasn't like that before.
"It's not as personal (to them), but it's not their fault."
That's when Kevin Coyle pulls out the book,* In the Line of Duty*, the story of the 343 NYC firefighters lost. The book in which his father inscribed on Coyle's first birthday after 9/11:
"On Sept. 11, 2001 we almost lost a son and you a brother. We thank God Harold was spared. This book is a reminder of that tragic day so many other families were not as fortunate as the Coyle family. We're all so proud of Harold. He is truly our hero. Love, Mom and Dad."
Seven of the 10 DBs who'll suit up Sunday were 11 years old or younger. Kevin Coyle gets it. He's of that generation of kids that stared blankly at the grim soldiers guarding the flag-draped coffin of John F. Kennedy more than 50 years ago.
But the Bengals DBs meet an honest-to-God New York City firefighter who survived 9/11, because Kevin Coyle plans to bring Harry up from his retirement on the Jersey Shore so he can speak to his guys the night before the game at the hotel.
"You think of the courage of the people in uniform, like police, firefighters, first responders," Kevin Coyle says. "Despite what was going on around them, they did their job executed what they had to do."
How about Harry? Two years younger than Kevin, he was always the batboy in sandlot baseball because Kevin always played with the older kids. Once in a while when they needed a player they'd put Harry at second base because of the short throw. Since his initials were "H.C.," someone nicknamed him "Horace" for Horace Clarke, the Yankees second baseman of the day in the late 1960s. "Horace" stuck to Harry probably longer than it should have, but "Hero" seems to suit him now. Still H.C., right?
Kevin Coyle remembers when Harry got hurt during his first year on the job and Kevin drove him home from the Cornell Burn Center in Manhattan after he got treated for leg burns.
 "He's a tough guy. He's very humble," Kevin Coyle says. "Give you the shirt off his back. I think he keeps a lot of things inside. Deep down he knows not just that day, but all the days he served as a firefighter in New York, I think he's proud of that deeply."
His visit with the DBs is going to be it for the weekend for Lt. Harry Coyle. While the Bengals and Jets play, a group of firefighters, police officers, and other first responders are set to be honored at MetLife. They asked Harry Coyle to attend, but he'll be back in Belmar, N.J., watching the game on TV with his four daughters who grew up having him around.
"They want us to go out there at halftime. I don't want to be around all that, to be honest with you," Harry Coyle says. "I don't want to be glamorized. I know what happened that day. People who know me know what happened, and that's good enough for me."
Kevin Coyle gets that, too. His father, a World War II Navy veteran, didn't start talking about Guadal Canal until he was in his late eighties.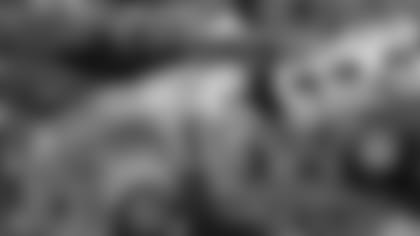 Ladder 18, Harry Coyle's ride to destiny, was raised from the rubble a few days after 9/11.
"I think for some of them they feel like they did their job and were fortunate enough to survive it," Kevin Coyle says. "It's like guys who fought in the war. It opens up old wounds and even though they're being honored, it brings back a flood memories and feelings and emotions that are difficult." It's even hard for him to know how he'll respond during Sunday's ceremonies.
"I don't know," Kevin Coyle says. "It's an emotional time. A time of reflection, really. In some ways, I like the fact we're going back to New York on 9/11. I hope I'll have an opportunity to go pay my respects." In 2004, after he was promoted to lieutenant, Harry Coyle began experiencing weakness in his extremities. It was the beginning of polymyositis, an autoimmune disease that attacks the skeletal muscles. It got so bad he couldn't dress himself for work and needed help to button an officer's white shirt, knot a tie, and secure the countless pins. He developed the WTC cough, as well as a bit of asthma, his lungs savaged by gulps of poison.
By 2007, at age 49, the WTC Bill retired him with a line of duty disability. He estimates there are 20 to 30 brother firefighters who were there that day diagnosed with the same disease and many haven't recovered as well as he has. One needed a lung transplant and didn't make it. Another "is alive, but the quality of life is nothing you would want," he says.
 "Not that mine is anything to write home about, but at least I'm not sick."
After telling doctors that his body and mind could no longer stand the 100 milligrams of the powerful steroid Prednisone, they finally found the right balance of meds to stem the attack on the healthy cells. He shoots golf in 90s, tries to play once a week, and every now and then he'll shoot in the 80s and maybe get Kevin. "I'm one of the lucky ones, thank God," Harry Coyle says. "I'm their poster child. I've been off all medicines for probably five years. I get around fine."
If he sounds like a veteran, he is. Harry Coyle participated in his generation's D-Day invasion when Ladder 18 pulled out at 8:55 a.m., eight minutes after the first plane crashed into World Trade, and steamed down FDR Drive South aiming for the West tunnel with Hugh Mettham driving and Lt. Gary Borega next to him. Coyle had his back to them  with the rest of the crew but when the second plane hit just before they went in the tunnel, it didn't matter where they were positioned. They all knew.
 Our house was only about two miles away, so if there was an overheated elevator or something, it wasn't uncommon for us to get a call there," Harry Coyle says. "When we were at the Brooklyn Bridge, the second plane hit. We couldn't see the actual hit, but we saw the fireball. Other buildings were blocking our view. Right then and there Hughie and Gary looked at each other and said, 'This is terrorists.' At that point this was not a regular run. It was more than a fire.
He came out of one of those tunnels and had to drive around one of those big Boeing engines. Hughie made a good move. There was a walkway and Hughie parked right under that. When we got out at least we weren't getting hit by building parts. That was a good move to park underneath the walkway and then we went into the building. In order to get into the building, at this point there were jumpers. This is very vivid in my head. In order to get into the building we had to hug the perimeter. You had less chance of stuff hitting you."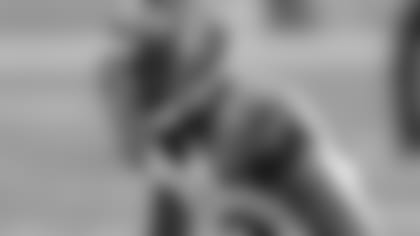 Bengals cornerback Darqueze Dennard, just 10 years old on 9/11, is a ripe age for Kevin Coyle's  NYC class.
Their orders came quickly amid pandemonium.
"It was chaos. No one had ever responded to anything like this," Harry Coyle says. "Gary came back to us and said, 'They told us to start working your way up.' Which was kind of a blessing. We didn't get assigned the 40th floor or the 50th floor. That saved our lives, too.
"Floors one to ten were all mechanical. There were no windows you could see out of. We were up on six. We popped a couple of doors, checked some rooms to see if anybody was in there. That's when the other building came down. But we didn't know what happened. We knew something had happened. It wasn't smoke. We didn't know what it was. We had to stop the people from going down. There were three stairwells in the building.  We were standing at the B stairwell. The lights went out. We had a daisy chain of civilians and went over to the A stairwell. That was no good. We went over to the C stairwell. That was no good. We've got 100 people following us."
They had flashlights, but it was tough going and the radios were out. The dust began to lift enough to get people down the stairs and out of the building. Then, one of those odd things that happen in the middle of a crisis struck Coyle.
"There was a guy in one of those canvas wheelchairs. This guy was right in front of me. Don't ask me how he got there," Harry Coyle says. "But there was a guy in a rescue chair on the platform of the sixth floor. Somebody had to get him there. I don't know who did it. I said to the guys who brought him there, 'I'll give you a head start. You guys go down with this guy, carry him and I'll let these other people go.' After we let those people down, we went down. The lobby looked like a war zone."
Once they were on the ground, they were asked, "You guys got anything left?" Some guys were hurt on the 11th floor, a man said. They didn't hesitate and went back up, although there was some chatter.
"Guys were saying, 'This ain't a good move,' and 'We're really tempting fate here,' " Coyle says. "But that's what we do."
They got back up to the sixth floor again when one of his buddies from Nine Truck came down the stairs and told them, "Get out. The other building is down."
They again hugged the building to get back into the street. Coyle puked into the dust and sat for a moment to catch himself on the back of Rescue One's rig.  Hughie looked at him and said, "Hey Hal, you got anything left? I don't think this is a good place for us."
"As I stood up, on my kids, the building started to collapse," Harry Coyle says. "It looked it was bombs, but the floors were imploding on each other. We just took off running up the street. We didn't get far at all. And we were in that big cloud. I got real lucky." Coyle hid behind the back right corner of a fire truck, figuring he couldn't get hit head on by the tornado of shrapnel. Some guys chose to crawl under trucks. Some lived, but others got crushed in a Russian roulette of steel and concrete.
 They'd been in the building for about two hours. From 11 a.m. to 11 p.m. was a blur until the police drove them back to the firehouse.
 "I was with a guy from my house and a detective," Harry Coyle says of the moments after the collapse. "Before we went up, Hughie had grabbed a couple bottles of water from one of those stores in the lobby and gave me one. I told him, 'I've got enough crap.' He said, 'Shut up. Take the water.' I put it in my pocket. Then we're in this dust bowl. All of a sudden I break out the water. It was like God's gift. Our mouths were full of dirt. Your eyes. Everything was covered. You were engulfed."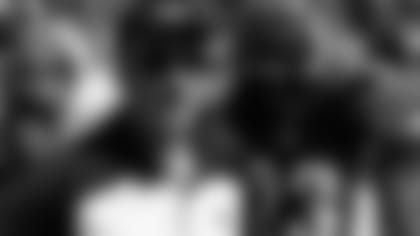 Sunday marks the seventh trip to New York for Staten Island's Kevin Coyle as a Bengals coach. He also went at least once a year as the Dolphins defensive coordinator. But none of the trips have been as emotional as this one.
There were some heavenly signs that day and not so heavenly. Usually at a call, officers will ask for a name if there is someone missing. Like, "Where's Coyle?"
"You don't say, 'Where's Ladder 18?'" Coyle says. "But that's what they were doing. 'Anyone seen Ladder 11?' Unfortunately a lot of those answers were no."
Kevin Coyle has no answers as he thinks of a stunned Harry Coyle in the wake of the implosion.
"It must have been just unimaginable being there, knowing hundreds of your brothers and co-workers are gone," Kevin Coyle says. "Literally, your world, the entire world, has changed in an instant. I can still see the images of the towers crumbling. It's hard to think about them just turning to rubble and disappearing."
All of Ladder 18 were accounted for. Not so for Ladder 11. All were killed evacuating the top of the Marriott, which got crushed when the South Tower collapsed.
"One company went left, the other company went right," Harry Coyle says. "All those that went left got killed because of the way the building fell."
 Eddie Day was one of those guys. Day and Coyle were buddies, and if they ever saw each other when they were leaving a call, they'd tell each other, "See you at the big one."
"Just a smart aleck thing to say. 'See you at the big one,' " Coyle says. "Nobody says that any more. Not after that."
Bengals-Jets is big. But little Horace who grew into Lt. Harry Coyle can tell them about the big one. They'll have to ask, though.