On the night before the start of his eighth training camp with the Bengals, Carlos Dunlap got a phone call from former teammate Andrew Whitworth.
"It wasn't surprising to have him reach out, but it was surprising to hear him say 'Good luck to you guys' instead of 'Let's go,'" said Dunlap. "That moment pounded it home. It was like, 'Oh damn, he's really not going to be here tomorrow.'
"I wished him the best of luck – him and his family. It looks like they've been having a blast on Instagram and everything else that I follow, but I just wished him the best of luck and told him to find some tax breaks over there."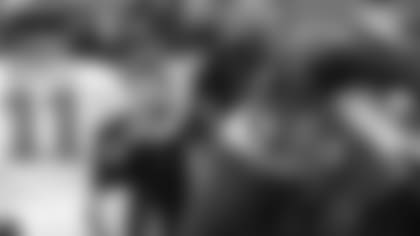 Now that Whitworth is with the Los Angeles Rams and Domata Peko is with the Denver Broncos, Dunlap is tied for third on the team in longest current tenure. Clark Harris and Kevin Huber are in their ninth seasons with the Bengals, and Dunlap, Michael Johnson, Adam Jones, Cedric Peerman, Pat Sims, and Andre Smith are in their eighth seasons with the club.
"Coming in, one of the first things that I did was look up the average NFL career because everybody says that NFL stands for 'Not For Long,'" said Dunlap. "I looked up the average and it was like 3 ½ years or something like that. To get to eight years is amazing.
"It feels like it has flown by. It feels like it's been three or four years."
Dunlap went to his second consecutive Pro Bowl last year as he led the team with 15 passes defensed – seven more deflections than any other NFL defensive lineman. Carlos was second on the team in sacks with eight, and his 57 career sacks rank fourth in Bengals history.
Despite those accomplishments, Dunlap maintains that he hasn't reached his peak.
"I'm only 28 years old and I'm still learning at this age," he said. "If it was anything else in the world I would still be considered a rookie. But in the locker room they consider you a veteran. I came in at 20 so I have eight years under my belt.
"I feel like I've got a lot of ball left and I look forward to making these next few years my best. I've had some good ball up to this point, but I still feel like I have a lot of room for growth."
The Bengals have been to the playoffs five times in his seven NFL seasons, and Dunlap says a key to returning to the postseason this year will be the development of many of his younger teammates.
"I feel like these young guys are going to give us the extra jolt that we need to get over the hump," Carlos said. "I feel like these young dudes are helping us in the places where maybe some of the older guys were taking on too much of the load. Adding that depth and just competing in camp is going to help us."
Two young defensive players that he is eager to see on the practice field are second year defensive tackle Andrew Billings, who missed last season with a knee injury, and rookie linebacker/pass rusher Carl Lawson.
"I'm very eager to see what Billings can do," Dunlap told me. "We got his weight down and we got him healthy. He came down to Miami and trained with me for a little bit and got some good work in. I look forward to see him get out there and put together his first full season.
"(Lawson) is very explosive and that is one of the things that will translate when you put pads on. He is a natural rusher. In minicamp he might not be able to explain the defense we were running at the time, but he got to the quarterback. The one thing that he has and he can build on is that he's a natural pass rusher and that's one of the best things that you can have in this league. I'm very confident that the Bengals are going to find a way to get him on the field very soon."
Dunlap set a Bengals rookie record with 9.5 sacks in 2010, and over the last four years he's averaged roughly nine per season. If he continues that pace, he would break Eddie Edwards' team record of 83.5 career sacks in three years.
But as the Bengals prepare to conclude their fifth decade as an NFL franchise, Carlos has team goals in mind.
"I've been fortunate to be part of eight years of this decade," he said. "We've done some great things, but there are Bengals teams that have done better things than we've done. We want to leave our legacy. The majority of the team is probably averaging a half a decade here so we want to leave our mark."