In one of the two full games Tyler Eifert (above) played with A.J. Green last season, he had a career high nine catches and made them count for his second career 100-yard game with 102.
How good is it to see Tyler Eifert and his impish smile again after he has attacked one weight machine after the other?
That would be 24-12-1 good. The Bengals' record when their Pro Bowl tight end is in the game.
"I'm feeling good. I continue to get better. My back feels great,' Eifert assured on Monday.
Which is music to Bengaldom's ears. That would be 20 TDs in 37 games sweet.
When the Bengals begin off-season workouts at Paul Brown Stadium a week from Monday, six-time Pro Bowl wide receiver A.J. Green is expected to participate after being cleared of the partial hamstring tear that limited his 2016 season to what amounted to nine games.
Eifert doesn't know when he'll be cleared to resume regular workouts or work in the May and June camps, but he says he'll ready for training camp. He isn't running full steam yet, but he's been running enough that he feels he's close to being in tip-top shape.
"I'll be ready and healthy and strong and be ready to go by the time it's go time," Eifert said. "I'm close."
Any coincidence that when Green and Eifert hooked up to play in 13 games in 2015 the Bengals scored 50 touchdowns for just the second time in the 14 seasons under head coach Marvin Lewis and just the third time since 1989?
Probably as much as much as the coincidence as when they played in only three games together last season and the Bengals ended up scoring 15 fewer touchdowns and 96 fewer points in a season their nine losses came by a combined 68 points. Or 7.5 points per loss.
"It will be nice to have somewhat of an offseason to get ready for the year," Eifert said. "Instead of coming into camp straight off of injury."
When Eifert is healthy, well, the numbers say it.
There is that .650 winning percentage and those .54 TDs per game. That's what eight-time Pro Bowler Antonio Gates has in 204 games. No one is near Rob Gronkowksi's .77 TDs per game, but consider that Jimmy Graham is at .56, Jordan Reed at .43, one-time Pro Bowl MVP Kyle Rudolph at .36, Greg Olsen at .34, Travis Kelce at .29, 10-time Pro Bowler Jason Witten at .28, and Delanie Walker at .19, and you're looking at a guy that scores with the best of them.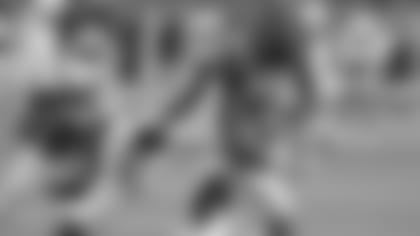 In the last two seasons, Green (above) and Eifert have combined for 38 percent of the Bengals' TDs.
"I feel like I'm a good player," Eifert said, "and if I can stay healthy and be on the field, I think I can help us win and score points."
That's been easier said than done since the Bengals took Eifert with their first-round pick in 2013, a rookie year he missed the last regular-season game with a stinger and then left the Wild Card Game after three snaps.
 After missing the ensuing OTAs with a separated shoulder, his 2014 season consisted of only nine plays when he dislocated his elbow in Baltimore in the opener and he ended up getting the shoulder and elbow repaired. Even his Pro Bowl season of 2015 was cut short by three games with a concussion and stinger and the Pro Bowl itself was nightmarish.
In the fourth quarter he tore ligaments in his ankle and missed the first four games of last season. When he tweaked his back running a route in one of his first practices back, he missed two more games and had a disc removed while the Bengals were playing their last two games.
But the smile and jokes and the feel-good sessions with rehab chief Nick Cosgray are back. If he's frustrated, he's replaced it with sunny determination.
"It's s not fun," Eifert admitted. "But there's nothing you can do about it once it happens. There's no sense of being frustrated with something you can't really help."
It's an interesting time for Eifert. Huge, actually. He's in the option year of his rookie deal that the Bengals chose to exercise at $4.8 million, which according to spotrac.com is 20th this season among salary cap hits for tight ends. Graham leads all tight ends with a $10 million average. The two young stars, Kelce and Reed, are averaging ($9.3 million), just ahead of Gronkowski's $9 million.
What it all means for Eifert is anyone's guess. Same with the Bengals. How much can you pay a guy that has missed 42 percent of his games? How do you balance that with the guy that has been on the field for 24 wins in his 37 games?
(If you have the right answer, the address is One Paul Brown Stadium, Cincy, 45202.)
Eifert handles the contract question the same way he handles the injury question. Like a pro.
"That's another thing you really can't help," Eifert said. "You just go out and play your best. Make sure you're prepared to play. I just want to do what I've been doing, stay healthy, and help us win games."
At the very least, seeing the Eifert Tower up and looming around PBS in April puts a spring in everyone else's step.