Reports says Tyler Eifert is back.


When free agency opened this week, the Bengals were sure of only one thing. They were focused on continuing the rehab of their last-in-the-league offense that began with January's coaching staff shakeup.
It turned out they met their biggest need and answered their biggest question.
On Thursday when reports surfaced they have an agreement to re-sign erstwhile Pro Bowl tight end Tyler Eifert to a one-year contract, their new investments in the project reached nearly $17 million and they could reach as much as $20 million if Eifert is as healthy as he was when he was a Pro Bowler in 2015.
The Bengals weren't looking to drop that much in free agency, but when they realized they had a trading partner in Buffalo, they solved their biggest need when they swapped first-round picks and acquired a solid, reliable veteran left tackle in Cordy Glenn even though he hit the cap at $11.25 million.
The biggest question of the offseason was if Eifert was willing to gamble on a one-year deal with $3.5 million of an $8.5 million contract tied to play time and production. Eifert said, "Yes," and if he's healthy then the offense picked up one of the top free agents on the market. How many tight ends are out there with a 13-TD season?
The deal also probably means they need to find a new center because that appears to be the last major pact they'll do in free agency. They'll probably do some minimum veteran deals, but if the Bengals did reach a deal with center Russell Bodine, their starter for the last four seasons, they'd probably release somebody else and they're not usually keen on doing that.
But the Glenn trade not only gave them a left tackle, it gave them center options at No. 21 that they didn't have at No. 12. There could be as many as three prospects sitting there. 
While the Glenn deal was a top-of-the-hour news break, the Bengals may have snuck in their biggest move of all with Thursday's bottom-of-the-screen crawling with the deal for Eifert, the guy the league forgot.
The Bengals, believed to have edged out the Rams and 49ers in the Eifert Derby, are delighted to get him back despite his injury history that has knocked him out of more than half his 80 NFL games. They know when healthy he's broken up more games than the internet with that Pro Bowl season in 2015 that saw him confound defenses with those 13 touchdowns.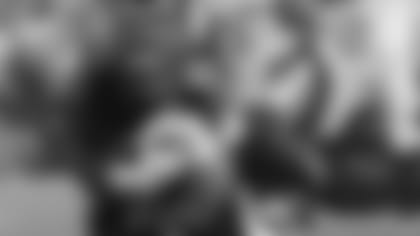 Tyler Eifert, circa 2015.

He's a lot like this offense. Battered. Bruised. Rehabbing and reviving. And on a one-year trial. But it has also had years of brilliance. Eifert says he can do that again.
"Yeah. I don't think there's been a question about my talent," Eifert said. "Unfortunately it's been a matter of staying healthy."
There was never any doubt he wanted to do it here and although he doesn't show much emotion, he made it clear he feels like he's got an obligation.
 "I knew where I wanted to be," Eifert said. "It's a place I called home for five years. I like the guys in the locker room. I love the coaches. The fans have been great. The way I left it, it's not the way I wanted to leave it. I felt like I owed it to Mr. (Mike) Brown, Coach (Marvin) Lewis and the fans to come back and give them a good year."
It has been expected that any deal for Eifert includes a base salary (figure in the $5.5M area) as well as incentives based on play time as well as catches, yards, and touchdowns. Eifert has played just eight games since he got hurt in that '15 Pro Bowl with ankle and back problems.
He had back surgery this offseason and says he's been cleared by the surgeon, but Lewis indicated the club has yet to clear him. Eifert said Thursday he feels great and that he'll be able to participate in the off-season workouts that begin next month and practice in May and June.
The last time he did that?
 "That was a pretty good year, wasn't it?" Eifert asked.