Carlos Dunlap's role is expanding into mentor.
Left end Carlos Dunlap's role in his eighth season as a Bengal has become as expansive as that seven-foot wing span that reached into Sunday's abyss and pulled a win out of the muck, not mention the AFC Defensive Player of the Week award.
"Getting the recognition by my peers around the league, that's a pretty dope thing," said Dunlap before Wednesday's practice, reflecting on the wild celebration ignited by his winning pick-six. "But it wasn't better than my teammates, the defensive guys -- besides jumping on me -- meeting me in the end zone."
The wider role means he doesn't mind helping out the kids. All kinds of kids. If you're rookie pass rusher Carl Lawson or student trainer Chase Britt, Dunlap is kind of like that big brother with a helpful approachable accessibility.
With Lawson, who plays the same position opposite Dunlap at right end on a Bengals' pass rush trying to keep pace Sunday (1 p.m.-Cincinnati's Channel 12) with Jacksonville's NFL-record pace, it's free with tips on how to get past the tackle or when to use the cold tub.  With Britt, who may be the tallest trainer in the NFL, he shares some of the same dimensions at 6-8 and has received some pretty nice hand-me-downs.
 Back in training camp Britt saw one of Dunlap's pair of shoes and casually mentioned to him how cool they were and thought nothing of it. Dunlap later told him to take them if they fit and since they're both size 15, they fit. They turned out to be shoes he got for playing in the Pro Bowl complete with the logo. Then the 6-6 Dunlap gave him a pair of sweat pants and invited him to come by one day and go through his closet and take some stuff he didn't wear. Britt, who goes to Northern Kentucky University, ended up with jeans, shirts, more sweats and what he couldn't wear; Britt gave them to St. Vincent de Paul.
The Paul Brown Big and Tall Shop has been just us as giving when it comes to sacks with the Bengals on a pace that puts them within a sack of the team's single-season record of 51.
"I appreciate Carlos and how he's helped me out," Lawson said. "We've got great vets on this defense. "Whenever I've needed help on the field or off it on how to take care of my body, he's always helping me out."
 But when it comes to Lawson's pursuit of Dunlap's team rookie record of 9.5 sacks (he needs 5.5 to break it), Dunlap isn't handing it out.
"I hope he pushes for it and presses it, but obviously that's a record that I would love to hold," Dunlap said. "But I would love to play with a player that gets it rather than somebody getting it after me. That would be dope."
It will be recalled in 2010 that Dunlap did his damage in the last eight days because that's back when rookies paid their dues. Not like on Sunday when head coach Marvin Lewis had eight rookies cavorting through significant snaps.
"That's a whole different can of worms. It still is what it is I would love to see him press and chase after it," Dunlap said. "The old days they encouraged you sit back and wait. It's a long season. Now, after having the success we had -- me, Geno, A.J. (Green), Andy (Dalton) coming in their (first) years, you're seeing a youth movement. Guys are coming in ready to play. If they come and execute the game plan, then they're going to put them out there in situations to win.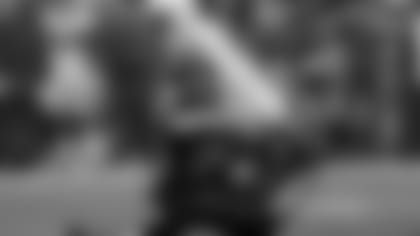 Carl Lawson is taking a page out of Carlos Dunlap's book and pursuing 22.5 sacks in a year.
"We haven't had this many guys come in this ready to play. I and Geno came in our year. We were ready to play. Vinny Rey, too. And a couple other guys … clearly this is the biggest group that we've had ready to play."
But Lawson and Dunlap are looking for a lot more than Bengals records. Dunlap has long been vocal about his goal of breaking Michael Strahan's NFL season record of 22. Turns out Lawson is, too.
"You kind of hold yourself to the highest standard as far as stats," Lawson said. "When I play I want to try and be compared with the leading players in the league. That's how the mentality should be. The competition is who is the best in the league, not rookie sack records. (Strahan's record) is what I'm shooting for, too. It's probably not going to happen this year, but that's what I'm shooting for."
But there is also give and take about sack totals among the defensive line that has turned into robust intramurals.
"All of us as a D line. Because it's not just me and Geno anymore," Dunlap said. "You've got Carl Lawson. You've got Chris Smith. You've got Mike Johnson inside getting after the quarterback … Me and Geno have typically been hunting at it and Mike's always been in the race. Right now Mike's ahead of me in the race. He's been very dominant inside. And you've got Carl coming on the outside, who's a young, fierce, fresh pass rusher."
Lawson is on Atkins' heels, the team leader with five. Johnson (back) who may not play Sunday has three and is on pace to have his biggest year in five seasons. Dunlap has two and knows he has to get on a run to swipe the belt he and Atkins compete for every year.
But they apparently haven't looked at the Bengals' all-time sack list lately. Dunlap has 59 sacks, tied for Ross Browner in third place. Atkins, who arrived two rounds later than Dunlap in the fourth round of the 2010 draft, is fourth with 57.
"We go for a belt during the season, but we haven't been tracking our career (numbers)," said Dunlap, who actually seems a bit surprised he's got the edge. "Geno's had a lot of 10-sack years … He missed (half) a season, too. "
Nice numbers. But Dunlap is more interested in the franchise record. He had to do some research first.
"Somebody tweeted me that. That was pretty dope," said Dunlap of when he tied Browner on Sunday. "What's the No. 1 guy?"
Told it is Eddie Edwards with 83.5 he said, "So we've got room to grow." Told he could move into the second spot soon with linebacker Reggie Williams at 62.5 he offered, "I'll try to get that by the end of the season."
"I usually narrow it down, per season, per game, per play. I try to go like that. I haven't exactly looked at the career thing right now," Dunlap said. "I just know the single-season sack record is something I want to accomplish. You know, 22.5. And then the career one as well. But I want the NFL career one, not just the Bengals career one."
Lawson is thinking along those exact same lines.
"I don't think about anything until after the season,' Lawson said. "I know I've got 4.5 sacks. I'm mad they took away two. But I won't be mad they took away two until after the season."
It turns out Dunlap faces another kid Sunday in Jaguars running back Leonard Fournette.
"Seeing him on tape, some people look faster, some people look bigger," Dunlap said. "Everybody says I look seven feet tall on film. It's going to be fun to get out there and get a couple of hits on him and try to take on that challenge of trying to stop him. He's on a roll right now."
So is Dunlap, who was seven feet tall on Sunday.
Cincinnati Bengals host practice at Paul Brown Stadium 11/01/2017