Carlos Dunlap on his way to the winning TD after he tipped last year's Colts game to the Bengals.
Carlos Dunlap, the second most prolific sacker in Bengals history, showed up at Paul Brown Stadium for the first time this spring in time for Wednesday's practice.
But it's not the first time safety George Iloka has seen him this offseason since both work out at Pete Bommarito's South Florida facility. He pronounced Dunlap ready to add to his 64.5 sacks that are the 16th most among active players. Dunlap is taking himself in the derby to lead the Bengals in sacks this season. 
"I've been watching him for five weeks," said Iloka, assuming the role of Dunlap's representative. "He's my guy. What's the question?"
Not a question, really. Just an observation. Dunlap, 29, who does look terrific and trim heading into his ninth season, is saying what he always does. He's got his sights on Michael Strahan's NFL-record 22.5 sacks, as well as Coy Bacon's 42-year-old unofficial Bengals record of 22.
"He can get that. Especially now," Iloka said. "He's going to get single blocking. You have to evenly distribute who you give attention to the offensive line."
Iloka runs through the options. There are Dunlap's sack records set at left end that includes the official team season record of 13. 5 set three years ago.
There are first ballot Hall-of-Famer Geno Atkins' 61 career sacks, the most by any active defensive tackle in the land.
There are last season's 8.5 sacks generated by Carl Lawson, a third-down pass rusher at right end that missed Dunlap's team rookie sack record by one. There are the five sacks of right end Michael Johnson that came primarily in the wake of his early-season move to tackle on third down, conjuring up images of right end Wallace Gilberry moving inside on third down, where he logged many of his 14 sacks during 2012 and 2013.
"Mike can do that," Iloka said. "If they double team Carlos, Carl is by himself. He's going to get single blocking."
"And you've got Geno Atkins," Dunlap said. "Who are you going to choose (to block)? You can't. I'm saying the emergence of the youth and the rotation that we've got is going be a benefit to everyone."
Remember the old Fisher-Price Package back in 2012? Back when they were kids and defensive coordinator Mike Zimmer's shiny new toys were coming into their own? Johnson was in his fourth season with a career-high 11.5 sacks and Atkins was in his third season breaking out with 12.5 as Dunlap and Gilberry combined for 12.5 more while the Bengals set a team sack record with 51 on the way to a 10-6 season.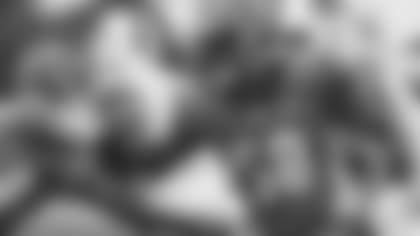 Who do they double? Dunlap? Atkins? Or Lawson (above)?
Now everyone is a sight older. But maybe Atkins matches his 12.5, Dunlap takes Johnson's 11.5, Johnson grabs Gilberry's 6.5 and we haven't even begun to talk about Lawson or fellow sophomore Jordan Willis. Willis had just one rookie sack, but his 360 snaps were good enough to be rated in the top 30 of defensive ends by profootballfocus.com.
Dunlap is thinking maybe the new name for the line could be Toy Story.
"Carl had a big year last year. Hopefully he can back it up and build on that," Dunlap said. "It's going to be crazy to see how it chops out. But I bet on myself to be the leader."
The elephant in the room, of course, is Dunlap's contract. Both he and Atkins are up this season and their people have been talking to the Bengals people in what is usually a Labor Dayish move just before the season. Dunlap politely says he has no breaking news, hopes they get it done and disputes the notion he was the only absence of the voluntaries because of his deal. Part of the assumption came from Dunlap forfeiting $300,000 in work-out bonuses.
"That's a lot of money. No denying that," Dunlap said. "I value my training down in Florida. I'm making sure I'm in the best shape possible to meet the things they perceive as deficient and things I didn't do well last year. I feel like that will pay off."
Dunlap wouldn't get into specifics about what the Bengals are seeking ("You're one of the analysts. You watch the tape. I'm just trying to get better every year.") but they would no doubt love to see more consistency. In the 32 games since the 13.5 sacks he's got 15.5. But he also had a NFL-best 15 passes tipped for down linemen in 2016 and even though he had just seven last year, one of them was tipped to himself for a 16-yard TD return in the fourth quarter that won the game.
Which is what Dunlap can do because he's so frighteningly talented. He's looking to put it all together this year.
"I felt like last year was the best year feeling-wise, but we didn't have it performance-wise, so I want to put the two of them together," Dunlap said. "I'm kind of mimicking and adding to some things I did last offseason. That's the best I felt through a whole season. We're going to bring the performance and add more tallies up ion that W column."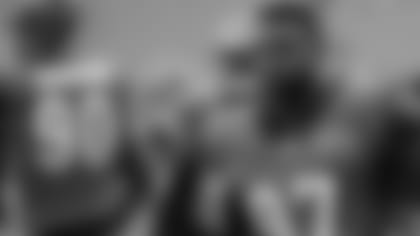 Atkins: trails only Dunlap and leader Eddie Edwards on the Bengals all-time sack list.
With mandatory minicamp next Tuesday through Thursday, Dunlap said he's here getting to know the new guys. That includes defensive coordinator Teryl Austin and third-round pick Sam Hubbard, a pass rushing end out of Cincinnati's Moeller High School and Ohio State.
Dunlap has been hearing about Austin's pressure packages from friends around the league who say they're excited he gets a chance to play for him. And Hubbard gets Dunlap thinking.
"When his team (Moeller) was playing for the state championship, me and Mike (Johnson) talked about maybe going to watch because it was such a big game," Dunlap said. "Now it's crazy that he's playing alongside us. It's crazy how things come around."
Not that crazy. Dunlap is back and Hubbard is behind him now that the mandatory is here.