At 34, Mike Nugent welcomes the youthful competition at kicker.
The definition of due diligence? When you can get ripped for it and praised for it at the very same time.
So Monday was a due diligence day at Paul Brown Stadium. Usually the business of trying to get better in the NFL is a silent, dreary, anonymous hum of work behind the scenes. Setting up a tryout with a twice-released player. A phone call to an elusive agent. An e-mail to a friend of a friend. A tip on a text from a buddy in the league. The back page of a coach's notebook.
But Monday was one of those days people noticed. That happens when you work out a former first-round pick and sign a kicker who has been at it for just two years.
Meet Dominique Easley and Jon Brown.
Well, hold off on the welcome wagon for Easley. The Bengals worked out the 29th pick in the 2014 first round Monday around noon and with no white smoke emerging from PBS at closing time, it appeared that due diligence may have been all it was. But Brown, a one-time teen soccer superstar who signed Sunday, had already spent his first day in the off-season program.
"Traits," says Bengals director of player personnel Duke Tobin. "Easley was a guy we had regard for when he came out and it's a matter of time when guys become available that you had some regard for. A lot of times it's worth taking a look to see where they are in their careers."
Since there was no deal Monday, Easley may have just got a look. The Boston Herald reported his knees are "in pretty bad shape," in the wake of his surprising release last month. He tore both of his ACLs at Florida, tore his quadriceps last December, missed some of 2015 with a hip pointer, and finished his rookie year on injured reserve with additional knee problems, according to Rotoworld.   Not only that, he doesn't really have a position. A 4-3 pass-rushing defensive tackle, Easley seemed miscast in the Patriots 3-4.
But Bengals left end Carlos Dunlap, who works out with Easley in Miami during the offseason, could see why they brought him to try out. Due diligence.
"He's very explosive. Very explosive," Dunlap said on Monday. "I think he could help us. He has very good talent. A lot of untapped potential and Marvin (Lewis) would be a good guy to get it out of him."
Brown is the guy that got the shot Monday in what appears to be maybe the longest shot in team history. Longer than 10th-rounder Tim Krumrie and 12th-rounder Bob Trumpy both making it to the Pro Bowl.
Tobin went to the University of Louisville pro day in March and tried to figure out the enigma of Jon Brown. Here's a guy who wiped all his Jonathan Brown social media when he decided to drop soccer for football. And he had never kicked for a point in the two seasons he backed up the kicker for the Cardinals.
But here was the ball leaping off Brown's foot at the pro day. It gets back to those traits and so Tobin made a note if there was room for a try-out kicker at rookie minicamp . . .
"He showed he's an explosive kid being a soccer player. Whether he's a kicker or not is to be determined," Tobin says. "But he's a strong-legged kid who we'll look at during the offseason to see if he can develop some kind of consistency. If you think you see a trait that is above average, strong, rare, whatever, that's what you're looking for when you're looking for guys to try out."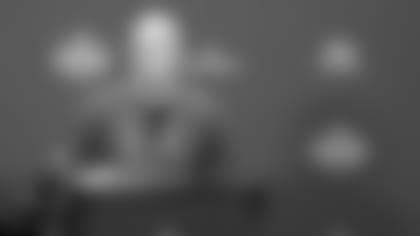 Bengals director of player personnel Duke Tobin got a kick out of the Louisville pro day and passed the tape to Darrin Simmons.
Tobin showed the pro day tape to special teams coordinator Darrin Simmons, telling him he saw a kicker flash, and Simmons agreed there was enough potential there for a workout. We are talking about a leg that has kicked a 70-yard field goal in practice. On Monday, Simmons shook his head as if to convince himself again. There's no record of a PAT or field goal on tape.
"This weekend was a little bit of see how he does. He doesn't know what he doesn't know," Simmons says. "I thought he did OK. He's got leg strength, but what you're trying to bridge is how far the gap is between ready to play versus a project. Is the project part worthwhile? Will it be meaningful? There is a little bit of something there. That's why he's still here. He's coachable."
He's a project at best. He's not trying to make the practice squad, but a phone list. Still, they decided to sign him after Saturday's second practice. Incumbent Mike Nugent is 35 points away from moving into third on the Bengals' all-time scoring list passing Doug Pelfrey. Zach Hocker, a seventh-round pick of Washington two years ago, has already been here five months to begin his challenge to Nugent.
But Nugent says he likes the youthful competition because when he's answering their questions he finds he can use it, too. As for Brown, Nugent said he was surprised to see the kid he saw out there had been at it just two years.
"He's doing great," Nugent said. "So far he's hitting it very good and you talk to him just a couple of minutes and you know he's coachable. I'm really big on that. You can talk to a kid for five minutes and say 'All right, this kid isn't listening to me.' But he was very coachable."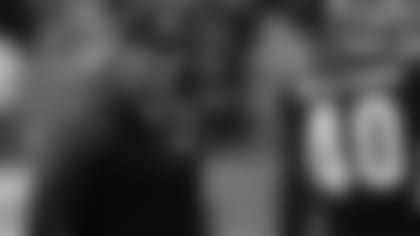 Darrin Simmons doesn't mind a kicking project.
On Monday, as Easley, the first-rounder, worked under the glare of Bengals coaches, the unknown Brown sat in his improbable spot in front of an NFL locker. 
"My mother always wanted me to play football," Brown said. "She told me yesterday, 'You didn't find football, but football found you.'"
Here's a kid that began playing soccer when he was three years old in Clinton, Miss., and became a virtual superstar as a striker for the under 17 U.S. team. He dabbled in football while playing slot receiver and kick returner in high school as a junior and senior when he moved back from the USA soccer base in Florida.
Get that. He caught the kicks instead of kicking them.
"The sports would start to conflict late in the season," Brown said. "At the end of football practice I'd have to run to my soccer game. No wonder I'd get cramps."
Although people would constantly tell him he should be playing football, his dream was to play for a World Cup. But there always seemed to be somebody older in front of him because he was playing three years up.
He transferred from playing soccer at Kentucky to Louisville and even though the goals kept coming at will, he was drawn to another dream and football after the 2013 soccer season. The lure of being the first great African-American kicker has appeal to what is a very spiritual person.
"With my background I could have played in the MSL," Brown said of pro soccer. "But I was thinking more big picture. I feel like I can help open doors and give people hope. The odds are against you. People say you've never kicked in a game. I see how people look at me when I say I'm a kicker. I'd rather risk helping people than looking out for myself. I feel like that today people are afraid of taking chances.
"I feel like every time somebody does something great, the odds are against them," Brown said. "That's how I look at it in the Bible. God uses people who don't have anybody believe in them or don't have faith in to do great things."
Brown was looking for all the right signs when his trainer, Brett Baer, a guy on  the periphery of NFL kicking who has yet to hang on with a team to play in a game, encouraged him to try the sport.
Brown didn't go back to Louisville that second semester. He went home to Clinton and kept taking courses on-line, but every Friday he would drive the five hours to Baer's home in Lafayette, La., and the five hours back in one day after spending the day kicking and watching tape.
He kicked off nine times in 2014 when he paid his way back to Louisville and was doing the same job in 2015 before he blew out his oblique muscle in the trunk area in the third game of the season. But he kept up the commitment. Baer moved to Austin, Texas, and in the weeks before the pro day, his parents occasionally flew him there, where he would spend the weekend sleeping on the floor.
"I feel like I had to go through so much the last five or seven years of my life," Brown said. "They were the only team to contact me. It was weird, too, but I was listening to Joel Osteen. I was listening to one of his messages. The title was, 'A shift is coming.' I was listening to that. I just felt it deep down. He was saying 'You're one phone call away from your destiny. Your time is coming.' Thirty minutes later, that's when the Bengals called me. I just felt like there's been little signs like that. I just felt like this is the place I'm meant to be."
The sign to Simmons and Tobin wasn't as dramatic; the thud of a foot to leather, but it could end up being just as effective.
"He's got the leg strength and he has a base understanding of technique. He just doesn't have game experience," says Simmons, who admits it's exciting after 19 years in the league. "Any time you get someone new like that it's like a raw piece of clay you try to mold. We'll see where it goes after a couple of weeks."
All in a day of due diligence.
Cincinnati Bengals host rookie minicamp at Paul Brown Stadium practice fields 5/6/2016