If they still lived there, Chinedum Ndukwe's parents should already be dead for a decade according to Nigeria's life expectancy of 47.4 years of age.
So last month he zipped into his luggage blood pressure machines, tools for diabetics, and medications to take along on his first anxious trip as an adult to his parents' homeland.
By the time he picked off the nearly two empty bags a week later at the carousel in the middle of the heartland in Columbus, he had breathed new life into Nnenna and Stephen Ndukwe's dreams of making their country a better place to live.
Not only did Chinedum plan to go back next year, but he also planned to take some friends, teammates and coaches back for a camp for kids during the next offseason.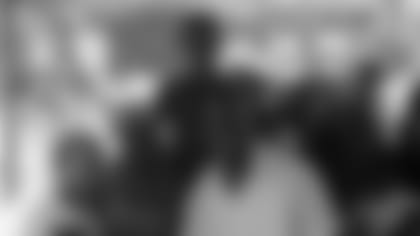 Chinedum (center) at the clinic
Not only that, but after sitting down with Nigeria's minister of sports (think Roger Goodell, Bud Selig and David Stern rolled into the same suit), their son has dreams of his own that include an academy that weds sports and education.
Following an offseason parade of players called into Goodell's NFL office to talk conduct, here's a guy that actually went into a commissioner's office talking concepts.
"We were a little bit concerned about how Chinedum would react to the country," says Stephen Ndukwe, his father, the meticulous engineer who plotted a successful career in America from line zero but couldn't predict his son's emotions. "I think once he saw where I lived and some of the cities and the people, he felt better about it."
His son saw enough that it has triggered a new set of motivations for the upcoming season, one in which Chinedum figures prominently in his second NFL season as a big, smart safety that can help defensive coordinator Mike Zimmer push through his new scheme.
Last year the idea was to prove Ndukwe belonged after he simmered through a draft that spit him out in the seventh round. As the only AFC rookie to come out of the season with an interception (three), a sack (two), and a fumble return for a touchdown, he got that done.
"I had already realized that the reason I'm where I am is because of my parents," Ndukwe says. "But after the trip and seeing how many people you can impact and help by just having the privilege of playing in the NFL, it's got me really pumped up to ball out this year."
Things are moving faster than the trip with a Nigerian newspaper already talking to him about doing a journal during the season. He got acquainted with two cousins he never remembered, a 21-year-old boy and a 16-year-old girl.
"He's 6-4, long and lean. If he was over here he'd be playing basketball or safety," he says. "She's a computer whiz. It seems like she can do anything with them."
It's been the veritable whirlwind for a kid who had been in Nigeria only once, when he was about six years old.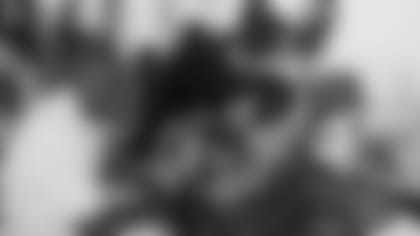 Chinedum chats with clinic attendees
That had been the only time Stephen Ndukwe brought the entire family back to Abia, a rural outpost in the province of Item where he and Nnenna grew up in the '50s and '60s waiting in lines for water and eating out of vegetable gardens. His father died when he was 14, but Stephen's family didn't have enough money for a traditional burial until years later and he had children of his own.
"All I can really remember is that it was sad," says Chinedum, 23, who ended up living the iconic American Midwest script of star high school athlete at Coffman on the outskirts of Columbus, Ohio, before pulling down a double major and tackling titles at Notre Dame.
"I knew my parents were worried that I had maybe what you would call a typical American's view of (Africa)," Chinedum says. "You know, lions and animals roaming all over the place. I knew it wasn't like that, but I really didn't know what to expect."
What he got was a view of both sides through his father's work and his mother's passion.
He stayed with his father, who lives in a nice home in the country's biggest city of Lagos during part of the year as a consultant for the Flour Mills of Nigeria, a 40-year-old conglomerate that manufactures cement and imports wheat. He also visited the capital of Abuja, where he plans to have the football camp with his older brother Ikechuku, an offensive lineman from the Dolphins who arrived in Nigeria the day he left for a week visit of his own.
He saw the rough, poor side when he accompanied his mother to her free medical clinic.
This isn't one of those '60s National Geographic covers. Not with 40 percent of the population living in urban areas. Not with Lagos, home of more than eight million people and one of the world's 10 fastest-growing cities.
A big rain exposes bad drainage and the traffic is horrendous. Ndukwe gave himself six hours to make a flight and he still missed it. But...
"I think when he landed in the cities and saw all the big buildings he realized that it wasn't all that different," says Nnenna Ndukwe, his mother who got a nursing degree after Stephen came back from his studies in London to take her to America 30 years ago.
It turns out that Chinedum Ndukwe, the Midwest poster kid, is following in the footsteps of his parents. He wants to import his talents just like his parents already have.
Stephen Ndukwe is using his skills in streamlining operations and improving productivity in infrastructure to help his country, much like he did when a start-up car company recruited him away from General Electric.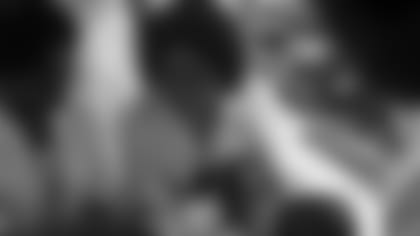 Nnenna Ndukwe attends to children
"This reminds me a little bit of Saturn, when we started out with nothing in a green field and built it from nothing," Stephen says. "Obviously there is more here than that and the potential is great, but I find it more of a satisfying challenge when you can improve on something that is closer to getting started. We're blessed, and this gives me a chance to give back and that's something we'd like our whole family to do in both countries."
Nnenna Ndukwe, a Columbus-area nurse, knew immediately when she visited a few years ago what she needed to bring back.
"There were so many funerals," she says. "It wasn't the children that were dying, but their parents. Young people. Middle aged people."
She came back home and got donations from various doctors and medical companies for a clinic she wanted to run with Stephen's brother, a Lagos doctor who has a family practice. Chinedum brought the supplies that Stephen and Nnenna couldn't fit into their luggage.
"I had no idea what was in there," Chinedum Ndukwe says. "If I got stopped by customs I was just going to leave it and say it wasn't mine."
There were the basics of Amoxicillin, Tetracycline, aspirin, pills for high-blood pressure. Monitors. Thermometers. This was Nnenna's MAS*H unit.
The doors were open at 9 a.m., and they were open until people stopped coming, which was well past the posted time of 6 p.m. More than 250. If people are the same all over the world, then never are the similarities more apparent than when seeing people who can't afford good medical care.
"High blood pressure. Infection. Diarrhea," says Nnenna Ndukwe. "A lot of it is trying to educate about personal hygiene, diet and exercise. Really, we can use everything. Just more of it."
For one thing, at the next clinic she's bringing as much Neosporin as she can because the most memorable part of dealing with the children were the untreated cuts and scrapes. While the kids waited for a doctor (there were about four or five volunteers helping Chinedum's uncle) or waited for their parents, Chinedum chatted them up as best he could despite the language barrier.
"He had his camera and he was taking all kinds of pictures. I thought that's all he was going to do," Nnenna Ndukwe says. "Some were shy and looked kind of scared, but there were others that wanted to see him and talk to him."
But there couldn't be much talk about football or the NFL. The only Chad to speak of is the Republic Of and that's in central North Africa. Nigeria is on the south coast of West Africa.
"I don't think," Ndukwe says, "they really know what football is." But if the awed looks didn't tell him what it meant seeing an American professional athlete over there, then the arrival of the newspapers to interview him did.
"You just walk around and there is so much potential everywhere," Chinedum says. "Cover corners. Rush linebackers. It makes you wonder what they could do if they find out about the game.
"If it wasn't for my parents wanting a better life, I would still be there and I wonder what it would be like. Sports just isn't emphasized."
Thoughts like that got Ndukwe thinking beyond a camp. He muses about giving Nigeria something like a St. Xavier High School, an academy that emphasizes education and athletics. The minister of sports likes the sound of that, but he's already got the Brothers Ndukwe working on the 2009 clinic.
Chinedum Ndukwe is thinking late June or early July may be the best time, and he's already got some guys signed up, like Bengals assistant secondary coach Louie Cioffi and a boyhood chum named Brady Quinn that also happens to be the Browns backup quarterback.
Cioffi, the Queens native who is in charge of the safeties, is a city guy who would seem to be one of the last volunteers for such an exotic trip. Cioffi jokingly texted Chinedum during the week, "How is your safari?" much like Ndukwe kids him about New York. But as everyone is realizing, Ndukwe included, there is a lot of city in Nigeria, too.
Plus, the trip appeals to Cioffi personally.
"My dad was born in Italy and I've always wanted the chance to go back and see where he grew up; where he came from," Cioffi says. "I think it's a great opportunity for Chinny and I'd love to be a part of it. If he's ready, I'm ready."
By the time Ndukwe got back to the Columbus carousel, both bags were virtually empty. The medicine was gone and he gave most of his clothes to his relatives.
Now he wants to leave even more behind. Even if the kids don't know what a football is or who a Bengal or Brown is.
"But just think," he says, wondering how he can get a football into the luggage, "if one kid picks it up and follows through, how much that would mean."