Dre Kirkpatrick thinks the off-season changes help.
Dre Kirkpatrick, suddenly it seems, is the Bengals most experienced cornerback starting his seventh season. Yet he sounds like a new man at age 28.
He's healthy for one thing. For another he likes the new look the Bengals look to be developing under new defensive coordinator Teryl Austin. He's also ready to stop the talking and start the playing.
And the big thing is he's re-invigorated by the appointment of Daronte Jones as the new cornerbacks coach. Per NFL rules, Kirkpatrick can't get immersed in football talks with his new coaches until off-season workouts begin Monday, but he knows enough about Jones "to be all about him."
That's because Jones is a disciple of Vance Joseph, the Bengals' secondary coach from 2014-2015 that Kirkpatrick still misses. Under Joseph in 2015 Kirkpatrick was a first-time starter and had a career-high 16 passes defensed.
"He was a player's coach and I feel like at this level we have to have somebody relatable," Kirkpatrick said Tuesday after a workout. "I'll always miss Vance."
But in Jones he's got a guy on the same wave length. Jones and Joseph met in 2000 when Jones coached with Joseph's brother Mickey at Nicholls State in Louisiana and Joseph was at Colorado. Joseph mentored Jones through Nicholls and then to the five Division II years he was the assistant head coach and defensive coordinator at Bowie State (2005-09) when his unit finished in the top three national rankings three times.
Jones always kept in touch. That's how Bengals safeties coach Robert Livingston met Jones at the 2015 OTAs when Jones, then the secondary coach at Wisconsin, visited Joseph. Then Livingston and Jones stayed in touch and when the Bengals went looking for a new cornerbacks coach back in January, Livingston pushed for Jones. Kirkpatrick is third generation Vance.
"I haven't been coached by him yet, but he's saying all the right things to me," Kirkpatrick said of Jones. "Just the way he moves, his character, and how he presents himself are first class. He's somebody I feel like can take my game to the next level and I can grow with him.
"I want him to coach me like a rookie. From talking to him that's where we're going to be."
Head coach Marvin Lewis has indicated that Austin is going to change up a defense that has been pretty much the same for the last 10 years. And Kirkpatrick is fine with that.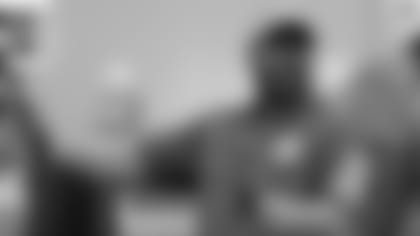 New cornerbacks coach Daronte Jones is a Vance Joseph disciple.
"I'm calling him 'T.A., trying to get his philosophy of the things he wants done around here," Kirkpatrick said. "We talked a little ball, but I don't really know the magnitude of how different it's going to be. We're taking orders from a different perspective. I'm just excited. When you've been so used to one thing, you get accustomed it. I just feel like change is always better … Change is good. Coming in with new coaches and seeing what they're going to present us, I feel like it's going to be beneficial to all of us."
Kirkpatrick is looking to change the fortunes of last season, when four of his team-leading six pass interference penalties went for more than 30 yards. He's staring at his health and the cast that virtually wiped out last preseason has vanished. A crazy household accident is the way he remembers it. He banged his hand on the top of a table as he was running through the house and thought nothing of it with the OTAs in late May starting in a few days.
 "I had a major setback breaking my hand and missing the whole training camp," Kirkpatrick said. "I went to bed that night thinking nothing of it and then I woke up and my hand was swollen. Then I came back the week before the regular season and I wasn't in the best of shape. I wasn't really prepared and that's when injuries come. All these little (injuries) would have been prevented if I had a better offseason."
He never got up to his preferred weight of 192-193 pounds and he battled nicks and cuts like a hamstring, hip, and shoulder. For years he sat behind that estimable roster of veterans. Leon Hall. Terence Newman. Adam Jones. He's ready to assume the role after gutting through 14 games and felt it showed he puts the team first.
"I communicated that with Coach," Kirkpatrick said. "At the end of the day, you have to have your vocal leaders on the field. He looks at me as one of those vocal leaders. Guys that understand the game and know what's going on. I just gave it 110 percent of everything I had."
He's back to his off-season routine of yoga and Pilates, but it is his mindset that is ready to get out of the gate. The goals are stark, simple. Five interceptions. The Super Bowl. The Pro Bowl.
"That's it,' Kirkpatrick said. "Let's do it. I'm tired of slogans. Everybody trying to come up with motivation stuff. Just do it. Just go out here. Play your butt off. Everything else will take care of itself. I'm really not going to buy into the slogans and all that this year. I just want to do my best and perform."