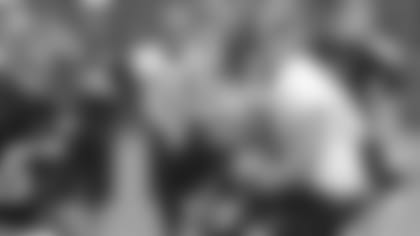 Right guard Kevin Zeitler( R)  is having a big-time summer.
It was a weird night at Paul Brown Stadium Saturday in the wake of the Bengals' 25-17 loss to the Jets in the second preseason game.
Both first teams played so well for the Bengals that you had to feel if they kept playing that 17-3 score would have come pretty close to last year's 49-9 conquest of Rex Ryan's club. But the backups struggled so badly that head coach Marvin Lewis and his coordinators looked almost as glum as they did after the loss to San Diego.
Lack of quarterback experience? The mounting injuries during the game? Some surprisingly disappointing individual performances?  The zealotry of Rex to blitz his No.  1s against anybody and everybody? (Are Rex and Marvin still friends after Saturday night?)
Whatever the reasons, the needle of the roster battles hardly moved because hardly any of the guys on the bubble either played or stood out.
But the last three quarters of the Jets' game has overshadowed what has been one of the most dominant preseasons on both sides of the ball that the Bengals have offered in the Marvin Era. The first offense has scored on all four drives while the first defense has allowed just two field goals.
You know the drill. The number in parenthesis is how many they traditionally keep at that spot and the players are listed according to NFL experience.  
Jason Campbell (10), Andy Dalton (4), Matt Scott (1), Tyler Wilson (1), AJ McCarron (R)
You can talk about the Jets not having their top three cornerbacks, but we'll ask the same question we asked last week. Look back in your recent past and can you ever recall a Bengals' first team offense looking so good in the first two preseason games?
Four drives, four scores with Dalton off the charts at 16.5 yards per pass and a 144.4 passer rating.
 The pocket seems so nice and wide for him with nobody in his face. Forget the 46-yard textbook West Coast Offense deep ball Dalton threw to wide receiver Mohamed Sanu for a touchdown.
How about the third-and-four to wider receiver A.J. Green to keep the first drive alive? The Jets were blitzing with their Vontaze Burfict when linebacker David Harris pulled up just before the snap to drop and buzz Green underneath while other players rushed in a zone blitz. Dalton quickly read the blitz and rifled it to Green over the middle before Harris could get back there for a 21-yard gain.
And you have to believe his mechanics are as good as they ever have been. Forget the lovely 35-yard pitch-and-catch to Green. How about the snap before when Dalton straightened and fired across the field to Sanu on a quick out that went for 12 yards?
It's a tough break for McCarron. He could be getting the snaps of the injured Jason Campbell and gaining so much experience. But he is still on a long rehab plan and it would seem more and more like they're going to start the season with him on some kind of list that's not the roster as they make sure his shoulder is solid.
Remember, they didn't claim Scott until the week after the draft and thought he'd be an extra spring and summer arm until McCarron got better. Now suddenly he's the No. 2 until Campbell's bruised elbow heals and that may not be until the Aug. 28 preseason finale against the Colts.
They certainly didn't envision back in May Scott getting blitzed by Ryan's No. 1s and he had a tough time. And Tyler Wilson had just four practices with the Bengals before he went in there, so what is he supposed to do vs. the blitz when just got the checks? No surprise, really, he got racked up and had to leave with a cut on his elbow. But he should be fine as Wilson and Scott continue their battle to see who's on the practice squad.
Brandon Tate (6), A.J. Green (4), Dane Sanzenbacher (4), Ryan Whalen (4),  Marvin Jones (3), Mohamed Sanu (3),  Cobi Hamilton (1), Jasper Collins (1), James Wright (R), Colin Lockett (R)
Even though they think they won't have Jones (foot) for the first three regular-season games, they'll still keep six because only five are active on Sundays.
They played the first half as if they didn't have Tate, their kick and punt returner since 2011. And it didn't work out all that great because Sanzenbacher fumbled one of his two kickoffs. Even though cornerback Adam Jones had a 10-yard punt return in the first quarter, no one has surfaced to take both jobs from Tate.
It could conceivably happen, but the fact remains Tate is also one of the six best receivers. Club insiders are stunned at how Hamilton hasn't been able to take advantage of the absence of Jones even though he took the most snaps of any offensive player Saturday. But he left with just two catches on 13 targets his way and his special teams play didn't appear to get him on the map.
Sanzenbacher didn't do much in the slot and Wright didn't play much, but before he hurt his hip he picked up his second penalty of the preseason in the kicking game. Yet they've made enough good plays in practice and games to be the leaders in the clubhouse to make it.
Whalen had an uncharacteristic drop and he was the unfortunate protector that got victimized for Kevin Huber's blocked punt out of the end zone for a safety. The 200-pound Whalen should have made a stiffer stand against 261-pound linebacker Ikemefuna Enemkpali, but, to be fair, he was an emergency replacement for an injured linebacker. In a real game, Whalen wouldn't have been there if Enemkpali was the regular rusher.
BenJarvus Green-Ellis (7), Cedric Peerman (5), Giovani Bernard (2), Rex Burkhead (2), Jeremy Hill (R), James Wilder Jr. (R)
It's believed Burkhead suffered some kind of MCL issue on his only carry of the game and while he's not out for the year, he could be in the realm of Marvin Jones.
If they think he'll be back after the bye for the Oct. 5 game in New England, they can just make him inactive like they did with him last year for all but one game while dressing just three backs. Or, do they keep four backs? Or do they put Burkhead on injured reserve-recall after the eighth week of the regular season? If no other back gets hurt, they'll most likely carry him.
That is, of course, if he makes the team, but he certainly seemed on that trajectory.    
Bernard looks in mid-season form with his second-and-third effort one-yard TD run to go with some sweeps that were part of his 22 yards. Hill looked like the real deal Saturday before he exited with a shoulder injury that isn't expected to keep him out of next Sunday's game in Arizona. He now has a 5.8-yard average on his nine pre-season carries and on Saturday he had a nice four-yard run after contact at the line that got wiped out by penalty.
Green-Ellis got dinged, so he played only a little bit Saturday, and Peerman played a lot and while he lost a fumble he played pretty well overall with 34 yards on seven carries.
Orson Charles (3), Ryan Hewitt (R), Nikita Whitlock (R)
Hewitt continues to see a lot of time as the first-team fullback and the arrow is pointing up the more head coach Marvin Lewis and special teams coordinator Darrin Simmons praise him. As Lewis said, Charles is in a fight, and he got 25 snaps compared to Hewitt's 16 on Saturday but it looks like Hewitt's job to lose.
Whitlock needs to make an impact on special teams but it hasn't happened yet. Everyone had a tough time on teams Saturday. He was wrongly reported on a penalty in the kicking game (cornerback Onterio McCalebb had the illegal block below the waist), but he continues to be an interesting guy as he makes the conversion from all-ACC nose tackle. Yet he may have to make the practice e squad interesting.
Alex Smith (10), Jermaine Gresham (5), Tyler Eifert (2), Kevin Brock (2).
Gresham got his first action of the season Saturday and looked good while Eifert (back) sat. Alex Smith is a hard guy to cut because they need his size and strength in the blocking game up front. You could see what he can do against a good front like the Jets.
LT Andrew Whitworth (9), T-G Will Svitek (9), G-C Mike Pollak (7), RT Andre Smith (6), T Marshall Newhouse (5), G Clint Boling (4), G Kevin Zeitler (3), C-G Trevor Robinson (3), G-T Tanner Hawkinson (2), C-G T.J. Johnson (1), G Trey Hopkins (R), C Russell Bodine (R), G Dan France (R).
Bodine had an interesting night against a big man line. Yes, he had a holding call on the Jets 8 and he was part of the middle that got blown up on a third-and-one from the Jets 23 early in the second quarter.
But he also was a big factor on Bernard's one-yard TD run, The Moosh Job in which the line just mashed a very strong New York front until it got in the end zone. He also had a couple other move blocks on some very big people. He's a work in progress, but the strength looks to be there.
Zeitler is having the best stretch of his Bengals career and looked very good against the Jets' very best. But the backups didn't have as much success as they did in Kansas City.
When Svitek replaced Whitworth, they were looking for more pop against some physical play. They're also looking for more physicality from Pollak and Robinson. Hawkinson also didn't play as well as he did in Kansas City, but his age (second season) and ability to play tackle and guard helps him in a numbers crunch.
This one is going down to the wire with the names to watch Hawkinson, Svitek, Pollak, Robinson, and Hopkins, as they figure out which four back up the starters.
*E-T Robert Geathers (11), DT Domata Peko (9), E-T Wallace Gilberry (7), T Geno Atkins (5), E Carlos Dunlap (5), T Devon Still (4), T Brandon Thompson (4), T Christo Bilukidi (3), T Larry Black (2), E Margus Hunt (2), E Dontay Moch (2),  E Sam Montgomery (2), E Will Clarke (R), T LaKendrick Ross (R), T David King (R).  *
 The starters didn't play all that much for a variety of reasons Saturday and why not? This spot is pretty much set except for the fourth tackle behind Atkins, Peko, and Thompson. Bilukidi, 32 snaps, won't go away in his battle with Still, 22 plays, although Saturday wasn't a defining moment.
 Early in the year Clarke is probably going to be inactive, but they need him to be more active than he was Saturday night, when he was credited in the press box with one quarterback hit and no tackles even though led the defense playing 71 percent of the snaps.
Hunt can be beast-like at times with his gargantuan 6-8 strength. Defensive coordinator Paul Guenther says he's got to get meaner and he thinks he is. Note how he broke up the Terence Newman scrum like a scruff-of-the-neck bouncer.
Hunt lost contain once, but he also made some big plays in the running game. How about when he had 6-7, 318-pound right tackle Breno Giacomini in one arm and running back Alex Green in another for a four-yard loss? He also made backup quarterback Mike Vick hurry away a third-down incompletion.
Ross is making them think about the practice squad. He's a strong kid that got some movement in there Saturday.
Rey Maualuga (6), Vincent Rey (5), Vontaze Burfict (3), Emmanuel Lamur (3), Jayson DiManche (2), Brandon Joiner (2), Sean Porter (2), J.K .Schaffer (2),  Marquis Flowers (R), James Davidson (R).
Another spot where the backups struggled and the needle didn't move very much for the two places behind the three starters and Vinny Rey. They'd like to get more from backup backers like DiManche and Flowers on a night the Jets rushed for 169 yards on five yards per pop. But it's not very often you see Rey miss a play in the middle of a 32-yard run the Jets' Bilal Powell  pulled off. They did cut back his snaps this week from 36 to 29 and that should help the 6-0, 255-pound Rey survive the pounding.
 With Porter (knee) expected to return in the next few days,  let's see how that impacts the battle but he's had very little practice time since they took him in the fourth round of the 2013 draft.  Flowers hurt his ankle Saturday, but he's expected to play this week and has usually been impressive this camp.
Schaffer is having a hard-luck camp. After just coming back from a concussion, he had to leave Saturday's game with a hit to the head.
CB Terence Newman (12), S Danieal Manning (9), CB Leon Hall (8), CB Adam Jones (8), S Reggie Nelson (8), S Taylor Mays (5),  CB R.J. Stanford (4), CB Dre Kirkpatrick (3), S George Iloka (3), CB Chris Lewis-Harris (2), S Shawn Williams (2), CB Onterio McCalebb (1), CB Darqueze Dennard (R), CB Victor Hampton (R), S Isaiah Lewis (R), CB Lavelle Westbrooks (R).
The hip injuries to Dennard and Kirkpatrick don't figure to keep them out next week. But their absences were felt for the backups on defense and special teams against the Jets.
At one point the Bengals sixth and seventh corners were going against the No. 1 offense, not to mention that Lewis-Harris, Stanford, and Westbrooks played the entire second half.  Lewis-Harris always seems to impress head coach Marvin Lewis and as they look for the sixth and last corner behind Hall, Newman, Jones, Dennard, and Kirkpatrick, that's not to be underestimated. At the moment, no one appears to be separating themselves.
They'd like to get more from their backup safeties. When Vick converted a third-and-20 screen pass for 26 yards, nobody got off their blocks in the middle of the field, not just the safeties. Manning (38 snaps), Mays (37), and Williams (36), combined for eight tackles and no passes defensed in Saturday night's press-box stats. They usually keep four and that's another spot going to the wire.  
K Mike Nugent (10), LS Clark Harris (6), P Kevin Huber (6), K Quinn Sharp (1)
It appeared that because the offense could get nothing going in the second half, Nugent did all the kicking in the first half and was perfect with two 33-yard extra points and a 42-yard field goal and Sharp could never get on the field. Sharp has showed a powerful leg in practice, but Nugent looks to have a slight advantage in accuracy. 
Huber had a punt blocked, but he looks pretty good .He had a 55-yarder and put two of his five kicks inside the 20 with no touchbacks.