T.J. Johnson (left), Cedric Ogbuehi, Clint Boling and the rest of the O-line are in the process of being evaluated by Frank Pollack.
MOBILE, Ala. - During the break between Tuesday's first Senior Bowl practices, Frank Pollack, the Bengals' new offensive line coach and the critical hire in head coach Marvin Lewis' recent staff overhaul, tried to dust off the report Jim McNally wrote on him nearly 30 years ago.
Using the short-handed scout speak McNally helped craft for modern line coaches, Pollack stood at his end-zone seat at Ladd-Peebles Stadium and rattled off the traits McNally must have seen in his visit to Flagstaff, Ariz., before the 1990 draft.
"A little light in the (butt). Initial quickness. Not much anchor. Really short. Doesn't have the length. But has a nasty streak and can play multiple positions. Sixth round."
The fact that McNally, 74, then the Bengals renowned offensive line coach and now a consultant for the club, is sitting next to Pollack while the North and South lines did their individual drills in the end zone is the first indication that things are changing up front.  McNally has been in the background since he returned to Paul Brown Stadium as a consultant several years ago but Pollack has said he'll use McNally as a resource. That makes a lot of sense looking at the O-line's NFL coaching tree.
Pollack, who played 90 games and started six during 1990-97 as a backup guard-tackle for the 49ers, remembers only two other line coaches finding their way to Northern Arizona to scout him. He joked with McNally, "That was a Bill Callahan do you a favor trip."
Callahan, 61, a protégé of McNally, was Pollack's college coach before he embarked on an NFL career that still sees him as one of the most influential line coaches in the game. Pollack, 50, the third-generation, worked under Callahan in Dallas for two seasons before he succeeded him as line coach in the last three years.
"I'm not sure about that word they throw around," Pollack said of "guru." "But you can say they are certainly two legendary coaches."
Tuesday turned out to be the first gathering of Lewis' new offensive staff on the strictly informal basis only the Senior Bowl can foster. Bill Lazor, starting his first offseason as the Bengals offensive coordinator, moved casually but intently about the practices.
During the line drills he sat with Pollack, McNally, and offensive quality control/offensive line coach Robert Couch. When the skill players went to work, he ventured to the middle of the stadium and joined two of his hires, receivers coach Bob Bicknell and quarterbacks coach Alex Van Pelt sitting with holdover Kyle Caskey, the running backs coach.
All very informal. How informal? Yes, it's too early to ask Pollack about the fate of tackles Cedric Ogbuehi and Jake Fisher.
"I haven't even shaken their hands yet," Pollack said. "I haven't had my first official day in my office yet."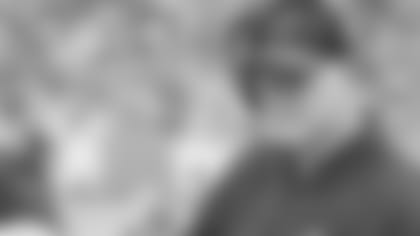 Frank Pollack in Dallas days.
But it's not too early to ask a lone figure sitting a few rows in back of Pollack what he has in store for the Bengals. Bruce Allen, the president of old friend Jay Gruden's Washington club, is also Callahan's boss these days. He's never employed Pollack, but in a way he has. Callahan also worked for Allen in Oakland when Callahan was the Raiders' last Super Bowl coach.
"Frank's development as an offensive line coach has been great to see as a former player willing to put in the hours to be a professional," Allen said. "He learned from the best in Bill Callahan. I think it bodes well for the Bengals.
"Bill, even when he came to us at the Raiders, believed in the details," Allen said. "He has a great way of motivating and inspiring the players to buy in what he feels is important each week."
If the Bengals offense has been knocked down through the years for not adjusting, Pollack comes from a school that teaches a flexible response.
"(Callahan) makes sure he cross-trains players for whatever the game is," Allen said. "We can switch our running game from week to week based on what he does in the offseason and in training camp. If it's zone one week and power the next week, then it's power the next week."
So while Pollack is looking for versatile guys, he still has to evaluate the guys that are here and what they can do for him and what he can do for them. He's watched game tape from this season and can make some general pronouncements.
Such as what he seeks in a prospect.
"We're looking for smart, tough, nasty guys that love football," Pollack said.  "To play that position you have to have a nasty streak."
There are those that believe the nasty streak that Pollack thought McNally saw all those years ago in him can help a guy like the athletically gifted Ogbuehi make that adjustment to the power game that has hampered his ability to get established. They also think it's a nice fit with center Russell Bodine, whose Bengals' career is in limbo headed to free agency.
Pollack likes what's there. He says Ogbuehi and Fisher "are talented guys. Where they were drafted tells you they have talent. We have to try to develop that talent and see if we can get those guys to take the next step."
He also remembers Bodine from the 2014 draft.
"He was an impressive guy. I had a really good interview with him at the combine," Pollack said.
So there are decisions to be made. Are the potential high draft picks better than Ogbuehi or Fisher or both? Do they give Bodine the second contract? At the moment, Pollack needs a key to his office.
"It's early," he said in the stands as the second practice got set to begin.