Former Ben-Gal Debbie Elfers-Schroeder has a passion for cheerleading.
"I cheered for the Bengals for five years back in the early 90s," said Elfers-Schroeder. "I've always loved cheerleading and then I had a daughter. I always wanted her to be a cheerleader, but when you have Down syndrome, there's not really as many opportunities."
To help her daughter experience the joy of cheerleading, Elfers-Schroeder co-founded the Down Syndrome Association of Greater Cincinnati Cheer Squad.
"I really wanted to introduce cheerleading to kids and teens with Down syndrome," Elfers-Schroeder said. "After the first practice, one of the girls asked 'when is my game?' I said 'oh honey, we don't have any games.' Then I thought why don't we have any games?"
What started as a small clinic with five attendees and no performances has grown to 21 cheerleaders with 10 performances, including Friday night's season finale at Anderson High School.  
"It's a simple routine, kind of repetitive. For my cheerleaders, that's what works best," said Elfers-Schroeder. "We teach it to our cheerleaders first. It takes about three practices and then they have it down. And then for the high school cheerleaders, I send them a video of the dance. And they learn it on their own. We meet with them on game day and run through the dance two or three times."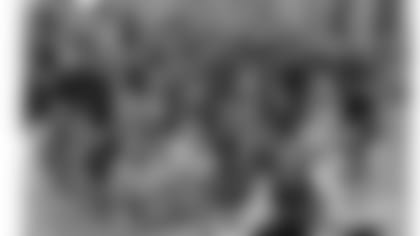 The crowd loves when the Down Syndrome Cheer Squad takes the court with the high school cheerleaders.
"First of all, they are so proud of themselves and the crowd just goes crazy for them. They're just smiling ear to ear and get so excited," Elfers-Schroeder said. "At the end, we always get a standing ovation. I love their precious little smiles and we have one girl who cries after every performance because she is so overwhelmed with excitement. It's great."
The cheerleaders performing alongside them are also enjoying the experience.
"That's one thing we weren't expecting. It gives kids a chance to work with people with special needs that may not have had a chance to do that yet in life," Elfers-Schroeder said. "And some of them are finding that this is really my niche. They're all open and ready to help. That part of it has been really great to see with high school kids."
Right now the cheer squad is focused on performing at basketball games, but could expand to football games in the future.
"Every year it gets bigger and we're asked to do more things," said Elfers-Schroeder. "It's one of my favorite things in the world to teach these kids and watch them grow and how their confidence builds."
For more information on the Down Syndrome Association of Greater Cincinnati Cheer Squad visit www.DSAGC.com.