Left end Carlos Dunlap knows how to get the Paul Brown Stadium faithful riled.
Bengals nose tackle Domata Peko has to be happy heading into Friday morning's practice.
Not only did he want the Ravens to beat the Steelers Thursday night, another version of his defensive line that dominates in the cozy confines of Paul Brown Stadium is digging in for another home stand Sunday (1 p.m.-Cincinnati's Channel 12) against the Chiefs.
"We always like playing in The Jungle. The crowd is always into it and we love pinning our ears back here and getting after the quarterback at home," Peko said after Thursday's practice. "It's one of our favorite things to do."
Another one of their favorite things to do has been to pave the way for four straight play-off berths and they know they can take a major step to a fifth Sunday, when a win would give them a two-game lead over Pittsburgh and a three-game lead over  Baltimore in the AFC North with October not even a week old.
"I want Baltimore to win this one," Peko said after Thursday's practice, before Baltimore survived in overtime in a game Pittsburgh kicked away in more ways than one.  "It doesn't mean anything to me, but since they already lost three, I want Pittsburgh to get another loss. We know it's going to come down to December for the real race. But early in the year is when you separate yourself and we're going to try and build that cushion."
PBS is as good as place as any to get some air between the Bengals and the contenders.  In the past 21 regular-season home games they've established a bunker of defense with a relentless attack on the passing game that has overthrown the mighty and bedeviled the rest.
 Ever since the Bengals took down reigning Super Bowl MVP Eli Manning in a 31-13 victory over the Giants on Nov. 11, 2012, the Bengals have gone 17-3-1 in their building while racking up 51 sacks and holding opponents to 31 percent on third down. Super Bowl MVPs from Tom Brady and Aaron Rodgers to backups Jake Locker and Jason Campbell have thrown 34 interceptions compared to 23 touchdowns for a suffocating 67.4 passer rating.
"It's like someone coming into your house. It's controlling your household and in order to do that you have to control the tempo of the game, control the tempo of the crowd and just apply major pressure," said defensive lineman Wallace Gilberry. "The atmosphere is amazing. . . . It's a sense of pride. We're a prideful group. We hang our hat on doing the right thing and it shows playing good team ball."
Gilberry says he has loved the atmosphere at PBS ever since he played here for the Chiefs during his first two seasons in the NFL in 2008 and 2009. He still remembers the noise when Bengals wide receiver Chad Johnson leaned back and fell out of the end zone with a Carson Palmer touchdown pass that gave the Bengals the 2009 AFC North title in the final 2:15 of the 15th game of the year.
Gilberry's former mates have been struggling in the passing game and PBS isn't exactly a good place to get it going. The Chiefs are dead last in the NFL in sacks allowed per pass and on third down, two categories where the Bengals' defensive line and secondary don't give visitors many chances.
"It's the home-field advantage. The 12th man. I learned that in college," said left end Carlos Dunlap, who roamed in "The Swamp," at the University of Florida. "That's why I'm the first one to pump up the crowd. (The noise) really helps when we've got them backed up."
Dunlap only has to point to two weeks ago in the home opener when a booming Kevin Huber punt pinned the Chargers deep, shoving their backs to downtown and leaving San Diego quarterback Philip Rivers in the din of an early fourth quarter.
"He couldn't hear the guy next to him so he had to call timeout," said Dunlap, who when play resumed took advantage of the confusion and teamed with tackle Geno Atkins on the game-turning sack.
There is no confusion that the Chiefs' passing game faces a tough agenda. Quarterback Alex Smith is right in the middle when it comes to NFL passing (ranked 16th), but Sunday's matchup pits the AFC's best third down passer (Andy Dalton) against the  next-to-last in Smith, when he completes just 57 percent of his passes on a down the Chiefs have been successful a stunningly low 16.7 percent of the time.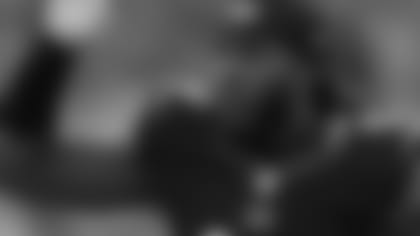 Sophomore Will Clarke is learning how the vets feed off the crowd.
PBS is no place to cure third-down woes. When the Bengals went 8-0 here in 2013, opponents clicked just 23 percent of the time on third down. Clearly the secondary is a big reason for it, but so is the defensive line that is now back to 2013 strength with the return of Atkins and right end Michael Johnson. They have all the club's six sacks after the Bengals had a league-low 20 last year and are facing a Chiefs offensive line that surrendered seven sacks on Monday night and has allowed 13 on the season.
"That stood out to me today in our team meeting," Dunlap said on Wednesday. "That's one thing I didn't know. I knew they were struggling, but I didn't see the stats of how bad it was. At the end of the day we have to go out there and capitalize on the plays, otherwise they'll stay at 13 after our game and balance out."
The line, homegrown for all but Gilberry, looks as formidable as ever. Atkins missed half the '13 season with an ACL injury and Johnson spent last season in Tampa Bay. Actually, the Bengals are stronger than '13 on paper, even though they don't have Pro Bowl WILL backer Vontaze Burfict. Cornerback Leon Hall, now playing the slot, missed most of '13 with a torn Achilles, and the line rotation has been enhanced by the drafting of end Will Clarke in the third round in 2014.
The 6-6, 291-pound Clarke, in the tradition of the 6-7 Johnson and the 6-6 Dunlap, has played 19 quality snaps in the past two weeks at both ends. He's picked up his first half sack, tipped a ball, and helped cause cornerback Adam Jones' interception in Baltimore when he nearly walked the tight end back into quarterback Joe Flacco.
And defensive coordinator Paul Guenther said this week he has to get Clarke more snaps.
"He had a great offseason putting on those 20 pounds," Peko said. "And he's getting it mentally, too . . . I'm really excited about our rotation. . . That's when we were really great around here. We had the wave of defensive linemen. The offensive line hardly ever subs, so when you get me and Geno wearing them down, and then Brandon Thompson and Pat Sims and Gilberry, it takes its toll."
 Gilberry has been refreshed with the return of Johnson and Clarke at right end, freeing him up to play tackle in the nickel where his quickness gives guards problems. Sims, the veteran run stuffer, is a guy they also didn't have in 2013 and when he missed last week's game with a hip injury Thompson jumped back into his usual third tackle role behind Atkins and Peko and responded by blowing up a screen.
The obvious difference in the rotation is Atkins is back to his 2012-13 game-wrecking self. He's got two sacks in the first three games, a number he didn't reach last season until Nov. 30.
And Johnson, who missed training camp with a sprained MCL in his knee, played his best ball of the season in the fourth quarter Sunday. In a big three-and-out he stopped the run on one play and pressured Flacco on the next. Before the play that set up the Ravens' fourth-and-five, he set the edge to stone a third-down sweep
"I'm getting better each week," Johnson said.
He also looks refreshed playing 70 percent of the snaps after being in the high 80s two years ago. Gilberry is down to 57 percent after playing in the 70s last season and already has a sack after having just 1.5.last season.
"We have a 1A and 1B pretty much because we have seven or eight guys active on Sundays," Dunlap said. "All eight guys understand the game plan."
They also understand what the crowd means in the trenches. Take Johnson, who went away for a year.
"The crowd is great here and it's a great surface that allows us to play fast and have fun," Johnson said. "This place is loud, especially when they're backed up. When a team can't use their normal cadence it interferes with their communication, it interferes with their ability to protect the quarterback. It gives us a better jump off the ball. It definitely messed with (San Diego's) communication, you could see it on film. It was fun being at home again in 'The Jungle.'"
Now take Clarke, who is playing the most he's ever played in the NFL and may see even more time.
 "It seems like the crowd and the players feed off each other," Clarke said. "Oh yeah, it's loud. The players wave their arms and the crowd responds."
There is a mix of old and new, but the bulk of the line has been through all kinds of division races. What haven't they seen? In '12 they won seven of the last eight to make it. In '13 they virtually led the AFC North wire to wire and last season they emerged in November with a run until the Steelers caught them at the wire.
"I'm going to play with my son," said Johnson, who planned not to bother with Ravens-Steelers. "Win or lose, it doesn't have any effect on us. We have to go out and do what we do. Ignore the noise.  Don't take the cheese."
Gilberry planned to tune in, but only as a fan.
"If there is anybody from Alabama on the roster, I'm rooting for them. Just a total fan," said Gilberry, who summoned two of Guenther's horse racing metaphors.
"We've got to keep our head down and keep plugging, keep grinding," Gilberry said. "Paulie mentioned how the race horses have the blinders on and they keep running keeping the noise out. Coaches and players say it. It doesn't have to be close. If you get the chance, keep your foot down and keep it on their throats."