Congratulate Mohamed Sanu on being the first half MVP. It has been only nine games, but it seems like a decade worth as the Bengals juggled the 3-0 start with two prime-time implosions, two giddy late wins over the Ravens, a heartbreaking tie, a Dillon-esque day for the running game, and a historically bad shut out in Indianapolis.   
With the stretch drive looming for the Bengals, here are one person's awards for the first half of one of the most dizzying seasons people can remember as the Bengals come back from what amounted to their three-day All-Star break.
MVP - Wide receiver Mohamed Sanu
With what quarterback Andy Dalton did last Thursday, it wasn't as close as it should have been. Dalton's performance was so catastrophic that it made people forget until two weeks ago he was headed to career highs in passer rating, completion percentage, and yards per attempt while jacking his winning percentage to .634.
The narrative that he has regressed under offensive coordinator Hue Jackson is off base given all nine games. But, let's face it; despite the gutty fourth-quarter win over Baltimore two weeks ago, Thursday pushed the needle back when it comes to proving he can consistently get the Bengals over the hump in big games.
Where would they be without Sanu? Without Pro Bowl wide receiver A.J. Green for virtually four of the nine games, Sanu played like a No. 1 receiver, complete with a slew of clutch catches against defenses hanging all over him without the vertical threats of Green, wide receiver Marvin Jones, and tight end Tyler Eifert. Sanu is supposed to be a possession receiver, but he heads down the stretch with a yards per catch average of 15.8.  The best for Bengals all-time receiver Chad Johnson for a season under Marvin Lewis is 15.7, and Sanu would have the third highest behind only Chris Henry in 2006  (16.8) and Green in 2011 with 16.3
A close second MVP has to be cornerback Adam Jones.  Who does this nowadays? Who is among the league leaders in both punt and kick returns while playing 70 percent of the snaps a game on defense? And good snaps? Profootballfocus.com has him rated 35 out of 108 NFL corners. He was higher than that before Thursday night's missed tackle contributed to him giving up 32 yards after the catch,
But overall he's played 496 snaps, given up one just touchdown, and allowed 11.4 yards per catch, which puts him in the top third of the league.
DEFENSIVE PLAYER OF THE YEAR: Cornerback Terence Newman.
The front seven has really struggled against the run and the secondary has kept things together. Safety George Iloka is having a big year, big enough that profootballfocus.com says he was one of the few Bengals who played well last Thursday night and they rank him as the sixth best safety in the league.
But you've got to give it to Newman. At 36, he's played the second most snaps of any corner in the league, according to PFF, with 659. He's played ten more snaps than 25-year-old Browns Pro Bowler Joe Haden, and is allowing receivers less than a first down per catch at 8.9, sixth best in the NFL. He's also allowed just 67 yards after catch, better than Haden and Richard Sherman, among others, for 21st best in the league.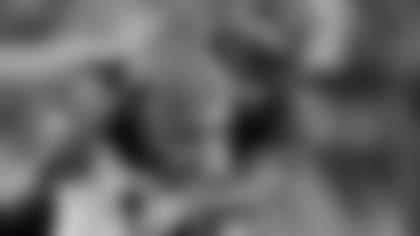 SPECIAL TEAMS PLAYER OF THE YEAR: Cornerback Adam Jones. Jones is second this week in punt and kick returns, and he's in the hunt to be the first man since Mel Gray in 1991 to lead the NFL in both. If this season amounts to anything, he saved it against Carolina when they were looking at death with 4:50 left and he got them back to 31-31 with a 97-yard kick return that set up the tying touchdown.
Then two weeks later in a showdown of the league's best special teams, his 31 yards per three kick returns kept the Bengals in good field position to win it at the end.
Another close second is punter Kevin Huber. He leads the NFL in net punt average with 44.3 yards and has pumped 18 inside the 20, tied for third most in the league. With the Bengals offense 29th in third-down efficiency, he's been huge.
ROOKIE OF THE YEAR: RB Jeremy Hill.
He did some rookie things Thursday night. His fumble in the second quarter not only shifted the game, but his helmet toss in the second half and his post-game comments about the Browns ("They were worse than I thought") were also ill-advised.
But his five touchdowns, 4.7 yards per carry, and 154 yards against the Jaguars show that he's a big-time big back that can be a massive weapon when paired with Giovani Bernard in the backfield. Hill's 60-yard touchdown run in the fourth quarter to close out the Jags was rare indeed since it is only the third 60 or better run of the Marvin Era. But his three-yard run on second down from the Ravens 4 that set up Dalton's TD winner may have been the biggest run of the season.
Hill's 4.6 carries on 12 carries Thursday may have been the reasons for Lewis wishing they had run it more, even down 17-3 at the half. His blend of speed and power is a rarity. The last Bengals back to average 4.7 yards per on at least 153 carries (Hill's projected total) is Corey Dillon in his rookie year at 4.8 on 233 carries.
Speaking of that last series against Baltimore, which seems like 15 years ago instead of 15 days, rookie center Russell Bodine has to get some votes. That series, that game showed why they traded up in the fourth round to get his brute strength. Hill's been more consistent, but both could have Pro Bowls in their futures.
Free agent Ryan Hewitt has to get an honorable mention with 216 snaps all over the place as they adjust to the losses of two tight ends, Eifert and Alex Smith. He's been at fullback, tight end, in motion, in line, and has really helped them be more diverse in the run game. As inconsistent as it's been, the current 4.2 yard per pop would be their highest rush average since the 2005 AFC North title.
ASSISTANT COACH OF THE YEAR: Special teams coordinator Darrin Simmons.
The Bengals begin the stretch run ranked at least No. 6 in eight of the NFL's top ten special teams categories and ranked first in three: net punt average for and against as well as gross punt average against. Jones and Huber have turned around games, cornerbacks Darqueze Dennard and Dre Kirkpatrick are developing into top gunners covering punts, and rookie wide receiver James Wright has been all over the place with four tackles in a variety of spots.
When offense and defense have to deal with injuries, Simmons has to cope with the fallout. The injury to Pro Bowl WILL linebacker Vontaze Burfict means special teams co-captain Vincent Rey has to play more from scrimmage and less special teams. Backup middle linebacker Nico Johnson came off the Kanas City practice squad and had three teams tackles in his first two games and running back Rex Burkhead had a deflected punt in just his third game of the season.
Hue Jackson also gets some votes. The offense's numbers have taken it on the chin lately with the poor outings against Indy and Cleveland, plus the running game and the quarterback are nowhere near where he wants them.
But the fact the offense has been able to produce four games of at least 27 points without a starting tight end (Eifert) and a starting wide receiver (Marvin Jones) in a season they have also been without Green for four games, Bernard for two and one starter on the right side of their offensive line for five games, is pretty good work.
Yet the shutout in Indy when they had eight straight three-and-outs and Dalton's 2.0 passer rating against Cleveland were major setbacks for an offense that had hoped it was beyond such numbers no matter the injuries.
QUOTE OF THE YEAR: "She loves it. She loves the camera. She thinks she's a movie star. She's handled this whole ordeal tremendously. I never expect a four-year old to be able to go through this and be able to understand what she's going through and be able to put a smile on her face." _ Bengals defensive tackle Devon Still after daughter Leah greeted the crowd last Thursday night at Paul Brown Stadium.