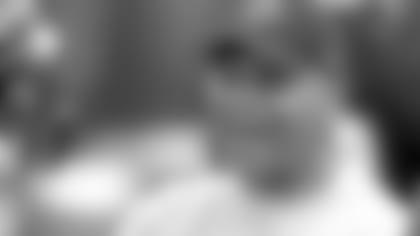 Anderson: "Shooting knowledge" (Bengals photo)
Corey Dillon is going to break tradition Sunday.
Usually he ambles out of the locker room late in warmups, scowls at the sky and doesn't have much time to charm the enemy before kickoff.
But on Sunday the Bengals' all-time leading rusher is going to come out early and make sure he hugs Jim Anderson, the Bengals running backs coach who guided him through those first rocky, rewarding and rollicking 8,000 yards.
"My guy. No matter where he is, he's always going to be my guy," Dillon is saying Thursday night from his home in Newton, Mass as he makes plans for the visit. "It's a crying shame he's never had a chance to be a head coach. He taught me it all. I didn't realize it a lot of the time, but the older I get I look back and the dude was dead on."
Sunday's game against the Patriots at Paul Brown Stadium is just as much about Jim Anderson as it is anything else. In his 356th Bengals regular-season game, Anderson gets that rare chance to see two men he helped draft and groom duel with the ball.
One of them, Dillon, now the Patriots part-time running back splitting history and time with a rookie, used to own every record in the Bengals book. The other one, Rudi Johnson, the Bengals bellcow, is erasing them decimal point by decimal point and Anderson has been there for every yard.
"I was young and you don't know when you're young," Dillon says. "I've got to tell you, there were some tough times. He'd tell me left and I'd say right most of the time. But J.A. knows. Whatever he did, he just shot knowledge out of it."
Anderson is glad to hear it. He says he'll be out early, too, to chat with No. 28. Dillon, "delighted" with the Bengals' success, says to be ready to talk awhile because there is a lot to catch up on.
"I know I coached Corey longer than anyone in his life," Anderson is saying Thursday. "Seven years. I got to see a side of him that a lot of people never saw. He's really a personable guy. If you want to see something, watch him with his daughter. That's a trip. He's really a personable guy."
Time has moved on like the yards. Dillon now has another daughter, a year-old, and Anderson is 10 months removed from successful surgery for prostate cancer.
"You know I didn't know that," Dillon said. "I haven't talked to J.A. in a minute. We've got some catching up to do. Class man. I know him and his wife, and they're great people."
You can hear Dillon glowering back off Route 9 in Newton.
"Just a damn shame he's never been a head coach in the NFL," Dillon is saying. "Look at all the years he's spent and look at all the things his players have done. I mean, you can't tell me the guy wouldn't be a great head coach for somebody."
There is a lot of karma brewing around these running backs.
For the first time in a real game, Dillon returns to the riverfront where he rushed for two of the biggest nine games in NFL history. He arrives a month shy of 32 as the '1' in a 1-2 punch with first-round pick Laurence Maroney and nursing more hurts than a Dear John letter. Sunday is Johnson's 27th birthday and it's timed with one of the best starts ever by a Bengals running back, even better than Dillon's best Cincinnati season of 1,435, a record Johnson has broken in each of the two full seasons Dillon has been in New England.
It was Anderson who oversaw Johnson's transition from a roster afterthought to Pro Bowl alternate, and made sure he was ready when Dillon wanted out when the losing got too much and he couldn't see Marvin Lewis through the frustration. Anderson has watched Johnson go from being a plump grinder to a buff workhorse.
Here's a guy who almost got cut three years ago and when running back Quincy Wilson made the roster he gave much of the credit to imitating Johnson's work habits.
"We all learn," Anderson says of Johnson's revised diet and outlook. "Rudi had to prepare because he had to be ready when his time came, and he was, and he's been keeping it going and going, finding new things."
So this is Anderson's day and story as much as anybody but, as always, players get more spotlight than the career assistant coaches.
On the New England sideline is going to be Dante Scarnecchia, the Pats assistant head man and offensive line coach. Along with Anderson, he co-captained the 1970 California Western club and for every year but two in the late '80s he has been with New England since 1982 and six head coaches. Anderson has been here since 1984 and five staffs.
In the tumultuous world of NFL coaching, those numbers are rocks in an angry ocean.
"Think about that," Anderson is saying. "Two college teammates coaching with the same team for so long in the NFL. That's a story in itself."
It speaks simply of anonymous hours of loyalty and commitment and dealing with kids like Dillon, hoping they finally figure it out. But the story is still Dillon right?
Yes, it's the first real game in Paul Brown Stadium since he tossed his uniform in the stands in one of his final, desperate attempts to get traded after the final game of the 2003 season.
"I'm sure looking back on it he wished he'd done some things differently at the end," Anderson says. "But the thing about Corey, he always gave it on the field. Every Sunday. He just went hard every game. He's a sincere guy."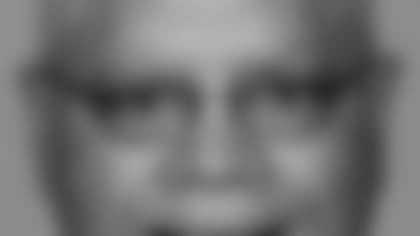 Anderson hopes the fans cheer him Sunday. "He gave us some great days, didn't he? Denver. Tennessee, right? Great days."
But Anderson, bottom line, is a coach, and that means he's anxious about what Dillon might be able to do Sunday.
"It will be good to see him again," Anderson says. "But he's trying to win and we're trying to win."
Dillon is not the Dillon we knew. He'll tell you that.
Since he left, he has won a Super Bowl ring and felt retirement tug with the leg muscle last season when it never came back the way he thought and he could only carry it 209 times in just his second sub 1,100-yard season.
"I wasn't sure," Dillon admits when asked if he felt he was done. "But I feel better now. I had a good offseason and I feel good now."
But he had an arm injury on Sunday night and could only play in the first quarter. Out of deference to Bill Belichick's secret society, he won't say if he can play or how much Sunday.
Always the realist, Dillon figures the fans are going to give it to him. They did in the preseason games he played here the previous two summers.
"I guess I'll survive. I came out of it in one piece," Dillon says. "I know I'm going into a hostile environment. But, honestly, I have no animosity to anybody. The people were great and I'll always be thankful for that. Think about it. Everybody won. Both sides got what they wanted. They have a great team there; 3-0. That's great. I've been watching them and I'm delighted to see it. I'm happy for everybody."
Dillon is particularly close with wide receiver T.J. Houshmandzadeh and noted that they now each have at least one AFC Offensive Player of the Week award. He doesn't talk to Johnson much but says, "Records are made to be broken and if anyone is going to do it I'd like to see him do it.
"There are some great stories there with Willie (Anderson) and Richie (Braham), the guys who have been there through all the hard times," Dillon said. "I know we've got No. 12 (Tom Brady) and they've got No. 9 (Carson Palmer). Two great ones."
He figures the boos are coming, but he also is excited at playing in the atmosphere. He has never been at PBS when it's been like this.
"It's going to be fun," he is saying, and he wonders how many of those days are left. For one thing, he welcomes Maroney.
"Oh yeah, I need help," Dillon says. "I'm going to be 32 years old. He's going to extend my career. If it was year one, two, or three, yeah, I wouldn't have been too happy (New England drafted him).
"But it's a thing now where I only care about the team. That's all that matters. There are two things, really, that matter - being remembered and winning the Super Bowl. I've won one, but I'd like to win another one and then another one."
Yes, he thinks about the Hall of Fame, but he won't politic for it and he'd like to go in as a Bengal and Patriot.
"Both. Absolutely. I think that's the only way," Dillon says. "There were some great games here. Cinergy Field. It wouldn't be right if I didn't recognize where I got my start and where I spent so much time."
Which was no doubt part of Jim Anderson's lesson.
"You tell him to come out of the booth," Dillon is saying. "I'll be looking for him."