Corey Dillon stiff-armed Denver on a record 278 yards 15 years go Thursday, staking a claim to the Hall of Fame.
In honor of the 15th anniversary of Corey Dillon's record run on Thursday, Bengals.com presents the five most memorable games in franchise history at Paul Brown Stadium.
And Dillon has a perspective on the top two moments, which turn out to be 11 days shy of 15 years apart.
Dillon's 278-yard run on Oct. 22, 2000 that broke Walter Payton's 23-year-old single-game rushing record in one the most mind-boggling NFL games ever stands as No. 1 in PBS annals. And it's going to take a win in an AFC title game to knock him out of there when it comes to significance.
Just ask Mark Curnutte, who covered that game for The Cincinnati Enquirer. Unless you're talking about politicians and lobbyists the most jaded group in the world is sports writers. But when Dillon went tumbling into the end zone at the end of his 41-yard touchdown run with 1:49 left for the record, Curnutte noticed even the most hard-boiled in the press box overcome with the moment.
"We were saying, 'He's over 200. Now he's over 230. Wow, oh my God, now he's passed Payton,' Curnutte recalls. "It was one of those rare moments when the little boy came out. And it just came out of nowhere. The Bengals were winless, the Broncos were (4-3) and I don't remember the score, but it wasn't close."
Bengals 31, Broncos 21 for their first win ever at PBS that opened the month before. The Bengals completed just two passes. And still, somehow, the Broncos, ranked second against the rush, allowed 407 rush yards, a number not reached since. And Dillon took down the iconic Payton's record of 275 on 40 carries with just 22 carries.
And 10 of them went for two yards or less.
Out of nowhere? Exactly. Like Tatooine or Endor or some other Star Wars planet.
Watching the ocean out at Calabasas, Calif., about 10 minutes from Malibu a day away from his anniversary, Dillon believes that game should help put him on more than a list
Like roll call at the Pro Football Hall of Fame.
"Without a doubt, if O.J. Simpson is in there then I should be in there," Dillon said. "Without a doubt, I've got better stats. How can the guy who is 20th on the (rushing) list be in there and the guy 19th not be in? I'm not talking about (Simpson's) personal life. I'm talking about his greatness as a football player."
Dillon rushed for five more yards (11,241) than Simpson in 15 more games. But he and Simpson are the only men on the list of top 16 games of all-time twice. It was Simpson's year-old record that Payton beat by a yard in 1977. But Dillon has a Super Bowl ring and the all-time rushing record for one franchise (the Bengals) and the single-season rushing record for another (the Patriots).
"I love what the Bengals are doing now, but I played on some bad teams," Dillon says. "They've got to take that into consideration."
Here's a Hall-of-Fame stat if there ever was one. The Bengals starting quarterback that year he broke the record, Akili Smith, averaged 4.7 yards per pass while Dillon averaged 4.6 per rush.
"I'm talking about the body of work," Dillon says. "I think you have to say in the history of football. I'm in the top (tier) of running backs."
Told if he played one more year and reached 12,000 yards he'd probably be a lock, Dillon said he has no regrets walking away after the Pats lost the 2006 AFC title game at age 32.
"I'd done all there was to do," Dillon said. "It was time. I was tired of it. I was wondering why in the world I was at these football games."
The 12,000-yard mark for backs seems to be magic to the voters. Like 3,000 hits in baseball. Only 14 backs have done it and all but two of them are in the Hall with LaDainian Tomlinson sure to get in. Only Edgerrin James, like Dillon, looms on the border.
Dillon also makes the case for other Bengals, such as the Anderson boys, quarterback Ken and right tackle Willie, who blocked for him that record day.
"I remember Ken playing back in the '80s with that single bar face mask. He could play," Dillon says. "Without a doubt Willie was one of the great right tackles. I don't know if it was because we weren't on national TV or we didn't win, or what."
Certainly 278 was a Hall-of-Fame moment. Even for a guy like Curnutte who has covered more monumental feats since.
In the six years since Curnutte has left the Bengals beat, his reporting has ranged from social justice to urban affairs and his coverage of Cincinnatians in the wake of the 2010 Haitian earthquake yielded his award-winning book "A Promise in Haiti: A Reporter's Notes on Families and Daily Lives."
Now the vice president of marketing for the Urban League of Greater Southwestern Ohio, Curnutte still considers Dillon's day a feat worthy to remember.
Dillon, in a way, sees Curnutte every day in that context. The Cincinnati Enquirer page headlined "WHAT A RUSH!" of Oct. 23, 2000 hangs framed in Dillon's home.
"I'm looking at it right now," Dillon says.
The headline came courtesy of Rory Glynn, one of the co-magicians working the sports desk that night with Mike "Flea,' Ball.
Choosing the main Bengals photo and headline for the morning paper is and was a daunting task. Glynn calls it "something of a dance," especially at the turn of the century when they were combining the fox trot of a sleepier news cycle with "The Twist," of the onrushing internet.
"With no news to be broken, our philosophy was to come up with words that wouldn't just account for the game," Glynn  says, "but ideally would capture the team's temperature and how fans felt at that moment."
Mission accomplished, although Glynn admits he's not sure if they were his words or those of page designer Kim Kaufman. What we do know is that at The Cleveland Plain-Dealer Glynn conjured up "NOTHING FOR CHRISTMAS" for a Dec. 25, 2005 banner head of a Browns' 41-0 loss to the Steelers, which is assuredly not hanging in the home of Charlie Frye.
"That's cool," Curnutte says of the place of honor in Dillon's home. "It was nice the way the Bengals presented that to him so quickly. I think it was the next day or two. And what I remember is that when head coach Dick LeBeau presented it to him, they hugged and both teared up and my lead that day said something like when two tough guys like this get emotional like that, it must really mean something."
It certainly did for Curnutte, who grew up outside Chicago rooting for bad Bears clubs and remembered Payton breaking the record against the Vikings.
"It meant so much the people involved," Curnutte says. "There hadn't been much to cheer about and Corey was certainly the face of the franchise when it came to players. It was great for the offensive linemen who played so well and the city really embraced it."
Dillon says he'll hold on to the memory the rest of his life and Thursday, another Oct. 22, is going to be just another day. He'll drop the girls off at school and pick them up and find something to do around the house in between.
Saturday is the day he's really looking forward to since it's his 41st birthday. No golf. But there'll be family and a cake.
Do you remember the guy falling into the end zone with 22 years and a record? Do you remember the guy they poured Gatorade over and yelled his name and couldn't tackle when he was the original ball of rolling butcher knives, leaving it all out there on a team that didn't have much else?
Or do you remember the volatile guy that tossed his equipment into the stands after his last game at PBS in 2003, an act that foreshadowed his trade to New England the following Draft Day?
"I'm not the guy I was 15 years ago. I'm a better man," Dillon says. "I made mistakes. I was immature. But I can't take them back.  If I could do it all over again, I wouldn't have thrown my equipment in the stands. But that all played a part in me getting to where I am now."
Remember that guy. For years, church and Corey Dillon were the only reasons to get up Sunday mornings and Oct. 22 was more than one of those days.
Bengals running back Giovani Bernard had the bulk of his 80 yards against Seattle in the dizzying fourth-quarter comeback and OT.
2. OCT. 11, 2015: BENGALS 27, SEAHAWKS 24 (OT)
They pulled a shocker on Dillon's hometown team with 20 unanswered points, 17 in the fourth quarter and three
in OT, on the way to the third 6-0 start in club history the next week in Buffalo. And Dillon watched it all, not even turning it off at 24-7.
"I wanted to tune in and see what they would do against a back-to-back Super Bowl team and what that offense would do against the Legion of Boom and they did their job," Dillon says. "To put up numbers and come back on the quote unquote best defense in the league speaks for itself.  They're legit.
"What I like is they play all four quarters. I like teams like that," Dillon says. "They've got a lot of weapons and you have to respect the run game. They've got two good backs. As a former player I was impressed . . . Watching from the couch and seeing the action in the stands, they were going bananas, like they won the Super Bowl. Unbelievable . . .   Sure I'm rooting for them."
Told they have the Steelers next on Nov. 1, Dillon was pretty definitive.
"Kick their butt," he says. "I'm sick of that. I'm having flashbacks to when I played. Please, kick their butt."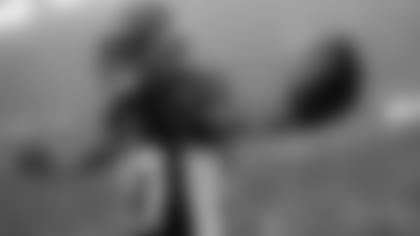 Dre Kirkpatrick salutes the 66,107 with the pick-six of Peyton Manning that gives Bengaldom its fourth straight playoff berth.
3. DEC. 22, 2014: BENGALS 37, BRONCOS 28:
Monday night. Peyton Manning. Clinging to a half-game lead over Pittsburgh and the Steelers waiting at home in the season finale in six more days. The Bengals need to win one of the last two to make the playoffs for a fourth straight season.
Has there ever been a more must home game?
The Bengals beat Manning for the first time in his career in nine tries and intercept him four times. In fact, it's their first win over John Elway, the Broncos football exec who was 7-0 against them as a quarterback.
With A.J. Green going to the bench early with no catches and a bicep injury, quarterback Andy Dalton struggles. Remember, there is no Marvin Jones or Tyler Eifert.
But rookie running back Jeremy Hill gets them back into the game with an 85-yard TD run 23 seconds after Broncos cornerback Aqib Talib's 33-yard pick six. With Hill channeling Dillon's 22 carries for 147 yards, the Bengals rush for 207 yards in the game and cornerback Dre Kirkpatrick expands a 30-28 lead on a 30-yard pick six of Manning with 2:41 left.
"Coach told me to play what I see," Kirkpatrick says of cornerbacks coach Vance Joseph. "I knew I had safety help on the inside. I just knew to stay outside and play my leverage. And when (Manning) came back to me I said, 'Wow, he came back to me.' Then I saw Peyton getting pressure, thanks to the guys up front. He threw a wobbly ball and I just ran under it."
4. SEPT. 27. 2009: BENGALS 23, STEELERS 20:
Both the Bengals and defending Super Bowl champions are 1-1 as head coach Marvin Lewis looks for his first win over the Steelers at PBS. But the Steelers look well on their way with a 20-9 lead heading into the fourth quarter carved out of stifling the Bengals offense on no TDs.
The Bengals' only TD in the first three quarters comes on cornerback Johnathan Joseph's 30-yard pick six of Steelers quarterback Ben Roethlisberger.
That's the only thing that keeps the Bengals breathing until quarterback Carson Palmer launches TD drives of 85 and 71 yards for the third biggest fourth-quarter comeback in club history. Down 20-15, the winner comes with 14 seconds left on a four-yard pass to wide receiver Andre Caldwell, igniting the Bengals on a sweep of the AFC North and a division title.
"It was unbelievable. It was a blast. It was probably the most fun I've ever had playing," Palmer says.
5: NOV. 16, 2003: BENGALS 24, CHIEFS 19:
For the first time in 13 years the 5-5 Bengals move into first place when they knock off the 9-0 Chiefs before a PBS record crowd of 64,923. Lewis' first season in turning around the Bengals is validated when they don't turn it over against a defense leading the league in takeaways and wide receiver Peter Warrick owns the fourth quarter with a 68-yard punt return TD and a 77-yard TD catch.
The week before had been filled with how the Bengals have to stop Chiefs Pro Bowl returner Dante Hall. Before Warrick drops back to return this one, he tells T.J. Houshmandzadeh he's going to "seal it with a kiss."
Cornerback Artrell Hawkins says, "The best returner on the field today was Peter Warrick—plain and simple. He deserves it because he's endured a lot. He continues to make plays, and I think he made a statement today. He is a quality receiver and return guy, and I can't be happier for him. He and Chad (Johnson) are having a great year."
A weeping Lewis concludes the festivities by presenting a game ball to Bengals president Mike Brown.