Corey Dillon: that day vs. Denver.
Corey Dillon thought when he got off the plane from California this weekend they were going to chuck batteries at him.
Instead, they gave him the energy to close it out like the Bengals all-time leading rusher did in one of those long-ago fourth quarters. Like the guy who showed up at the Bengals Pro Shop on Saturday for the Legends autograph signing.
 There may be two things Dillon found unbelievable in his career here. The day he broke Walter Payton's NFL record on 22 carries against Denver with the surreal number of 278 yards. And now on Saturday when this guy showed up with the helmet he threw into the stands following his last Paul Brown Stadium game in the final, successful salvo to get traded.
He threw most everything else into the crowd, too. But the guy with the helmet showed up Saturday.
"He still had the mouthpiece in the face mask," Dillon is saying Saturday night, still stunned. "What was that? Fourteen years ago? It was funny but not so funny, right? I'm a little older. I can laugh about it. At the time it wasn't funny."
Dillon, 43, the anger chipped away by time, has been saying all the right things now for years. Long after the Bengals pulled off that trade four months later.  Long after he promptly led the Patriots to the Super Bowl title before retiring ten years ago as a border-line Hall-of-Famer. Long before Saturday and the guy at the Bengals Pro Shop.
There are some things I regret, he has been saying. There are some things I wish I never did but I can't take back. But if you can't let go something that happened 14 years ago, I can't help you there. I had to do what I had to do, but I wish it didn't go down the way it went down.
That's basically what he has been saying, but when the Bengals called this summer to inform him he had been voted one of the Bengals First 50 players and what game would you like to attend to be honored, he hesitated.
"I figured I'd get off the plane," he says, "and they'd be throwing batteries at me."
His Pro Bowl right tackle, Willie Anderson, knew better. They talked. Anderson, who helped pave Dillon's path in two of the greatest games ever run anywhere anytime, helped lead him back to PBS. It worked out they're honored the same weekend.
"Corey thought everyone was still mad at him," Anderson says. "I told him, 'Man, through the bad years you gave people a reason to go to the games.' He kind of forgot that with all the stuff that was going on. Our record, the losing, and how he left. He thought that still existed. But it doesn't. I think he's been pleasantly surprised this weekend … He's getting some closure."
Dillon wanted the helmet. And probably for more reasons than the little trophy room he keeps in his home in Calabasas.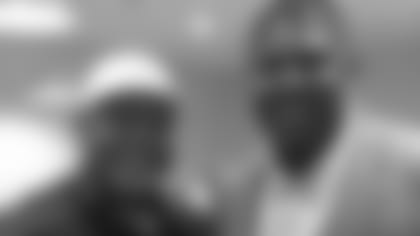 Corey Dillon (left) re-united at the urging of his Pro Bowl right tackle Willie Anderson.
"I told him, 'I want this helmet.' And there's nothing I could say that would make him give it to me," Dillon says. "He wasn't mad at me or anything. He just put it in my face. Somebody else probably would have thrown it away, chucked it, give it back.
"But he kept it. And you know what? He can have it. It's with a good guy … He didn't hold it against me, which is the amazing thing, right?"
Dillon is in a good place, too. He agrees. The guy with the helmet helped.
"It's closure," Dillon says. "It's closure on a lot of stuff that people would feel with lack of communication. If you don't communicate you don't know how people feel. Actually coming back and getting a feel for it."
Dillon checked in at Saturday's practice and chatted with Bengals president Mike Brown, the man that drafted him, made him one of the highest paid running backs in history, and traded him.
"He talked about the Denver game and how it was one of the best games he's ever seen," Dillon says. "He said, 'Welcome back. We're glad to have you here.' That meant a lot."
Then there was head coach Marvin Lewis, the man he warred with in that 2003 season that was Lewis' first and Dillon's last in Cincinnati.
"Cool dude. Cool dude. He's got a tough job on his hands. He's a great coach, a great motivator," says Dillon, maybe revealing some of the regrets. "I've never been a coach, but that's one of the jobs that takes all your energy. All your focus. I just want to be on record saying sometimes people would think the wrong thing about people. That guy's a great coach. I think he's a great motivator of men."
Dillon never got the guy's name with the helmet. He just wanted him to sign it. he did. "Corey Dillon, No. 28."
"Yeah, absolutely," says Dillon when asked if he's glad he got off the plane. "Without a doubt."