John Ross is fast, but he wants to play fast in a game.
Bengals first-round pick John Ross doesn't know if he's going to make his debut in Sunday's pre-season game in Washington (4:30-p.m.-Cincinnati's Channel 19), but he what he does know is the hype is over and the game is finally, thankfully here.
"We live in an age where social media has more impact than it should.  I think a lot guys get caught up in that," Ross said after Thursday's practice. "I don't. I know the reality of it. A lot of guys here know the reality of it."
Ross, the former University of Washington wide receiver who became famous overnight back in March when his 4.22 seconds in the 40-yard dash set the NFL scouting combine record, is looking to touch the ball and not celebrity.
"4.22 looks good on TV. On paper. I'm not ever going to run 4.22 in a game. It's totally different," Ross said.  "That's way beyond football. That's straight line speed. It's very, very, very rare for someone to run a 40 in a football game. Especially at my position."
Everyone wants to run like run like Ross, right? Everyone certainly wants to see Ross run. Even teammates like cornerback Dre Kirkpatrick want to see him blow it out. There's sense he's been keeping it close to the vest with the doctors hovers ever since they  let him come back to practice a few weeks ago for the last stages of his shoulder rehab.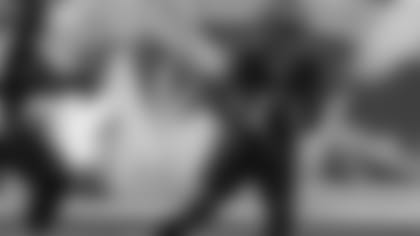 No one has been playing faster than John Ross' fellow wide receiver, Cody Core.
But truth be told, Ross, of all people, wants to run as fast as some of the guys in his receiver room. The big, quick Cody Core for one. The sleek, gifted A.J. Green for another. After they strip away the GPS wires from practice, those two usually lead the pack with the fastest moves at about 23 miles per hour.  Even though Ross is a world-record holder of sorts, he's still trying to reach that 23 range that measures speed of the game. Which is much more than raw speed.
"There are guys who haven't run a 4.22, but they can keep up with me," Ross said. "It's technique. It's more mental than physical. Of course, I have the physical traits to run by someone, but it's not's that easy anymore. Cody can straight out fly and he didn't run a 4.2. It's just totally different. I'm just trying to keep up with mine."
Ross is impressing with that speed, but he knows it's more about route running and stopping and starting. Football. He's still trying to make football as fast as his straight line.
 "You can tell (the speed of the game) is much faster. Just watching the games and even at practice. Much faster," Ross said. "I anticipate it being a little bit faster in the games. I have to play fast. I know that's easy for me to say. I know I have to play faster than how the game is actually played."
That means knowing the offense and the Bengals have paid him the highest compliment by not treating him like a rookie and they've lined him up everywhere. On Sunday he'll be all over the lot. Keep an eye on him in the slot and on the outside.
"I'm looking forward to being moved around. Anywhere in the offense," Ross said. "I think they're doing a good job helping me learn the offense, and where I can be put in different places."
And don't forget punts, which he hasn't attempted since pretty much he was a college freshman. It wasn't easy for him to judge and catch them early in training camp, but he got better as the weeks moved on.
"I'd like to see him in a pre-season game first," said special teams coordinator Darrin Simmons. "It's been awhile. It's very difficult to replicate games … Until they're out there in the fire, it becomes a scary proposition to put somebody out there who hasn't done it in four years."
If a punt return doesn't go for a TD, the next best punt return for Simmons is a simple catch. No fumble. Just a good catch.
"I'm not saying we wouldn't with John, but I can't jump all in saying we will," Simmons said.
"Anything they give me a chance to do, I'm looking forward to do it," Ross said. "I'm just trying to get better at all these things … I don't really have any individual goals. I just want to help the offense play well and win the game."
Well, he would like to be timed fast during the game. As fast as A.J. Green and Cody Core.
"Hopefully soon," Ross said.
Cincinnati Bengals host practice at Paul Brown Stadium Practice Fields