Josh Shaw is one of the Bengals' emerging young players on third down.
This is why the Bengals think linebacker Vontaze Burfict can help them even if he plays only the key snaps in his return to the middle of their defense Thursday night (8:25-Cincinnati's Channel 12 and NFL Network) against the Dolphins at Paul Brown Stadium.
This is why they think Burfict simply makes them better by simply putting on the radio helmet and ferrying defensive coordinator Paul Guenther's plan to the huddle.
And it's got nothing to do with his relentless sideline-to-sideline production. Or his old-school ferocity that has their head on a swivel everywhere from his teammates to rest of the AFC North to Park Avenue.
It's got everything to do with his smarts. His X-and-O intellect. As President John Fitzgerald Kennedy once said of the advisors he sought, "You can't beat brains."
"It makes a lot of difference. His football I.Q. is crazy off the charts,' said cornerback Adam Jones, who should know because he's pretty good around a playbook himself. "He knows the defense in and out. He's played for five years. He's the coach on the field."
Burfict's return should be an immediate help in the nickel package, where Guenther has spent the first three games breaking in some new players to replace departed reliable veterans like slot corner Leon Hall, safety Reggie Nelson, and end/tackle Wallace Gilberry.
Youngsters who didn't play very much the previous two seasons are heavily in the mix. Sophomore slot corner and safety Josh Shaw has already played 88 snaps after playing 115 as a rookie. Safety Derron Smith, taken in the sixth round after Shaw went in the fourth in 2015, is up to 15 snaps after playing 13 as a rookie. Cornerback Darqueze Dennard, the No. 1 pick in 2014 who played 190 snaps before blowing out his shoulder last season, is up to 50 after missing the opener.
The defensive line has seen a big influx of new snaps with  fourth-year man Margus Hunt logging 109, almost double what he had last year with his career high of 187 looming, and third-year end Will Clarke doubling his average snaps  from eight to 16 per game.
Guenther has largely been pleased with the kids. And why not? There's a lot of promise there. According to ProFootballFocus.com, Shaw grades the best of all slot corners in the league, allowing just one reception on six targets in 39 slot snaps. (Old friend Hall has allowed two on six targets in 40 slot snaps for the Giants and is ranked fifth).
Clarke leads the team in sacks with two. Hunt has been active replacing Gilberry as an end that moves inside in nickel and has six tackles, two for a loss, two tipped passes, and a quarterback hit to go with his two blocked kicks on special teams. Dennard got beat twice deep in Pittsburgh, but it was his first game back.
But that's a lot of new guys to integrate into the system (don't forget veteran backer Karlos Dansby) and there have been some growing pains. Broncos quarterback Trevor Siemian nicked the nickel on Sunday converting half of his dozen third downs that included his touchdown passes of 41 and 55 yards. The 41-yard lob came off third-and-five and the 55-yarder was a rainbow replay that came on third-and-11.
Both also came against blitzes that didn't come off so smoothly with what appeared to be a lack of communication, which can be expected early in a transition of personnel. But a player-coach like Burfict can help smooth that kind of stuff out.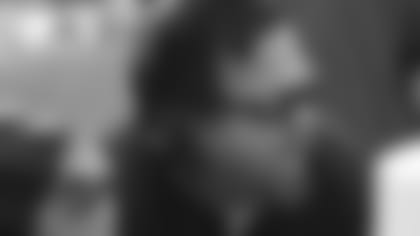 Paul Guenther is developing a new look in the nickel, a process Vontaze Burfict can help.
"He's just a guy that knows the system, knows the ins and outs of everything can make the checks and calls for us on the ball," Guenther said. "He's a decisive guy, he understands what we're trying to do and he brings a whole other element to the locker room and to the guys on the field."
Guenther said they're looking at that last blitz as a teachable moment and even though it was flawed, left end Carlos Dunlap still came within inches of getting to Siemian. One of the players thought he had the right call, but ended up misinterpreting it in the din of the crowd, just the kind of learning curve Guenther is talking about with his new regulars. He felt they played well for 70 snaps. But when the game is 76 snaps long those handful of plays are the difference, he says.
"Something we have to clean up. Something we addressed today and have to clean up so hopefully it won't happen again," Guenther said. "That's what I was telling Marvin (Lewis). There's a lot of new guys that haven't been through the same thing the coaches did, going through the battle and understanding this adjustment happens quick, we have to make the adjustment and boom. Those guys each and every game get more experience in there and hopefully we will get better. "
The talent is obviously there with a guy like Hunt and he's learning even more now that he's playing.
"The more you're in there the better you start feeling. The better you feel each week," said Hunt, who has taken home one lesson. "Just to play freer. I feel like that's what was holding me back more than anything. When I got in there I would try to be so perfect in what I was doing that I was just playing slow. To get more reps in practice and more in the games allows me to figure everything out."
Guenther likes what Hunt and Clarke are giving him.
"I think they've gotten better every week. When they get in there, they're making good plays," Guenther said. "That's what I told them -- for me to get you into that rotation, we lost Wallace from a year ago, to kind of take over his spot and spell Mike (Johnson) and Carlos in there, you've got to do a good job and they've been doing a good job. So the more they do the more snaps they'll get."
And Burfict can help the process along.
"He is vocal, but I think a lot of his leadership comes from people seeing him make plays and the plays he's making," Dunlap said. "He's got good football sense for the ball. That's something you can't really coach. He's just that naturally. But he also plays with good technique and he's very disciplined in the defense."
Adam Jones has no problem with the guys that replaced Burfict. He says Vincent Rey is an "unbelievable,' player who maximizes his potential every day. "No short cuts for Vinny on anything," and says Rey is a starting caliber guy that they'll find a way to use.
But Burfict gives them a little extra something. Here's a guy that Jones says was throwing his phone at the TV when the games went bad.
"It's just that other ten percent he has," Jones said. "The attitude and getting the guys to go a little bit harder up front. It's hard for the DBs to go up there and get the guys. 'Hey, c'mon. We need to get to the quarterback.' I say it, but it's different when you've got another guy behind you every play."
That's why they think No. 55, or "Double Nickel,' as they call him, can cash out and put them over the top.
Cincinnati Ben-Gal Cheerleaders perform during the Denver Broncos vs Cincinnati Bengals game 9/25/16 Photos taken by Steve France