Rookie tight end C.J. Uzomah got his first catch for real on Sunday.
This is Bengals offensive coordinator Hue Jackson's 15th season in the NFL. He's been with five teams, worked with Al Davis and Ozzie Newsome, coached offense and defense, been a head coach, and from everything you read will be a head man again somewhere next year.
It sounds like where ever he is, he'll take The Bengals Way with him after watching four rookies make their debut and nine rookies get snaps during last Sunday 37-3 victory in Cleveland in the heart of a play-off chase.
"You're talking about the blueprint of having a successful organization and program," Jackson said Monday. "I think people better start looking over here because I think we're doing it the right way. I think the organization has found a model that works. It's been going well."
That was after first-round pick Cedric Ogbuehi, drafted even though he was rehabbing an ACL, took his first 11 snaps. That was after second-rounder Jake Fisher took his most snaps of the season at right tackle and now barely has 100 for the season to lead the Bengals rookies with play time from scrimmage. It was after fifth-rounder C.J. Uzomah and seventh-rounder Mario Alford, at tight end and wide receiver, respectively, took their first snaps in the season's 12th game.
Meanwhile in New England, one of the two teams the Bengals are tied with atop the AFC, first-rounder Malcolm Brown has played 353 snaps on the defensive line and second-round safety Jordan Richards has already logged 130 despite being a healthy scratch the past two weeks.
And in Denver, also 10-2, first-rounder Shane Ray has already played 230 snaps after working 59 percent at linebacker in Sunday's win over San Diego. Ogbuehi and Fisher are still chasing the Broncos' second-rounder, offensive lineman Ty Sambrailo and his 213 snaps. And he's been on injured reserve since Week Three after the Broncos needed to press him into service.
If it sounds like a luxury, Jackson agrees with you.
"I've never been in a situation like this. This is all new to me, too.  I've said it from day one. Kudos to the organization," said Jackson, in reference to the Bengals front office of president Mike Brown, vice presidents Katie and Troy Blackburn, as well as director of player personnel Duke Tobin and head coach Marvin Lewis.
"We have good players here. And there are other good players behind good players," Jackson said. "There's a lot to be said about how the process works here. Just because you're a first-round draft pick doesn't mean you're going to play right away. You have to earn your stripes. You have to earn the right to be on the field participating with the older veteran players. When your time comes, it comes."
Even in the later rounds. Uzomah, the Bengals' fifth-rounder, converted a third down with his first NFL catch on one of his 10 plays in Cleveland. Two other AFC North teams selected tight ends in the fifth round. Baltimore's Nick Boyle has played in 298 downs and Pittsburgh's Jesse James is working on 157.
Uzomah couldn't get on the field because he had a third-rounder ahead of him in Tyler Kroft, as well as veteran regulars Tyler Eifert and Ryan Hewitt and it was only Eifert's pinch nerve that got him on the field Sunday. And Kroft's 159 snaps are busy, but not as busy Baltimore defensive lineman Carl Davis' 224 snaps after the Ravens took him in the third round.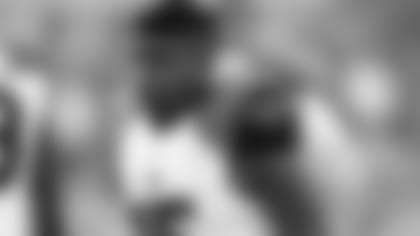 Rookie wide receiver Mario Alford also got that first catch Sunday.
"They've done a good job of re-stocking the team with other good young players because I've never been in a situation where we have two young tackles that have the ability to play," Jackson said. "Jake Fisher probably played as much football as he played all year yesterday and did a good job. The more he plays, the better he's going to get. Same with Ced, same with Mario, C.J., Tyler Kroft and those guys."
There are some rookies who haven't played. Kroft has played more than a Patriots third-rounder, defensive end Geneo Grissom, with 96 snaps. And their fourth-rounder, defensive end Trey Flores has played just four, much like Bengals rookie defensive lineman Marcus Hardison, a fourth-rounder yet to dress.
But in Denver, fourth-rounder Max Garcia has 268 snaps on the Broncos offensive line.
"Probably so," Jackson said when asked if the Bengals rookies would be playing on most other teams. "Maybe they would, maybe they wouldn't. But what they are here are guys that if somebody is injured, they were drafted to fill the role and they are good players. So it works."
It wasn't always like this. In 2011 the Bengals offense started three rookies in first-rounder A.J. Green at wide receiver, second-rounder Andy Dalton at quarterback, and fourth-rounder Clint Boling at left guard.
 "When you think back to when Andy first got here, he had to play," Jackson said. "When you think back to when A. J. first got here, he had to play. They taught themselves how to play, to be honest with you. And now you're reaping the benefits of that because they played way early."
But the dilemma is obvious. How can you get the kids seasoning without risking wins and losses with the season on the line every Sunday?
"That helps if you can do that, if you can afford the luxury of resting your veteran players I think it's good," Jackson said. "It was good that we had the lead to take Andy out, to take (Ieft tackle Andrew Whitworth) out, to take (right tackle) Andre (Smith) out, to not have to play Ryan so many plays, to take Boling and (Kevin) Zeitler out as we went, kind of rotate those guys out. That doesn't happen a lot."
Neither does sitting rookies for this long and being able to develop them and not rush them. Even on top of the play-off scenarios.
"I give all the credit to our organization and Mike's leadership in how we put these players on the team and how we let them grow," Jackson said.
Cincinnati Bengals travel to Cleveland to play the Browns in week 13 of the regular season 12/06/2015