Broncos head coach Vance Joseph as the Bengals secondary coach.

OK, kids.

The last time the Bengals won a game in Denver, Nov. 9, 1975, head coach Paul Brown met the press after the 17-16 victory and current first-year Broncos head coach Vance Joseph was all of three years old.


Joseph, the Bengals secondary coach in 2014 and 2015, is in the same 3-6 quagmire that Bengals head coach Marvin Lewis finds himself during his 15th season when they meet Sunday (4:25-Cincinnati's Channel 12) a Mile High. And he's drawing on some Marv lessons in a jarring five- game losing streak the Broncos have lost every game by at least 10 points.

"Marvin has taken a franchise that wasn't recognized to being a franchise that everyone recognizes," said Joseph in a conference call with Cincinnati media after Wednesday's practice. "That speaks to Marvin's program and it speaks to Marvin's trust in the process. I've lost six games here and you wonder sometimes if the process is right.

"But being around Marvin you learn really quickly you have to trust your process. Keep working and keep your team working because it takes work to win in this league. That part I learned from Marvin. Every day was a new day and we had to put the work in to win games and that's one of Marvin's strong suits."

It's the 26th time a Bengals assistant coach has faced them as a head coach and you have to go all the way back two days shy of 24 years the last time the assistant beat the Bengals. That was Bruce Coslet's Jets on Nov. 21, 1993, who used old Bengals quarterback Boomer Esiason to do it.


Lewis is unbeaten against his former assistants with three wins over Hue Jackson, a win over Leslie Frazier and a tie with Jay Gruden and games against Hue (Nov. 26) and Mike Zimmer (Dec. 17) looming.
So something has to give Sunday. The Denver streak or the assistants streak.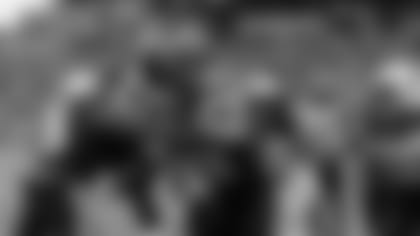 Darqueze Dennard broke in as a first-round pick under Vance Joseph.

Joseph reached back into his Cincinnati days to grab a Lewis team leader who was on six post-season teams as a Bengal. When it was clear the Bengals were passing on a 12th year for nose tackle Domata Peko, Joseph jumped on him even though Peko would be moving from a 4-3 to a 3-4.

The switch seems to have revived his career, according to profootballfocus.com, where he's ranked 31st among NFL nose tackles against the run averaging 34 plays per game for a defense ranked fifth against the run. Last year he was rated 65th against the run while averaging 37 plays per game.

"I knew he could help our run defense," said Joseph, although the Broncos have allowed 412 rushing yards and 92 points in the last two games. "He's a smart player, a stout player versus double teams. To acquire someone like Domata was a special deal for me. He's played really well. He's helped fix our run defense."

But Joseph went after him for the intangibles more than anything from a guy that turns 33 in two weeks.

"First of all the person," Joseph said. "I knew Domata would fit our locker room as far as being a veteran locker room that's won a lot of games. I knew Domata would fit in and help lead our team as a person."

Joseph also goes all the way back with slot cornerback Darqueze Dennard. Dennard was the team's first draft pick in 2014, Joseph's first of two seasons in Cincinnati. The irony is that they didn't think they had a shot to get Dennard with the 24th pick and there was a lot of discussion about Ohio State cornerback Bradley Roby.

But Dennard was there, so Joseph now has Roby as a third corner behind Pro Bowlers Aqib Talib and Chris Harris Jr., because the Broncos took him with the 31st pick. It's even more interesting that Dennard and Roby are tied for 25th in profootballfocus.com's ranking of corners. The Broncos' depth back there? That puts Dennard as the highest-rated Bengals corner and Roby the third.

When Joseph had Dennard in those first two seasons, he sat behind a good slot corner, too, in Leon Hall and then when he finally got in front of Hall he got hurt. But Dennard has emerged this season as a very solid player after rebounding from an off season last year. Last Sunday's missed tackle of Titans running back DeMarco Murray on the winning TD noted, but Joseph has noticed the growth.

"He's playing under control. He understands his leverage. He understands the defense," Joseph said. "He's playing with a high football IQ. He looks like a veteran player out there. That was actually fun to see. To be a great nickel in this league, it comes with time. Obviously he's putting the time in and he has definitely grown."