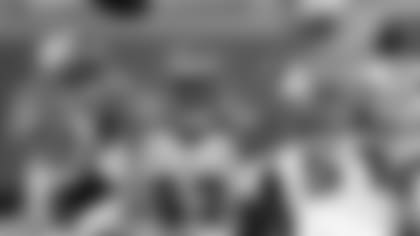 Thornton prepares to haul in his first pick of the season. (AP photo)
DETROIT - The defense keeps sticking to the script. If no one wants to give the Bengals any credit, then tackle John Thornton thinks it's fitting that the unloved Cincinnati defenders keep coming up with plays and keep teams out of the end zone.
For the second straight week and 10th time this season Sunday, the Bengals held the foe to two touchdowns or less. And, ho hum, they came up with four first-half turnovers to do exactly what you're supposed to do to team out of contention in December.
By jumping on Detroit quickly, the Bengals raised their league-leading turnover total to 42 with two in the first 10 minutes, taking the heart out of the Lions and creeping toward the club record of 44 takeaways set three times.
"We've played pretty well this year. We had a couple of bad weeks, but for the most part we've played well," Thornton said. "The team or the defense doesn't get any credit, but we go out and do our job every week."
BENGALS ALL-TIME INTERCEPTIONS LIST:
CB Ken Riley, 65 (1969-83) CB Louis Breeden, 33 (1978-87) S David Fulcher, 31 (1986-92) CB Lemar Parrish, 25 (1970-77) CB Tory James, 17 (2003-Present) S Tommy Casanova, 17 (1972-77) LB Reggie Williams, 16 (1976-89) LB Al Beauchamp, 15 (1968-75) S Robert Jackson, 15 (1981-87, 89) CB Eric Thomas, 15 (1987-92) CB Deltha O'Neal, 14 (2003-Present) CB Ray Horton, 14 (1983-88)
The defense is doing it with hustle, focus, and speed. Exhibit A is soon to be Pro Bowl cornerback Deltha O'Neal with his club record 10th interception. Ken Riley's 29-year-old record got tipped over when Lions wide receiver Roy Williams let a Jeff Garcia pass bounce off his hands behind him and O'Neal looked it in at the Bengals 43 before returning it nine yards.
"Concentration," O'Neal said. "As a defense, I think we like to think that if there is going to be a mistake, we're going to be there to make you pay for it."
That's what Thornton did for his first interception in 97 NFL games, and the pick allowed the Bengals to go up 17-0. With the blitz on, Thornton said he dropped back, and when he hustled into the zone where tight end Sean McHugh was struggling trying to catch the ball, Thornton jerked it away from him at the Lions 45 for the ninth different Bengal to record an interception this season.
They ended the day at a league-leading 30 interceptions for the season, giving them two more games to break the 1996 team record of 34, a goal they have quietly pursued since early in the year.
Defensive coordinator Chuck Bresnahan clearly felt he could rattle the Lions with the blitz and an out-of-whack offense responded the way one would think.
"They didn't really clamp down on us, they just brought a lot of blitzes and tried to confuse us up front and they did a good job," Roy Williams said. "They got turnovers, those lucky turnovers like tipped balls and they would just fall right into their hands. But that's how they have been getting their interceptions all year."
The Bengals have played with that it's-going-to-happen-eventually confidence since they picked off the Vikings and Bears five times each in the second and third weeks of the season. When they picked off Packers legend Brett Favre five times, there was some quiet talk about making it a perfect five-for-four Sunday against the NFL North, but they couldn't get any interceptions in the second half.
Cornerback Tory James's fifth pick of the year turned out to be the last as he used his long arms to reach back and take away a ball from Williams down the middle. James, a veteran of two Super Bowls, thinks this team can get him back to the big game because of its ability to force turnovers.
"It was two-on-one coverage and I was just able to get a good read on Garcia and I was able to make a play. If you play hard and practice hard, good things are going to happen," James said. "It's been unbelievable all year. We get our offense on the field and keep our defense off the field, that's big. Turnovers are big in the playoffs. If we keep getting our offense on the field, good things will happen."
Last year, James went to the Pro Bowl with eight picks. O'Neal is almost sure to go this year. The one thing they wanted to do is combine for more interceptions than last year, and they've done that already, 15-12.
"Those 10 have been big for this team," James said, but Thornton thinks James has also played big.
"They don't throw it to Tory's side any more, so he doesn't get any credit," Thornton said. "But whenever they do throw it to him, he catches it."
O'Neal now has his career high and 14 in two Bengals seasons. Just 26 games. Would you believe that puts him just three behind Tommy Casanova's 17 from 1972-77 ? And that James has tied Casanova in just 46 games?
"I don't want to think about it," O'Neal said. "I just want to go a long way in the playoffs."