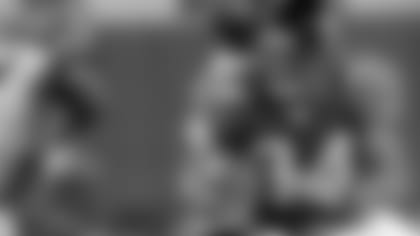 Odell Thurman closes in on Jags running back Alvin Pearman. (AP photo)
JACKSONVILLE, Fla. - The Bengals committed the two sins of life on the road in the NFL Sunday night when their defense lost discipline in the run game and the special teams lost its cool with two major mistakes.
By the time the Bengals regained their composure, the 20-7 deficit five minutes into the third quarter was too big and the margin of error too small for a team making a dozen penalties in what translated into its first loss of the season, 23-20, to a Jack-ed up Jaguars team that knew it hadn't lost two in a row at ALLTEL Stadium under head coach Jack Del Rio.
"Those are things we haven't done all year," said linebacker Brian Simmons of allowing touchdowns on the first two drives of each half. "You can't do that in a game of this magnitude. We knew they were going to come out excited. You just can't allow them to come out and get the momentum. We didn't come out really good and couldn't sustain the emotion."
Indeed, those two touchdowns marked the first time the Bengals had allowed two in a game since the 14th game of last season. For a team that had outscored foes this year, 27-3, in the first quarter, and 24-7 in third, it was definitely new territory.
"It played out the way we knew it would," said defensive tackle John Thornton. "We knew they were going to throw a big punch early because it was at home and Sunday night football. We couldn't get that big stop early. Then we felt good at halftime (a 13-7 deficit), then we let them come back and score on the first drive of the third quarter. We haven't done that all year. That's the big thing. I put this one on the defense."
Head coach Marvin Lewis put it on poor tackling as the major reason running back Fred Taylor ripped Cincinnati for 132 yards on 24 carries, a slashing 5.5 yards per carry that the critics have been questioning all season.
The Bengals revived Taylor like they did the Jets' Curtis Martin, the Steelers' Duce Staley, and the Titans' Chris Brown last season. Taylor came into the game hounded by defenders and doomsayers averaging 3.3 yards per carry after a week the Jags rushed for a franchise-low 12 yards. But Taylor simply cut from the front side to the back side against the Bengals in leading the Jags to 181 yards rushing.
The last time the Bengals allowed that many yards on the ground, they won in Baltimore last Dec. 5 despite giving up 192 yards. But they didn't have a punt blocked or commit 12 penalties that day.
"He was just sitting back there waiting for the cutback, busting it outside on everybody. He was just bouncing it outside," said left end Justin Smith. "It was kind of like Denver blocking. They mashed it right or left, and just cut it back. We had guys there to tackle him, but Fred's a hell of a running back. He made some guys miss today."
Bengals free safety Madieu Williams (shoulder) sat out for the second straight game, but it took Taylor's elusiveness to reveal that the Bengals miss Williams's presence in the middle.
"Denver blitzed him a lot and got to him," said Thornton of Taylor's struggles against the Broncos the previous week. "He just made a lot of cut-back runs. You need people to make the tackle when he runs front side and cuts it back, so that he's running into somebody. They had the advantage because they had the lead and could dictate run or pass."
Of the cut-back runs, rookie middle linebacker Odell Thurman said, "They know we're an aggressive defense. They had a good game plan."
Defensive lineman Robert Geathers's two encroachment penalties were indicative of the lack of focus from the Bengals defense. Both came on third down with Geathers moving from end to tackle and kept field-goal drives alive for the Jags. The first one came late in the second quarter on third-and-two, but the stake in the heart came with 13:40 left in the game on third-and-two from the Jaguars 47 and the Bengals trailing, 20-13. It allowed Josh Scobee to drill a 53-yarder six snaps later for what proved to be the winning points.
"Me being undisciplined. I know that. That's what Marvin told me," Geathers said. "Being over center is kind of new to me, but I can't let that bother me. Both times I went on the hard count. I can't do that. I have to go on the movement. It's not really the crowd. It's just not being disciplined. He got me on the hard count."
Lack of discipline also flashed on the usually competent special teams. Coach Darrin Simmons's crew might get beat physically, but rarely do they beat themselves until the past few weeks.
Gunner Reggie Myles may have committed the biggest gaffe of the game on the first series when he raced from out of bounds and was the first man to touch punter Kyle Larson's 69-yard boomer at the Jacksonville 19, an illegal act.
When Larson hit the re-kick from his own 7, it went only 34 yards and the Jaguars were in business at the Bengals 41 with what amounted to a devastating 40-yard penalty, and it took them just five plays to score, a huge lift for a team that has been so bad on offense. Larson just couldn't repeat the same punt.
"It's tough, but we tried to come back from it. It is what it is," Larson said.
The turnaround kicked off a curious first half for Larson. He had the second blocked punt of his career late in the first quarter when running back Derrick Wimbush appeared to come off the edge and then drive up the middle for the block at the Cincinnati 33 on a play that resulted in another field goal and a 10-0 lead. ESPN analyst Joe Theismann suggested Larson was too deliberate, but if he was, he didn't get a lot of help, either.
Larson certainly was quick enough with 18 seconds left in the first half and the Jags sending everyone in northern Florida his way. He got off a club-record 75-yarder, two yards longer than Brad Costello's indoor bomb in Indianapolis in 1998.
"We knew they were coming. Just got it off," said Larson, who said he had a longer one at Nebraska. "You have your ups and down throughout the games. The consistency factor is what we shoot for each time."
Consistency is no doubt what Lewis is going to touch on this week in all phases.