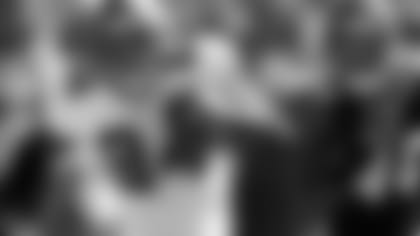 The Bengals defense let Bucs running back Carnell Williams get loose on Tampa's first scoring drive. (AP photo)
TAMPA, Fla. - It ended up being a heartbreaking day for the Bengals defense, but a lot of heart could be taken from a patchwork unit that kept its team in the game until the final 35 seconds.
With its most experienced linebacker suddenly iced before the game with a mysterious neck injury and joining two other starters on the shelf, the defense came within that last minute of giving up its fewest points in 18 games in the 14-13 loss.
Rookies Ahmad Brooks (11 tackles in place of injured middle linebacker Brian Simmons) and Johnathan Joseph (three more passes defensed in place of injured cornerback Tory James) reminded the faithful that the future is always around the corner.
"Just one of them days," said defensive end Justin Smith. "A couple of plays at the end. That's football."
Actually, it came down to one play. Fourth-and-three from the Bengals 8 with 35 seconds left in the game. Somehow, rookie quarterback Bruce Gradkowski squeezed in an eight-yard touchdown pass to wide receiver Michael Clayton over the middle.
With James out with a bruised knee, backup corner Keiwan Ratliff was on the field and in Clayton's zone.
"It was zone coverage. He wasn't my man, but he was running through my zone," Ratliff said. "I tried to make a play on the ball and rip the ball out and by the time I got to him he was starting his diving motion toward the goal line."
With Ratliff draped around his legs, the 6-4 Clayton stretched toward the goal line and dropped the ball but broke the plane just before he did as the instant replay challenge showed.
"The first look is Joey Galloway on the out-and-up and they double-covered him and I came underneath," Clayton said. "Bruce got it there. (Receivers) Coach Richard Mann says you have to 'bow up' because there's a little contact down there. He made a good throw. I was able to catch it and stretch out over the goal line."
Head coach Marvin Lewis opted not to use any timeouts to regroup on that last drive.
"I don't want to give them the opportunity, with a young quarterback, to have an opportunity to sit in the huddle and call the play and get their guys lined up correctly," Lewis said. "Plus, I believe (at that time) we're going to stop them, frankly as well."
With Simmons missing just his second game in six years because of a neck injury he suffered during the week and strong safety Dexter Jackson (ankle) out again, the Bengals couldn't get that fancy themselves in trying to confuse Gradkowski in his second NFL start.
So that's why the Bengals didn't do a lot of blitzing as they decided to pretty much rush four and make Gradkowski decipher seven men in coverage.
For the most part, it worked. After sifting the Saints on 21-of-30 passing in his debut last week, Gradkowski was 19-of-36 for just 127 yards and his longest pass completion was only 18 yards before the last drive.
But he finished six-of-eight for 57 yards on the final drive as the Bengals couldn't come up with one last sack or tipped ball. "We played pretty much a straight up deal," said Smith, who had one of the Bengals' two sacks. "We had some young guys in there. I think we played pretty well.
"We were getting to him (with the pass rush). We were making him get it out of there quick. He was only doing three-step drops and a rookie quarterback, he was getting only one read, and then running it or throwing it, and they had success running the ball."
The Bengals may have held running back Cadillac Williams to 47 yards on his first 11 carries, but it was the 38-yarder on the 12th carry early in the third quarter that led the Bucs to the tying touchdown.
"That's our main concern now is getting our run defense fixed," Smith said. "We have to be a solid defense and getting back to health is another key, but you have to go out and stop (the run)."
The rookie right side of the Bucs offensive line just caved in the Bengals front and after getting to the second level untouched, Williams ran away from it to the perimeter for 38 yards.
"To be honest with you, it's not much I did. It was a misdirection play," Williams said. (Right tackle Jeremy) Trueblood and (right guard) Davin (Joseph) cut out the back side and the guys got up on a linebacker and it was me and the safety. I feel like if you ever get me to the safety, you know those guys are in trouble."
The Bengals backers were led by their third middle backer on the depth chart in place of Simmons. Brooks, a rookie who missed all of spring football as a third-round pick in the supplemental draft, had played just 11 snaps in the last game. But on Sunday he tied free safety Madieu Williams with a game-high 11 tackles.
"Hard to tell on the sidelines, but I think he did pretty well," Simmons said. Smith added, "I'd have to see the film but I thought he played well. He flew around and made some plays."
But the defense could have used Simmons, the guy who handles the signals and, as weak side linebacker Caleb Miller said, "he's maybe the biggest leader." Brooks has had an uncomfortable three weeks after getting trained as a middle linebacker. The coaches switched him to the strong side and then switched him back to the middle after the Patriots game. "I was kind of upset that they were moving me," Brooks said. "I was practicing at SAM for two weeks, so I was like, 'OK, I have to re-learn this,' so I was anticipating on playing. Once they moved me back to MIKE I was, 'Oh man, why are they doing this?' I just know my job out there is trying to make my position the best it can be regardless of what it is."
But it was the best of both worlds in a sense for Brooks. He knew he could just play without getting benched.
"It didn't put a lot of pressure on me because if they were telling me that I only had so many plays, there would have been a lot of pressure on me to make a play," Brooks said. "But now that I was starting throughout the game, I didn't really have much pressure on me. I think I did all right. That's the job of a MIKE linebacker, to go out there and tackle."
Simmons said he had the injury during the week and while he practiced and wasn't on the injury report, he said he waited to see how it felt Sunday to gauge if he could go.
"I think I know what it is," Simmons said. "But I won't say anything."
He said he'll get it checked Monday morning and he said that's when he should know his status.