Darqueze Dennard is one of Paul Guenther's many faces.
The Bengals offense may still be searching for an identity, but their man-of-many-faces defense has it on pace for one of the best seasons in franchise history. And after dismantling yet another Browns rookie quarterback on Sunday with a revolving door of depth, defensive coordinator Paul Guenther has steered his group to the top five of the NFL's 12 major defensive categories.
Slot cornerback Darqueze Dennard may have supplied the motto on Monday.
"When my number is called," Dennard said. "I don't count plays."
There was the heat of Green Bay and the blowout in Cleveland. But after giving 16 players at least 21 snaps against the Browns, Guenther says to expect more of the rotation that has marked its rise to No. 4 in yards allowed after four games when they open up shop next Sunday (1 p.m.-Cincinnati's Channel 12) against Buffalo at Paul Brown Stadium.
"We've got guys at all three levels of the defense that can play multiple positions," Guenther said Monday as he de-compressed after another rout in Cleveland, where his guys have allowed 20 points in four seasons. "It's week four and I think every guy on our defense that's been active has played some snaps. So it's like those video games those guys play, the warrior games they play, you've got a bunch of weapons in your bag so each week it might be a different weapon to knock that opponent down and it may be more base snaps or more nickel snaps. I'm happy with where we're at right now."
Guenther loves the points category and they're on pace to allow the fewest in a Bengals' 16-game season with 268, a good touchdown and field goal better than the record they set two years ago with 279. They're also on pace to allow 276 first downs, which would tie them with two of the best defenses of the last 35 years, the 2009 AFC North champs that ranked fourth and the 1983 group that led the league. And they're on pace to allow the fewest yards (4,372) since '83 (4,327), and that includes the 2013 AFC North champions that finished third.
"It's all orchestrated how we're going to do it. It's planned, it's though out," said Guenther of the rotation. "The players are aware of it, the coaches are aware of it, and in between series if something happens to a guy where he might be dinged right now we're going to go with this. We're up 24-0; let's get this guy out of the game so we don't risk further injury."
When Guenther was defensive coordinator Mike Zimmer's third down guru during that stretch from 2009-2013 they finished in the top ten four times, one of their identifying characteristics was a healthy rotation among the defensive front. Now after a half decade of drafting cornerbacks No.1 that rotation has leaked into the secondary.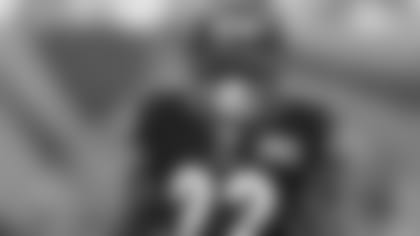 William Jackson played the majority of the snaps on his side Sunday.
On Sunday William Jackson played more than twice the snaps of Adam Jones and with the nickel alignment carrying the day against the Browns' spread offense Dennard led all defensive backs with 86 percent of the snaps in the slot.  While we wonder where this team would be with just an average offense instead of one ranked 27th in scoring (3-1 and maybe 4-0), Guenther isn't worried how veterans like Jones are taking it.
"One of the things I tell the guys is we're happy when we're winning. So, the more I can keep guys fresh with the corners, with the rushers and utilize everybody we've got, the better off we're going to be," Guenther said. "They always talk about the D -line rotation. We feel if a guy is good enough to play, then we should get him some snaps. We try to orchestrate that before the game so there are no surprises for the players. Hey, on the third series you're going in as soon as we call nickel, or you're going in in base or whatever it is. It's orchestrated before the game so they understand what's going on."
It has unleashed some big-time competitors. In the last two games Dennard, finally healthy, has showed why they drafted him No. 1 in 2014 and exercised the big option on him for next year. Guenther is trying to match his players with the opponent but he's kept Dennard in the slot and even though he's played 89 percent of the snaps this season, he wants more.  
"I want to be a three-down player. Be in there on first and second down no matter what the personnel is," Dennard said. "I'm a competitor. That's the thing about it. At this level, everybody in this locker room and the other 31 rosters, we're all competitors. We want to be out there 100 percent if we can. I feel like I can do both. Play outside. Play inside. I just want to be that guy if that makes any sense."
Dennard admits it's all tough to explain. But he says there's one thing that makes sense.
"Competition makes the group better," Dennard said. "We have people competing day in and day out for playing time. It definitely heightens everybody around. It's different. I don't know how to explain it. It's hard to explain. There are a lot of guys making plays. We all know we're going to play at some point in time.  We all expect to play at the same level."
Cincinnati Bengals take on the Cleveland Browns in week 4 of the regular season.