Safety George Iloka kept the back end together Sunday despite a slew of secondary injuries.
On Sunday after it was over the Bengals were talking about defensive coordinator Paul Guenther playing Semisonic's "Closing Time," in the meeting room, a hit from the late '90s that he uses to emphasize his search for closers at the end of games.
But the 20-16 victory over the Bills was a much more recent vintage from Paul Brown Stadium Collection Best of 2013-2015, back when the Bengals lost just four games by suffocating the best quarterbacks in the NFL. On Sunday they took Bills quarterback Tyrod Taylor's triple-digit passer rating and twisted into 63.6 with a relentless pass rush that sacked him three times in the fourth quarter and allowed the Bills just one touchdown for the day.
How much more can this Bengals defense do? On Sunday they survived three turnovers and not only is it on pace to allow the fewest points in a 16-game season in team history,  but with 1,314 it has allowed the fewest yards in the first five games of a Bengals season since 1976.
  "I don't know how many turnovers we had, but if they would have scored on every turnover — I don't think we would have been in the game," said Vontaze Burfict, the Bengals' ubiquitous linebacker. "We cherish turnovers. Even if they are in the red zone, we cherish them, and I think it lights a fire in us, too. You have to be ready for a sudden change as a defense. You can't be sitting on the sidelines thinking we are going to score, we are going to score, we are going to score."
Taylor, along with running back LeSean McCoy, had also emerged as a dangerous runner, particularly on third down, to lead the Bills to a 3-1 start. But the Bengals spied him into just one carry for three yards and forced Buffalo's first turnover in 18 straight quarters when safety George Iloka caught one in his chest with 2:14 left.
"We knew what we had against us. We had to stop McCoy and Taylor," Burfict said. "We did a good job of talking about the scheme, and who had the quarterback and stuff like that."
For the most part the Bengals kept a spy on Taylor, whether it was with a defensive lineman, a linebacker, or defensive back. Burfict was the most visible agent as he led the charge with his classic hits circa his Pro Bowl season of 2013.
He led everybody with 13 tackles, three of them for loss, and added one of those late sacks. He also defensed a pass on third down as the Bengals hit Taylor eight times in addition to sacking him six times.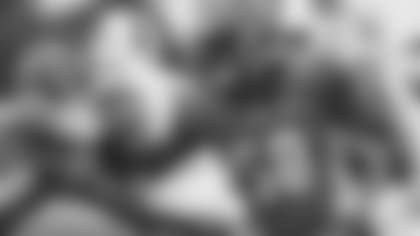 Rookie Carl Lawson learned a lesson and got a sack in the fourth quarter.
"With the weather, with it raining, we figured we would stop the run and try to make them one—dimensional by throwing the ball," said Burfict, still mad at wide receiver Brandon Tate's 12-yard TD catch on third-and-10. "They made a great throw in the end zone, and I don't think he could make that throw twice. He made a great throw."
Burfict and the Bengals' speed at backer were the centerpiece of the stand early in the fourth quarter after Tate's 40-yard punt return and a rare bench penalty (an official ran into someone on the sidelines) that put the Bills on the doorstep at the Bengals 12. Burfict dropped McCoy for a four-yard loss on second down and on third-and-14 Taylor was forced to check it down to McCoy with the pass rush on and linebacker Nick Vigil rallied to the ball to force a field goal and keep the Bengals ahead, 17-16, with 8:59 left.
"When Paulie puts the ball on the three-yard line in practice he says as a defense it's our job to make sure they only get a field goal," Iloka said. "We're happy about it. That's what he preaches and that's what we did."
But go back to the series at the end of the half. The Bills were on the Bengals 43 with 39 seconds left and had a shot to give the supersonic leg of Steven Hauschka what has been for him a chip shot 50-yard field goal and a 13-10 half-time lead. But with rookie pass rusher Carl Lawson an absolute thorn to left tackle Dion Dawkins, Taylor had to move off his spot and he threw three straight incompletions to force a punt.
The last one came when cornerback William Jackson knocked the ball away from rookie wide receiver Zay Jones, who got plenty of work as Adam Jones (back) and Dre Kirkpatrick (shoulder) never came back in the first half. But Jackson and Darqueze Dennard, with Josh Shaw manning the slot, made sure a miserable Bills' passing game stayed miserable.
You can put Jackson in the King's Island roller coaster category of an up-and-down day. In the third quarter Jackson committed a huge penalty when Zay Jones ran by him and he grabbed him for a 19-yard pass interference penalty for his team-leading sixth flag that put the ball at the Bengals 26.
Rookie end Jordan Willis' first NFL sack forced another field goal, but Jackson had the last say on Zay. On the first down play from the Bengals 12 before Burfict dropped McCoy, Jackson had good coverage on Jones' go pattern to the back pylon and forced him to catch it out of bounds. It got head coach Marvin Lewis thinking back to last week and how Jackson got flagged in the end zone in Cleveland.
    "William had the play there in end-zone at the end, and it was literally the same play that he didn't make last week," Lewis said. "So that's big growth. He had a couple plays today he'll continue to grow from. He's such a talented young player for us, and the only way he's going to get better is to play snap after snap in live football. Today, he had to rise up, and he did that. Darqueze has just answered the bell every time we've had a need. These guys are deserving — that's why we have them here. I'm really happy with how they played today."
Iloka and his partner at safety Shawn Williams also had to battle the bruises and at one point left and came back. But after 16 defenders had at least 21 snaps the week before, everyone is used to what isn't a new face.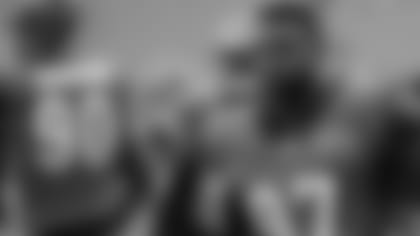 Pro Bowl defensive tackle Geno Atkins now has fou sacks in five games.
"This sounds corny as hell, but the way this season is going, I don't think we have any backups," Iloka said. "If you've been paying attention, we rotate.  Just rotate. Everybody that stepped up today is a guy that's played. Obviously you don't want anything to happen to Dre and Pac. They're key players, X-factors, big-time players. But everybody who stepped up has already played this year in key situations."
Burfict is now calling Lawson a veteran and why not? The opposing offensive lines are treating him that way and making sure they get two bodies on him.
  "Everybody on the defensive line gets chipped. I learned from the Texans game that you just have to keep working through it," Lawson said. "(Bengals defensive line coach Jacob Burney) told me great rushers know how to rush, even with the chip. That's what I've been working on."
Lawson had a huge sack in the fourth quarter that came after he negated Burfict's sack when he fell on Taylor after the play and was called for roughing.
"Lesson learned," Lawson said. "I had been working all game on (making Taylor) stay in the pocket. He wasn't stepping back too far. (On the sack) I was trying to bend and contour my hips around the edge. I got my hands on him and was able to get around the corner."
 Burfict wasn't so sure that was roughing. Especially after the next play, which was McCoy's 44-yard run wiped out on a holding call on tight end Logan Thomas working against Vigil.
"Carl's little tic tac thing they called, that personal foul, I think that was a little crazy," Burfict said., "They came up with a made-up call with a holding on Nick. I even asked Nick, 'Did he hold you?' 'No, make-up call, you know the refs.'"
He also knows Lewis and he knows Lewis never looks happy out there. So after running back Joe Mixon ran for a first down to end it, Burfict approached him on the sidelines.
"It was a laughing matter between me and Marvin. It was 1:20 left and I figured they weren't getting the ball back," Burfict said. "I came over and chest bumped Marvin and he didn't show any excitement. I was like, 'Enjoy it.' That's two games in a row, and we get to go on the bye and get people healthy."
Cincinnati Bengals host Buffalo Bills at Paul Brown Stadium in week 5 of the regular season.