Geno Atkins Pro Bowled Alex Smith all day.
Bengals nose tackle Domata Peko pointed to the name tattooed on his stomach after the 4-0 Bengals had left an imprint on the AFC Sunday.
 "This was lowercase letters," Peko smiled slyly. "Now I got bigger, it's uppercase. Belly is getting bigger."
And so it was that the Bengals defense brought its big boy pants in the red zone and late in the game even though the 36-21 victory over the Chiefs was far from typical of the defense it has played in this 18-3-1 run in the last 22 regular-season games at Paul Brown Stadium.
The Bengals had come in holding opposing passers to a 67 passer rating since Nov. 11, 2012 in this building while allowing offenses to convert third down just 31 percent of the time. But Chiefs quarterback Alex Smith lit it up for 95.2 as Kansas City rolled up 461 yards converting third down 44 percent of the time even though they came in converting an NFL-low 16.7 percent.
But a couple of principles rang true. The Bengals, who have racked up 56 sacks in those 22 games, unloaded for five of them Sunday. And stingy red-zone play forced a Chiefs' record seven field goals in the third game of the stretch they didn't allow a touchdown, joining the 13-6 victory  over the Patriots and 49-9 win over the Jets in 2013.
"We gave up some yards. They had the ball most of the game, but we've got to get them off the field," Peko said after the Chiefs hogged the ball for nearly 37 minutes. "But I Iiked the fight in our team. We kept our composure and held them to field goals . . . Field goals are cool but you're going to have hard time winning not scoring touchdowns."
Another characteristic of this stand at home stretching into its fourth season is the killing late turnover and right end Michael Johnson and safety Reggie Nelson delivered it with 23 seconds left in the third quarter. It turned out to be the only turnover of the game and you could trace it to the simple drills on Wednesday and Thursday that open practice with all 11 men running to the ball.
The play had been set up by the two previous snaps, featuring the Bengals' relentless pass rush that hit Smith ten times to go along with the five sacks. Defensive tackle Geno Atkins, as he has all year, simply took over on these two plays, first forcing Smith into an intentional grounding penalty and then running through and over rookie center Mitch Morse for his third sack of the season.
That forced Smith to check down a third-and-30 pass to tight end Travis Kelce and the Bengals dropped eight in coverage, including Johnson. Johnson kept running all the way from his side to the opposite sideline and dislodged the ball from Kelce with a collision at the Chiefs 30. Nelson scooped it up for a 25-yard return that set up the coffin-nails TD and two-point conversion just 12 seconds later that made it 29-15.
"That was a great play by him. I didn't know how it came out and someone said MJ punched it out," Nelson said. "We're always teaching about our D-line running to the ball and that's what they did. That's what I love about our defense. They just keep playing and they'll yell at us when we stop. When it comes to the game, it's just natural instinct for them to run."
Johnson and Nelson are used to turning over winners. When the Bengals came from behind in September of 2013 at PBS to beat the Packers, Johnson forced a fourth-and-one fumble with about five minutes left in the game and Nelson picked it up before he lost it and cornerback Terence Newman took it the rest of the way for the winning points.
"We were all running to the football," Johnson said. "The guys did a great job making him stutter his feet and then I was able to get there."
It was like old times. Johnson got there in the pass rush for the first sack of the day and his first since he returned from one season playing in Tampa. Everybody got into the act. Atkins is again back among the leaders in sacks by NFL tackles, Peko had his first two-sack day since his rookie year of 2006, and left end Carlos Dunlap kept his hopes alive to break the single-season sack record with another one to give him 3.5.
"It feels good. I just want to keep it going," Johnson said. "The bottom line is you want to get the win. All that stuff looks pretty, but we're 4-0 now looking to be 5-0. We just want to keep winning."
It didn't always look pretty. There was Peko's belly and wide receiver Jeremy Maclin's 148 yards and running back Jamaal Charles' 175 total yards. But there was also great work on the Chiefs' other weapon as they held Kelce to 49 yards in five catches, and another ironman performance from WILL linebacker Vincent Rey in which he finally missed his first snap of the season but still managed a game-high 15 tackles.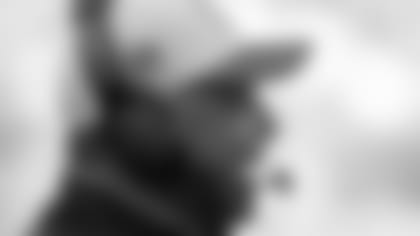 Marvin Lewis wore pink Sunday and his Bengals are seeing red with his first 4-0 start in ten years.
Plus there was cornerback Leon Hall's marvelous work in all kinds of roles. In his 103rd NFL start, he made his first one at safety in place of the injured George Iloka. But with the Chiefs throwing nearly 50 times, he found himself in the slot a lot on Kelce and was busy with three tackles and a pass defensed. With Hall playing 72 of the snaps, according to profootballfous.com, third-year safety Shawn Williams logged the most snaps of his career with 66.
And they held up even though they lost their hottest cornerback, Adam Jones (groin, elbow) in the third quarter. Darqueze Dennard got burned on his first assignment replacing him. Even though Dennard had good coverage, Alex Smith dropped a dime to Maclin for 33 yards. But Dennard rebounded to make six tackles and added a pass defensed.
"We knew Alex Smith panics like any other quarterback who gets pressure," Peko said. "He looks at the rush, not like other quarterbacks that look to throw the ball. He's looking at the rush to try and get away because he's quicker."
Despite gaining 6.3 yards per snap, the Chiefs got in the red zone only three times and the Bengals did enough good work on third down that they prevented a team from scoring a TD for the first time since they blanked Johnny Football in Cleveland back in December:
-With the Bengals leading, 7-0, the Chiefs faced a first-and-10 from the Cincinnati 10 on their first possession. Middle linebacker Rey Maualuga stuffed running back Charcandrick West for no gain on first down and wide receiver Chris Conley felt cornerback Dre Kirkpatrick over the middle and dropped second down. On third down Johnson and Dunlap both beat the tackles wide and chased Smith out of the pocket for a five-yard gain.
-On their second series, the Chiefs had a first-and-10 from the Bengals 23, but Peko abused rookie center Mitch Morse for a sack, Nelson and Kirkpatrick corralled Charles on a check down, and on third-and-seven from the 20, SAM backer Emmanuel Lamur went on a blitz and Smith had to unload for Maclin's two-yard loss on one of Rey's 15 tackles.
-On a first-and-10 from the Bengals 33 on their next possession, Peko broke through a double team for another sack. Rey then kept Kelce in front of him for a nine-yard gain and on third-and-10 Adam Jones rode Conley to the sideline for an incompletion.
-After the Bengals made it 29-15 late in the third quarter, the Chiefs had a first-and-10 from the Bengals 11 with 9:47 left. Smith had no pressure on first down, but he was uncomfortable enough to throw it behind West in the middle of the field and he went for West again on a wheel route down the left sideline but he was blanketed by Lamur to set up third down. That's when Dennard broke on a ball to Kelce at the 3 and broke it up from behind.
The sequences reflected defensive coordinator Paul Guenther's strategy of using a mix of zone and man coverage, a little bit more pressure, and making sure Kelce was the guy that didn't hurt them of Kansas City's big three. According to profootballfocus.com, the Bengals blitzed just 17 times in the first three games and went after Smith 12 times on Sunday. It worked because, according to PFF, Smith completed eight passes in those situations for just 52 yards.
"It gets condensed down there. It makes it tough for the offense,' said Johnson of the red zone. "We were able to do a good job to get back there and disrupt him and I believe we did disrupt him."
Or, as Peko said about the red zone, "It's just having that will inside our huddle. We're talking to each other and saying, 'Hey, we're not giving up six points. Hold them to a field goal if we can.' "
Or, as Nelson said, "That's just solid football."
Dunlap downplayed the notion that the Bengals line buffaloed the Chiefs offensive line with a variety of stunts and twists as Kansas City has now allowed 18 sacks in four games. He said it was simple power.
Johnson patiently staked out a play-action. Peko simply overpowered the rookie center twice while Atkins gave Morse a lesson in Pro Bowl perseverance when he got up off the ground after beating him. Dunlap, as he does every so often, cut underneath Atkins instead of taking the long way for his sack.
Peko, a pure run stuffer who has six seasons of two sacks or less, was too polite to say his sacks were helped by inexperienced when asked where these two came from.
"I don't know. It's just one of those days. Sometimes everything bounces your way . . . God gets the glory," Peko said. "I've been working on my hands on the pass rush with (defensive line coach Jay Hayes) trying to get better."
More characteristics of this stand at home? Peko knows all about that.
"Since the beginning of the season we've been impressing upon people and impressing on offenses that our defensive line is going to take our team and lead our team," Peko said. "We've got the guys in our locker room to do that."