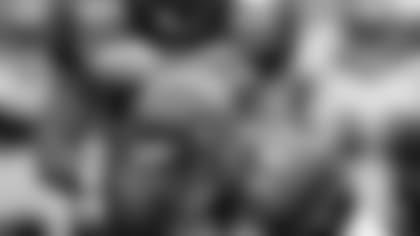 Kevin Kaesviharn and the Bengals defense was dominant all day. (Jonathan Daniel/Getty Images)
CHICAGO - Suddenly, the Bengals defense no longer has to be defensive.
During Sunday's 24-7 victory over the Bears, which now qualifies as trend instead of a blip, the defense became offensive in generating six more league-leading turnovers while holding a team to just one touchdown for the fifth straight game in a stretch that includes the final two games of last season.
The withering offseason criticism of a unit portrayed as the red-zone stepchild of its mighty offense is a distant echo.
"This is fun. We're not giving up points. We're dictating the game," said Bengals defensive tackle John Thornton. "We're high-powered like our offense now."
Five different players picked off Bears rookie quarterback Kyle Orton, making the Bengals the first team to record two straight five-pick games since the 1971 Cleveland Browns.
More trends? The four first-half interceptions staked the Bengals to a 10-0 halftime lead, and they are now outscoring foes, 54-10, in the first half in an edge that has neutralized the opponents running game. Cincinnati's Sunday stash jacked its NFL-best to 16 turnovers, with three of them turning into the game's first 17 points on Sunday. The Bengals have allowed just 28 points in the first three games, the lowest of any team in club history, two fewer than the 1974 Bengals that went 7-7. They still haven't allowed the number they gave up in last year's opener, a 31-24 loss to the Jets.
And, it's early, but the Bengals are on pace to allow just 149 points, breaking the record for a 16-game season set by a Ravens defense coordinated by someone named Marvin Lewis.
FEWEST BENGALS POINTS ALLLOWED (16-game season:
149 - 2005 team's pace at 9.3 points per game 284 - 1978 team finished 4-12 285 - 1989 team finished 8-8 302 - 1983 team finished 7-9 304 - 1981 team finished 4-12 309 - 2001 team finished 6-10
"We've got a long ways to go for that," said linebacker Brian Simmons, who started it all with a Web Gem diving interception way back on the Bears' first snap. "Let's talk about that in 10 more weeks."
Lewis wanted to talk about the interceptions and how Simmons's juggling catch that survived the scrutiny of replay was big because the Bengals had just gone three-and-out on their first series.
"They do come in bunches, the good thing is they weren't tipped today," Lewis said. "But guys are covering, guys are on top of their routes, and they're doing a nice job of running the cuts with the receivers. We're not getting tipped balls. It's actually in coverage. That's a good thing."
The picks came in all shapes and sizes in preventing the Bears from converting a third down until the last two minutes of the third quarter, just one of three successes on 15 third downs.
The Simmons catch, his first pick of the season, was the only one that came off any kind of a deflection. Cornerback Tory James and strong safety Kevin Kaesviharn converged on Bears wide receiver Justin Gage to pop it loose and when Simmons fumbled after he got up to run, rookie middle linebacker Odell Thurman picked it up and ran 23 yards to the Bears 18, where the Bengals scored on the next play. "Any time you stop them the first time out the way we did and get the ball back, it's a momentum builder," Kaesviharn said.
Cornerback Keiwan Ratliff, draped all over wide receiver Bobby Wade on third-and-11, planted himself in front of Wade for his second interception of the season at the Bears 36 midway through the second quarter.
Pro Bowl cornerback Tory James ran stride for stride with rookie wide receiver Mark Bradley on an out-and-up down the sideline and Orton tried to lead Bradley but he didn't get enough on it and James made a leaping grab in front of Bradley at the Bengals 37 for his second interception of the season.
Free safety Madieu Williams, who led the team with eight tackles, patrolled a deep zone when he broke smartly on a hanging lob to Bears leading receiver Muhsin Muhammad at the Bengals 46 for his first interception of the season with 5:42 left in the first half.
Muhammad, who caught four balls for 48 yards, couldn't get loose deep like he did against the Lions last week for a 28-yard touchdown pass. Cornerback Deltha O'Neal, who tied a team record with three interceptions last week, outmuscled Muhammad for his fourth pick of the season at the Bengals 30 five minutes into the third quarter.
Bengals Interceptions-Turnovers Last Decade:
2005 (3-0): 12-16 2004 (8-8): 20-36 2003 (8-8): 14-24 2002 (2-14): 9-20 2001 (6-10): 13-28 2000 (4-12): 9-21 1999 (4-12): 12-27 1998 (3-13): 13-20 1997 (7-9): 13-23 1996 (8-8): 34-44 1995 (7-9): 12-24
James, who has played on two different Super Bowl teams and played for new Bengals defensive coordinator Chuck Bresnahan in Oakland, has never seen a stretch of interceptions like this one.
"I don't think so," James said. "We took the ball away, but not like this. Not like this. (Bresnahan) knows his players, knows what he's got. He's making the right calls."
Kaesviharn is the only member of the secondary who was here in 2002, when the Bengals had nine interceptions the entire season. With 12 this season, they are stalking the team record of 34 set in 1996 and rapidly closing in on last year's 20.
"There's a lot of difference," Kaesviharn said. Guys know their roles, they do their job. We're playing better as a team and anytime you play better as a team, things like that happen. That just keeps building from it. I mean, let's get another five next week."
Simmons, playing in his 97th game for his third head coach and fourth coordinator, is going to October unbeaten for the first time. There are no secrets to the defensive success.
"Guys are on the same page. Guys are making plays when they get their chance to make a play," Simmons said. "Guys are more confident about what we're doing and that kind of gets overlooked. You've got to buy into what you do to be good. The execution is just better. Because everybody is on the same page. The communication is there."
That was one of the knocks from last season. Too many cooks in the kitchen and everyone had trouble getting the same recipe. Now that Bresnahan has pretty much everything under his umbrella, he has simplified things and the players are grateful.
"It's crazy how we're getting turnovers and helping our offense," Thornton said. "We just stay with the play. They know what we're going to do, at the same time, if we sit there, we pretty much know what they're going to do. It's who is going to get there faster. That's what Coach Lewis talks about. Play fast. You've got to know what they do so you can beat them to the spot."
But Thornton knows this defense is always going to have its critics, even though it held up well enough against the run Sunday. Yes, running back Thomas Jones nicked the Bengals defense for the first 100-yard game of the season with 106 on 27 carries, and he had two runs longer than 15. But he also averaged less than four yards per carry, had 10 carries of two yards or less, and didn't take over the game like he did last week against Detroit on seven fewer carries for 33 more yards.
"We're not going to get it," said Thornton of that elusive respect. "I was listening to my man J.T. The Brick (a national sports talker) the other night and some NFL experts thought we were like the Chiefs two years ago, how we were lucky we were getting turnovers, that's how we were winning. People are still going to disrespect us and not credit how well we're playing. It doesn't matter. As long as we keep winning."
They certainly got credit in their locker room.
"Defense, man," said wide receiver T.J. Houshmandzadeh. "They won the game for us, that's all, with all those turnovers. Crazy."