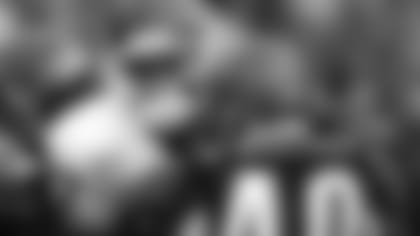 The Bengals defense held Larry Johnson to just 68 yards on the ground. (AP Photo/Ed Zurga)
KANSAS CITY, Mo. - Yes Virginia, the Bengals defense does have an identity after presenting Bengaldom with a 23-10 Opening Day victory over the Chiefs on a rainy day their offense hid in the grime and grit of an AFC Northish affair.
By engineering seven sacks with a more straightforward pass rush than years before, three turnovers like those of yesteryear, and the end of Chiefs running back Larry Johnson's nine-game streak of 100-yard games, his defense turned out it be as stingy during the game as head coach Marvin Lewis was stingy after the game in explaining how it held the defending AFC rushing champion to 68 yards on 17 carries just nine months and nine days after he ripped it for 201 yards.
At some point, a hat must be tipped to this much-maligned defense. After a preseason in which it allowed its fewest points in nearly 30 years, it posted its lowest total in 15 openers, since Dave Shula's debut in a 21-3 win at Seattle in 1992.
"I coached guys that went (50)-some games without giving up a 100-yard rusher so I know a little bit about it and you play it with 11 guys all the time," Lewis said of his days with the Ravens. "It's just as important when the outside corners get their job done as the inside linebacker, the middle linebacker, the safety.
"I think we've got better players who understand it. We had some fits that were wrong early on. (Johnson) is a good player. He's a good back. and he'll gain a lot of yards this year. We were able to win today, and that's it, I don't want to talk about it."
One of those guys who helped Lewis put that sub 100-yard string together in Baltimore sat in front of his locker and offered a wink and a nod after his Bengals debut. The stat sheet said Sam Adams, the 360-pound Pro Bowl mass in the middle, had just one tackle.
But his presence was also noted by middle linebacker Brian Simmons's game-high eight tackles and five more from weakside linebacker Landon Johnson. Not only did Adams's defensive line come up with the seven sacks, its most since last year's seven against Houston, but they forced Larry Johnson to the perimeter and allowed the backers to make the plays.
"If they allow us to rush the passer, we'll get to him," Adams said. "But you have to earn that right."
The Bengals earned the right Sunday by getting Kansas City quarterbacks into passing situations in not allowing Johnson to get off on first and second down. After the second three-sack game of his career, end Justin Smith saluted the coaches' scheme of less moving around from the linemen before the snap. "Just straight rushing," Smith said. "I think this year we're going to do more straight rushing and we knew we had to come after them to get them to keep doing that."
Smith, just a straight-ahead Show Me guy from Missouri who grew up about 100 miles from here in Holts Summit, prefers the simpler style. He's not even sure how many family members and friends he had here, but they did watch his defense "earn the right to rush the passer:"
Exhibit A: With the game tied, 3-3, early in the second quarter, the Chiefs had a second-and-four from the Bengals 45 when defensive tackle Shaun Smith stoned Johnson for no gain. That allowed end Robert Geathers to ring up the first of his two sacks on third-and-four.
Exhibit B: With the Bengals leading 10-3 a few minutes later, cornerback Tory James dropped tight end Tony Gonazalez for no gain on a pass in the flat on first down. Tackle John Thornton was then able to tee off on second-and-10 for a sack and on third-and-17 Justin Smith rung up the third sack in seven minutes. A 29-yard punt later and the Bengals had a 17-3 lead as the first half wore down.
Exhibit C: With starter Trent Green shelved by a concussion and former Bengals quarterback Damon Huard putting the Chiefs on the Bengals 21, still trailing, 17-3, free safety Madieu Williams roamed to the right edge to dump Larry Johnson for a one-yard loss. On second-and-11, linebacker Caleb Miller, able to run free thanks to the front line, nailed him for a one-yard loss. Then on third-and-12, rookie tackle Domata Peko was able to tee off and he got a sack and forced a fumble that was recovered by the Chiefs, and the resulting 51-yard field goal try by Lawrence Tynes was short.
17-3 with 1:12 left in the third quarter.
The Bengals, who didn't have more than three sacks in a game last season after getting seven against the Texans in Game 4, are jump-started in their bid to get their first double-digit sacker since Alfred Williams had 10 in 1992.
"But you have to earn that right," Adams said of a pass rush set up by the run defense. "They love to hit gaps. If everyone stays in their gaps you put pressure in the middle and there's nowhere to run. If you get in a running game with us you're going to get tired with the speed of our linebackers. You get a little pressure up the middle and that's what is supposed to be (with linebackers). The defensive ends forcing them out, and everyone taking a gap."
The big talk before Sunday had been how it was such a big game for the Bengals defense after a season it had finished 28th in the league. Even defensive coordinator Chuck Bresnahan said he hoped to see an I.D. emerge when he watched the Chiefs tape Monday morning.
"We've had one since we met together in the spring," said Smith after his first three-sack game since his rookie season five years ago. "We've finally got everybody we need. We've got all the pieces of the puzzle. We need everybody to do everything and I think right now we've got everybody."
Smith, the first Bengals three-sacker since Duane Clemons dumped three Bills in 2003, has been saying since May that this is the best defense he's ever been on. There is a 13-year veteran like Adams and a three-year veteran like Geathers, who has slimmed back down to his rookie weight of 265 pounds and responded with two sacks, one shy of what he had all last season.
"Sam's a presence; he's a heck of a ballplayer," Smith said. "He's been doing this a long time. He knows how to do it when to do it, so anytime you bring quality guys in here, you add depth. That's something we've always lacked in the past is depth. Everyone on the D-line rolls through. It's the first time I've been here that we've got everything we need." Smith thinks there is enough here to be a Top 5 defense. Including "the big, strong, fast" Geathers who came up with the first two-sack game of his career. Geathers said he and Smith took advantage of the Chiefs tackles, light in weight (left tackle Kyle Turley is about 275 pounds) and experience (it was right tackle Jordan Black's 15th NFL start).
"(Sacks) come in bunches for good pass rushers," said Geathers, who got both sacks off the edge after spending last season rushing the passer mainly from the inside. "We were able to use our power. We went the whole game back and forth (on each tackle)."
Smith had an almost comical play early in the fourth quarter. As he sacked Huard, he batted the ball away and after it squirted from everyone else, he picked it with just the greensward in front of him when Huard suddenly dropped him in his tracks at the Chiefs 44.
"I can't run the ball too good yet; I'm slower than I thought," he joked. "I know at our stadium where to look to see if anybody is behind you. But I didn't know exactly where to look but, oh well."
The Bengals only had to look to the return of Madieu Williams to know their defense is that much better. In his first regular-season game since undergoing shoulder surgery last season and missing all but four games, Williams supplied an interception, another pass defensed, and three tackles.
The pick was one of Cincinnati's three turnovers and came off the hands of wide receiver Sammie Parker over the middle and into Williams's hands in back of him. The Bengals, who led the league last season with 44 turnovers and have an NFL-best 80 over the previous two seasons, look to have a pretty good start again.
"Just a tip drill. We do it every day in practice with Coach (Kevin) Coyle and Coach (Louie) Cioffi," Williams said. "It's nice when something you do every day pays off in a game."
But maybe the biggest contribution from Williams and new strong safety Dexter Jackson came when Johnson didn't break a run longer than 18 yards. Last year, two of his three touchdowns came on 20-yard and 49-yard runs.
If the pundits haven't noticed the Bengals defense, the offense it bailed out Sunday sure did.
"It started last season, forcing turnovers and being physical, guys making big hits," said right tackle Willie Anderson. "That's the kind of player we've accumulated over the past three seasons. We've got those hard-nosed football players. For years I've sat on the sidelines while those guys tattoo our guys. Now we have guys on defense that bring pain, too."