As they knew they would, Bengals head coach Marvin Lewis and his defense got into a chess match with old friend Hue Jackson.
This is why the Bengals believe that Hue Jackson is going to turn things around in Cleveland. As long as he has the players and after Sunday's 31-17 victory over the Browns at sold-out Paul Brown Stadium there was no question who's got them and who doesn't.
For about a quarter Jackson had the Bengals defense grasping at ghosts with his sixth quarterback of the season when someone named Kevin Hogan became the third quarterback to ever rush for 100 yards against Cincinnati in what was a 21-17 game early in the third quarter.
Hogan, a rookie out of Stanford plucked from the practice squad a few weeks ago amid the triage of the Cleveland quarterbacks, ran the zone read for 104 yards once starter Cody Kessler went to the bench midway through the second quarter with a concussion.
Nose tackle Domata Peko collided with Kessler, the rookie from USC that had been Jackson's third starting quarterback of the year and as one Bengal wondered, that might have been the worst thing that happened since Hogan seemingly appeared out of thin air and they weren't sure if he was a runner or passer.
"They were giving us stuff we hadn't seen. It all looked similar, but it really wasn't," said safety Shawn Williams. "We hadn't even seen him. We didn't know he was over there."
All they knew was that Jackson had brought Hogan off the bench earlier in the game in place of Kessler to give them a different look with funky zone read and he stunned them with back-to-back runs of 15 yards. Then suddenly he was the guy a few plays later.
"That guy,' said safety George Iloka when asked how the Bengals adjusted, pointing to defensive coordinator Paul Guenther passing through the locker room.
Hogan, joining two of the great rushing quarterbacks in history, Kordell Stewart (1998) and Cam Newton (2014) with 100-yard games against Cincinnati, had a memorable NFL debut. But unlike Denver's Trevor Siemian on Sept. 25 in his third NFL start and Dallas' Dak Prescott in his fourth NFL start on Oct. 9, he didn't beat them.
Not with more rushing yards (104) than passing yards (100). Not with a 26.4 passer rating on almost as many passes (24). Jackson now has five guys who have thrown at least 24 passes in the first seven games.
How abnormal is that? Bengals head coach Marvin Lewis has six players in his 14 seasons who have thrown at least 24 passes. And Andy Dalton didn't become the sixth  until last December.
But the Bengals weren't surprised Jackson had them guessing.
"Coach Hue Jackson did a great job," said linebacker Vincent Rey. "We were ready for the offensive tackles to be lined up on the numbers. We were ready for that. But all of a sudden we've got three backs back there with the quarterback running zone read with two backs and three backs. We're like, 'Man, read your keys, but where do I fit?' You just can't go out there and say you're going to run those guys over. It's a thinking man's game. So he did a good job with that. He might have had 100 yards rushing."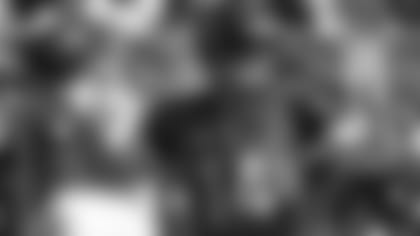 Andy Dalton on his way to his fifth 100 passer rating of the season Sunday while the Browns turned to their sixth quarterback of the season.
Told that Hogan did, Rey said, "That's bad, but he didn't beat us."
The Bengals figured it out with Guenther drawing it up on the sidelines and in the locker room at half time and wore them down. Playing an offensive line that had used five combinations in the first six games, they saw another one when center Cameron Erving took ill in the second quarter. In the second half Williams and left end Carlos Dunlap each had a sack, Williams had an interception as the Bengals piled up 11 hits on the quarterback with three each by Williams, Dunlap, and defensive tackle Geno Atkins, and Browns running back Isaiah Crowell finished with just 63 yards on 12 carries after ripping off a 21-yarder with 3:04 left in the first quarter.
"We hadn't seen it before. We made adjustments," Dunlap said. "Hue knows us. It was a great coaching move. He put us in positions where he knows we have rules to do different things. A quarterback shouldn't beat you running the ball, but we made the adjustments … We were prepared for Terrelle Pryor to do it, but we didn't  prepare for (Hogan). We already had it in the game plan, but we had to adjust it to him."
Pryor, the former Bengals quarterback Jackson has converted into his top wide receiver, has been effective running the zone read as a change of pace. He came into the game with eight rushes for 21 yards. But in classic Jackson fashion, he broke his tendency and never gave it to Pryor Sunday. Not only that, he gave Hogan different plays. Instead of Pryor running to the outside, Hogan was running behind power plays up the middle.
"Sometimes the end would take him. Sometimes the linebacker would take him," Rey said. "We had to figure out how to play him. He's not Pryor. He's not running the same plays. They had different plays we had never seen it before. It came down to communication from (linebackers) Vontaze Burfict and Karlos Dansby to the ends. They get us early in the second half, but we settled down. We had to communicate."
Hogan cut the lead to 28-17, but that was on a Crazy Legs 28-yard scramble four minutes into the second half. That would be that. Rey said the Bengals would call out which player had the quarterback as the Browns lined up, whether it was a linebacker or end, and that prevented them from outmanning them at the point of attack.
"Sometimes the end has to stay outside, sometimes the linebackers scrape over," Burfict said. "Half the time they are putting me outside the box and doing the option the other way so I couldn't obviously do anything about it, but that's what teams are doing. They are scheming up on us, figuring out how to run away from me and Geno and that's the game plan."
Guenther doesn't usually blitz, but he went after Hogan seven times, which appeared to be all in the second half, and Williams got him once, coming clean off a slot blitz.
"It's all about putting the team in the best position. You have to be patient," Williams said. "The thing was to have leverage on your man and keep him in the pocket. That was the thing. Make sure he stayed in the pocket."
In the end, they had the final word on Jackson's game plan. But they know he'll have another one in December.
"Not going to tell you how," said Iloka of how they did it, "because we see Hue again."
The Cincinnati Bengals host the Cleveland Browns at Paul Brown Stadium in week 7 of the regular season 10/23/2016