Opposing QBs don't want to see safety Reggie Nelson.
With their franchise heading into December trying to secure its third AFC North title and sixth playoff spot in seven seasons, the Bengals defense is flexing its muscles at just the right time:
-After the stingiest streak in club  history, they are once again the NFL's top scoring defense in the wake of holding a team to 10 points or fewer four times in the last five games.
-Their best player, Pro Bowl defensive tackle Geno Atkins, is back to such a high level that just like 2012 it is not out of question for a run at Defensive Player of the Year votes with a dynamic that makes the Bengals front one of the elite.  
-A bunch of thirtysomethings in the back end, cornerbacks Adam Jones and Leon Hall and safety Reggie Nelson, have used its exhaustive knowledge of the scheme to harass everyone from Ben Roethlisberger to Nick Foles into nine interceptions in the last five games.
-The Bengals are a battle-tested 16-10 in December since 2009 (10-4 at home) and with another big finish in mind defensive coordinator Paul Guenther is mixing in some youth (right end Will Clarke, safety Shawn Williams, cornerback Josh Shaw) to help give the veterans some legs for the final push.
Guenther only has to look back at last year when his unit limped home without a healthy Atkins and WILL linebacker Vontaze Burfict, middle linebacker Rey Maualuga was dinged for a long stretch, and the secondary was in transition at cornerback.
But since Nov. 1 with Burfict's return, it has all fallen into place.
"We're healthier this year. Let's face it, we were playing with guys who aren't even on our team anymore," Guenther said Monday. "We've got better guys and we're healthy. I don't have to sit there and look at my coaches and say, 'Oh, I can't call this, I can't call that,' because it puts us in a bad matchup all the time. To me, that's the most important."
Two years now since his ACL injury and no one can block Atkins. Especially two kids from St. Louis on Sunday with one NFL start between them. And Atkins did what the NFL sack leader among tackles (eight) is supposed to do. Wreck the game. Guenther loves the fact he didn't have to use eight men in the box to hold Rams rookie running back Todd Gurley to 19 yards like other teams have been doing.
"He's playing in the running game. Obviously you see what he's doing in the running game," Guenther said. "He's our best player and he's playing (well) . . .  He's a threat in the running game and he's a threat in the passing game. That's a handful for an offense in there. I'm glad he's on our side."
 So are the 32-year-old Jones and Nelson and Hall, who turns 31 in a week. Hall, who switched this year from being a full-time corner to playing just the slot, has picks in back-to-back games and on Sunday he had his first pick-six since the 2012 Wild Card Game to end a season he was one of the top five cornerbacks in the game.
That was three years and a torn Achilles ago, but now that he's playing fewer snaps, Guenther thinks less is more.
"Now that he's just playing in the nickel, that's helped him physically.  He'll last a little bit longer this year rather than playing base corner and then sliding inside," Guenther said. "Everyone forgets Dre (Kirkpatrick) is a first-year starter at corner and Adam is a first-year starter at corner. Adam was our nickel corner last year. He'd come into the nickel. Leon and Terence (Newman) were in the base. Now Leon is the third guy. I think it's helped him."
Jones may be a first-year starter, but he's like everyone's big brother and one of the supreme commanders. Never mind his play, which has been top five worthy, according to profootballfocus.com. Look what he did Sunday knowing they were banged up at his spot with cornerback Darqueze Dennard (shoulder) out for the year. He probably shouldn't have played, either, after his missing first game in 57 last week in Arizona with a foot injury.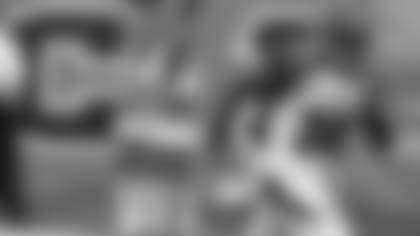 Safety Shawn Williams is finding a niche.
But there he was against the Rams, playing 81 percent of the snaps.
"He sucked it up. That S.O.B. is tough. I give him a lot of credit," Guenther said. "He's playing at a high level. He played hurt. He probably got some balls on him he got mad they threw on him. He's a tough S.O.B, a competitive S.O.B. I'd hate to have to fight him. He's a little pit bull, I'm telling you. He's playing a good corner right now."
And Nelson is playing a very good safety when it comes to making the catch. His mates love him because he's humble and hard-working and on Monday they taped up a "gold," football for him with the ball he picked off Sunday for his career-best sixth interception in a season.
Nelson, three picks in as many weeks, chalks it up to the play of his front seven. But like Jones and Hall, he's been in this scheme since 2010 and these guys can go through walk-throughs with their eyes shut. They know the defense cold. Just being in the right place in the NFL is no accident.
On Sunday, Nelson made a diving catch on a ball that safety George Iloka deflected in great coverage on Rams tight end Jared Cook. Iloka also got his first interception of the year with his instincts on a deep ball later in the game.
"Just play the defense. Know your leverage; know where you're supposed to be. Read the quarterback's eyes," Guenther said. "We want to try to dictate where the ball gets thrown all the time. The one that got tipped, Reggie made a good catch on. We were in the right leverage, the ball just got tipped up there, there he is
"George, on our sidelines, they're throwing to the X (receiver) on the back side with a double move. He was right there to go get it. Leon, we were just in a basic zone. The rush helped that one. I think the guy tried to dump it over his head. I keep telling the guys, just play the defense the way it's designed, know where your help is. If it's in the middle of the field or it's in the half field, and be in the proper leverage. And good things will happen."
Enough good things happened Sunday that Guenther was able to empty his bench and get some snaps for guys he needs to contribute down the stretch. He had to use Shaw, a rookie corner, last week in Arizona because everyone went down. But this time he played him 17 more snaps just in case he has to go to him again.
Clarke and Williams are two guys he'll probably use no matter what. Right end Michael Johnson played just 48 percent of the snaps and he figured it was the least he's played since his rookie year during that first playoff push of 2009.
Usually he plays in the 85 percent range, but he didn't seem to mind getting a breather now and then. Clarke took his most snaps ever playing 38 percent of the time. Guenther said some were good and others not so much, but he likes what he sees and says the 60-yard run around Clarke by Tavon Austin Sunday is simply a product of lack of experience.   
When nickel linebacker Emmanuel Lamur went down with an ankle injury Sunday, Guenther subbed with Shawn Williams, a safety that has grown into the Taylor Mays role as a big-safety-cover backer. They've been bringing him along here and there (his pick in Pittsburgh is still the biggest play of the season) and he's looking more and more comfortable.
"Shawn Williams has got to play some more," Guenther said. "He's a role guy. It's a good spot for him. He's just got to continue to work in practice. There's just not enough snaps in there in practice to get both of them snaps in practice and reps in there. So when he gets in there he's just got to take some mental notes in there.
"We are going to have to use all these guys. It's to the point now in the season where guys are dinged and nicked. We get in a game like that I tell them you are in a uniform you are going to go in. Down the road we don't run into the situation we have in Arizona we have three DBs in there that haven't played a whole bunch. It was good to see those guys get in there and go."
Cincinnati Bengals host St. Louis Rams at Paul Brown Stadium in week 12 of the regular season.