Wallace Gilberry is going to get some snaps Monday night.
There were two things that emerged from the Bengals defense Tuesday out of their first practice on a post-bye landscape that has offered a second chance at the AFC North title.
Defensive coordinator Paul Guenther likes the way his guys responded to his  bye week decree that he's shaking up things with competition from the young players, but at the same time the locker room embraced the return of veteran defensive lineman Wallace Gilberry.
"He's got a great motor that doesn't stop. You need guys like that on your team to help out and fill in and give guys breaks or whatever the situation might be. You know you're going to get 110 percent when he's on the field," said cornerback Adam Jones. "He adds a lot of salt to the mix. He's almost like one of those Dennis Rodman guys. His motor never stops and he's always giving 110 percent. He might win every play, but he's going to disrupt a lot of plays. It will be good for us."
And after calling Tuesday's practice one of the best of the season, Guenther confirmed that Gilberry is going to play in his  63rd game as a Bengal Monday night (8:30-ESPN, Cincinnati's Channel 5) against the Giants as part of a defensive line  rotation as an end in the base defense and tackle in the nickel.
It's the first shoe to drop as the Bengals look to improve all aspects of a defense that is mired in the second half of the league in every category that counts: tied for 19th in scoring, 18th in sacks per pass, 23rd in yards per rush and 23rd in passer rating.
"One of them," said Guenther of the Gilberry move." Just something where we needed to improve. If it's a guy here playing 20 snaps in this package and so on and so forth, we can spread and utilize every guy we have up and dressed. That's what we're going to do."
If it's a tweak, it's also a departure from the snaps by seniority that ruled the first half most of the time. With tight ends wreaking havoc, third-round linebacker Nick Vigil is expected to get a look, and with third-down efficiency ranked 20th Darqueze Dennard figures to get a look in the slot.
Playing sparingly since he was taken in the 2014 first round, Dennard is more than ready after first playing behind starters and then last Nov. 22 blowing out his shoulder to end his season. Barely had he got back this past training camp when he hurt his ankle, an injury Dennard says has been cleared up now for about a month and he's poised.
"I feel like I still haven't had a chance. You look at the amount of plays I've had in my career it's definitely more positive than negative," Dennard said before Tuesday's practice. "Not even close with the positive and negative plays if you look at the plays I have played. But those guys have played at this level for a while and done Pro Bowl type things and All Pro type things as well. You got to look at their resumes as well. I know what I can do. Only thing I can do is keep working and be ready when my number is called."
Guenther and secondary coach Kevin Coyle are ready to give Dennard that shot.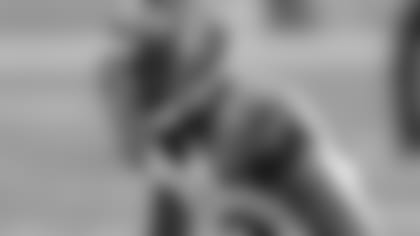 Darqueze Dennard says he's more than ready to get into the lineup.
"He'll get some opportunities as we work this week and the rest of the year. We'll see how things go from here," Coyle said. "I think he's finally close to being 100 percent healthy. Now we get a chance to really take a good look at him this week and hopefully down the stretch. He's been wanting to get out there. Anxious. But he wasn't quite 100 percent and now I think with the additional rest coming out of the bye he'll get out there.
"Like we told the players," Coyle said. "This is the time for guys  when they get their opportunity to step up and make it happen. We're going to have competition throughout this week and throughout the games coming up. The guys who are performing are the guys that are going to get the snaps."
There it is. Eight games after preseason and the word "competition,' has raised its head again. And this is after Guenther has looked at every play of the 3-4-1 start and every snap of each player, complete with a one-on-one talk with some of those players.
It's starting with the defensive line. With Gilberry in the fold, someone who has been playing is not going to play.
"It's going to be a hard decision to make," Guenther said. "We'll make that decision at the end of the week, whatever direction we think helps us win on Monday and whoever we think helps us to win the next Sunday and so on and so forth. But it's a good problem to have, it's a problem I like to have rather then, 'These are the guys we dress.'"
It's a microcosm of the rest of the depth chart.
 "I think the guys are up for the challenge. When I showed them the tape one after another, sometimes when you just watch a game you kind of forget what happened three weeks ago," Guenther said. "But when you see one thing after another, it kind of opens your eyes. I think guys got the message. We've got a lot of pros in there and hopefully they'll respond, because they're going to get everything I've got for eight weeks. And we'll see where we are at the end of the road."
No one seems to have any guarantees. Vigil, who has played all of 11 snaps, said he went home to Utah for the bye and when people told him they had heard he was going to play more, he could only shrug.
"Nobody told me anything," said Vigil before practice and he still hadn't heard anything. But he thinks he's ready.
"Just being comfortable with the playbook," Vigil said. "What we're trying to do out of it when we're running certain plays."
He probably got some time Tuesday because middle linebacker Rey Maualuga, who struggled in the first half, didn't practice. Guenther said Maualuga is fine and not injured.
"Anytime you don't have the results you want early in the year, the organization and the coaching staff are going to be open to anything," said starting safety George Iloka of the ensuing changes. "So personnel -- as you saw with some teams, they fired coaches. This is a production-based business and when you're not getting the results you want in any company -- and this is a company too -- you can expect that from the top down they're going to make changes. So yeah, that comes with losing.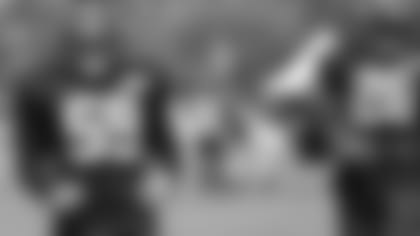 Nick Vigil figures to get more than the 11 snaps he got in the first half of the season.
"What I took from what they've been talking to us about is you turn on the tape and nobody's been playing up to their standards that they're capable of, and it's more so about everyone looking at themselves in the mirror and playing to their ability and that will get this turned around."
The big number? The Bengals have allowed a stunning 2,099 net passing yards, on pace to allow 4,000 for just the second time in their history. Iloka says when there's a number like that, there's just not one reason.
"It all works together. All we can do is just keep working. When you give up 300-some (passing) yards (games), it looks bad on the secondary and the coaches," said Adam Jones. "But until you go back and look at the film and see where the 300 yards is coming from you wouldn't know. If you look at the game we played in London you wouldn't think it was (458) yards, but when you go back and look at it, it was a lot of YAC yards after catches so have to tackle better and stay on top."
With the Giants looming with another veteran who went away, slot cornerback Leon Hall, it's as good as time as any to wonder how much the pass defense has been impacted by the loss of Hall and safety Reggie Nelson, players that took a combined 214 Bengals games with them. Plus the secondary has two new coaches.
"It has to do with a lot of stuff. It's not just the coaches and the guys on the back end," Jones said. "It all ties together. For whatever the reason might be we're not as good as we were last year in the passing game. Everybody thinks you just turn on the film and guys go out and cover and that's how it goes, but that's not how it goes. When you look at the whole picture and dissect everything it's a lot of areas we can get better in."
Iloka keeps coming up with the same answer. The defense has not produced like it is supposed to produce.
"I felt it was a lot of adjusting in terms of everything. You're playing with guys you haven't played with for a while or just in general. There's new coaches. There's a lot of little things," Iloka said. "But regardless, I know we're trying to find something to put our finger on, but I personally believe no one's played up to their standard, nobody's played up to their capability and that's why we've lost some close games and we've given up some plays here or there that led to a touchdown or whatever it may be.
"If we were 8-0 nobody would be saying anything about this is the coaches or life without Leon or Reggie. The results you have now are 3-4-1, you're going to have to pick at things as you should, but everyone just needs to play up to their standards."
So Gilberry is the first tangible evidence of The Change. The Bengals didn't chase him in free agency because they thought Michael Johnson along with youngsters Will Clarke, and Margus Hunt could hold the fort at right end with Clarke and Hunt ducking inside on passing downs. Gilberry got hurt in Detroit and got cut after four games and now they need each other and each side is delighted. Gilberry sent signs to the media Tuesday he'll be willing to talk later in the week after a tough departure.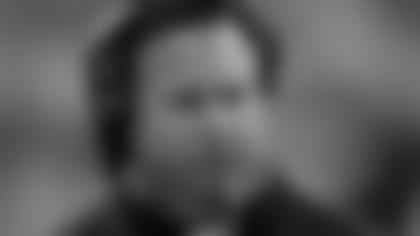 Paul Guenther is looking to shake it up.
"We were just talking in the training room earlier," said nose tackle Domata Peko. "We were chatting with him, he's in our group chat still. He said he was watching us on Sundays too, that game we played Dallas, he was watching. He was watching our games too and he was still here with us. Even when he got back it feels like he never left. He fit right back in. We've been with Gilberry for years and we're excited to have him back."
Gilberry turns 32 next month, but he gives the Bengals fresh legs and more than a shaker of salt.
"He brings energy man, he brings a lot of energy, he brings physicality to the game. He never stops," Peko said. "He'll run you down. He runs running backs down. He'll run tight ends down. And that's what you need, you need that energy, you need that motor."
Gilberry was at his best getting to the quarterback in 2012 and 2013 with 14 sacks averaging 28 snaps per game, as opposed to 3.5 sacks in the next two seasons averaging 45. And Guenther is looking for that earlier combo. More snaps for more guys and he thinks Gilberry helps.
 "It gives you an extra guy that can play the run effectively and that can rush, inside or outside," Guenther said. "In this league, you can never have enough rushers, where you can bring guys in in waves and you can be effective rushing … You can have a wave of guys. You can have different combinations. It might be three or four combinations of four guys for the situation because each week in the NFL we know is different. It can be a running-style team, a passing-style team."